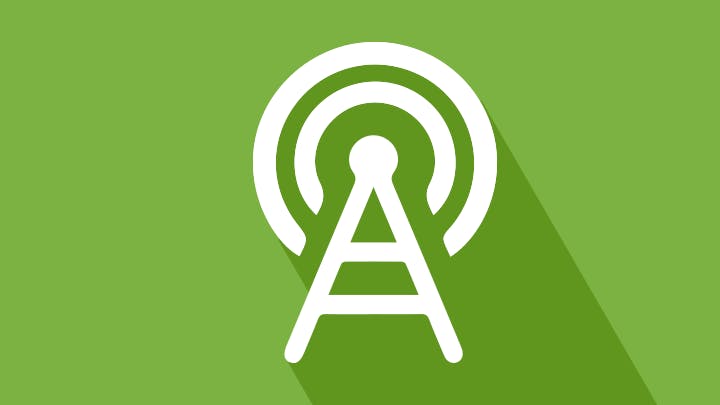 Switch broadband with Broadbandchoices today and you could save hundreds of pounds a year. Here's all the help you need to get the right deal at the right price.
Which broadband provider is the best?
That's a hard question to answer, because broadband speeds and your choice of providers depends so much on where you live.
For instance, a provider might have the fastest speeds or the keenest prices, but that's no good to you if their service isn't available at your address.
However, to give you a broad picture of what the standout providers offer and their key selling points we've named our pick of the best here, determined by the main criteria you should use when you're shopping for broadband.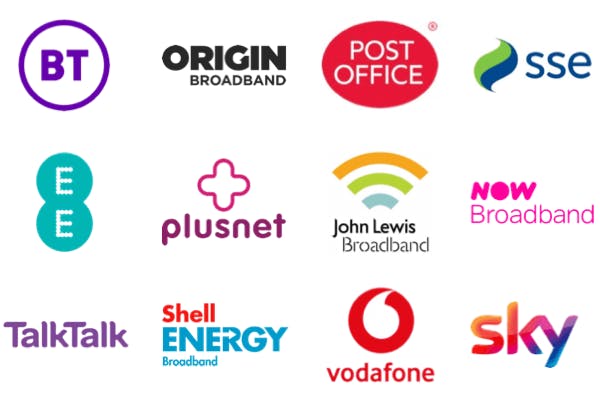 Fastest broadband providers
With average speeds of 630Mbps on its top-tier service, Virgin Media is the fastest household-name provider.
The catch? You'll need to be in an area covered by Virgin Media's fibre broadband network to be able to get it - though luckily that's a very high percentage of the population these days.
For the fastest broadband on the market full stop, look out for ultrafast 'full fibre' packages - with speeds up to 1Gbps (1,000Mbps). You'll find these from providers such as BT, EE, Sky, Vodafone, Hyperoptic, and Community Fibre.
However, these services are only available in select locations - usually large towns and cities.
Best broadband provider for customer service
Plusnet is consistently named best for customer service, perhaps thanks largely to the fact that it has fewer customers to keep happy than many of the best known providers.
EE is also highly rated for customer service and, along with Sky, garnered fewest complaints of any provider in the six months to August 2020, according to the telecoms regulator Ofcom.
Best cheap broadband provider
Plusnet, Shell Energy, and NOW Broadband's most affordable deals are typically priced under £20 per month. That'll get you an average broadband speed of 10Mbps-11Mbps.
Entry-level broadband services such as these are fine if you live alone or you're a light internet user.
But if you live in a multiple-occupancy home, we'd suggest you consider a fibre broadband package instead.
Broadband providers: an at-a-glance guide
Here we'll take a snapshot look at the UK's biggest broadband suppliers to give you a sense of what they've got to offer.
Virgin Media broadband packages
Virgin Media offers the UK's fastest widely available broadband, with fibre packages that range from 54Mbps to 1Gbps.
It's generally a little bit more expensive than the likes of BT, Sky and TalkTalk. But you get significantly faster speeds for not much more outlay.
BT broadband packages
BT offers entry-level ADSL broadband as well as fibre packages. It's not the cheapest provider around, but you get a good, reliable service for your money.
You can also sign up for pay-TV via BT's YouView set top box. And its TV packages remain the cheapest way to get BT Sport.
TalkTalk broadband packages
A decent budget-friendly option, TalkTalk undercuts the likes of BT and Sky by some margin.
Speeds on TalkTalk are in line with BT and Sky's most widely available, lower-tier packages. But if you want ultrafast broadband, you'll have to look elsewhere.
Sky broadband packages
Sky packages range from its basic Essential service with speeds of 11Mbps, right up to its top-of-the-range fibre with average speeds of 500Mbps.
Sky's biggest selling point is its TV packages, with a huge array of dedicated sport and film channels. Choose from the Sky Q set top box, or the newer Sky Glass smart TV.
Plusnet broadband packages
Plusnet's major selling points are price, which generally undercuts bigger-name providers for comparable speeds, and customer service.
Plusnet is consistently ranked the best provider for customer satisfaction and was well clear of rivals in a recent Ofcom study.
Vodafone broadband packages
With Vodafone, you can get good value fibre optic broadband, with speeds ranging from 38-900Mbps depending on where you live.
And if you want a little more, you can upgrade to its Pro packages for premium features and more reliable internet.
Which broadband providers are the most popular?
The biggest broadband providers, by which we mean those with the most customers, are BT, Sky, Virgin Media and TalkTalk. With EE and Plusnet not too far behind.
But as far as customer ratings go, it was Plusnet that topped Ofcom's most recent study (for the six-month period up to August 2020).
Some 93% of Plusnet customers said they were satisfied with their overall service. Well ahead of second-placed EE on 88% and third-placed Sky with an 86% satisfaction rating.
You can see the results in full below: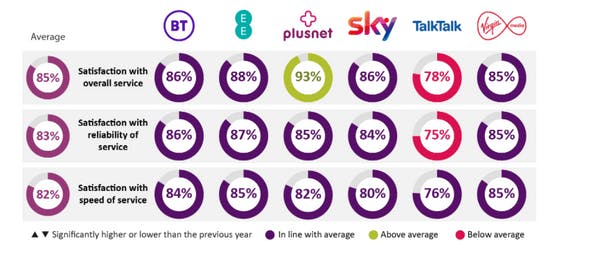 How do I choose a broadband package?
On this page, we'll arm you with all the information you need to find your perfect broadband package.
To get you started, here's a shopping list of the things you should consider before signing up...
Check the monthly price
Some of the cheapest providers are NOW Broadband, Plusnet, Shell Energy and John Lewis. All of whom offer notably low cost ADSL standard broadband products.
However, with average speeds of 10-11Mbps they almost certainly won't be fast enough for family homes or multiple-occupancy households.
For larger households, we recommend you spend a bit more and sign up for a faster fibre broadband service.
Compare broadband speeds
The faster your broadband, the better your online experience will be. That means you can look forward to more responsive online gaming and smoother streaming.
It's also worth noting that as a general rule, the faster your broadband, the more people you can have online at the same time without any slowdown or negative effect on the quality of your service.
Need a bit more help? Here's our buyers guide for finding the right broadband speed.
Check the contract length
Are you going to be at your address long-term? In which case, you may not be averse to signing up to the 24-month and 18-month contracts that are increasingly common among household-name providers, such as BT and Sky.
But if you think you'll only be at your address for 12 months, you might want to look at NOW Broadband, Plusnet, John Lewis, Zen Internet and Onestream, all of whom still offer one-year contract terms.
Need broadband for a student home? Virgin Media and BT both offer student-friendly broadband deals with nine-month contract terms that mean you won't pay anything for broadband while you're back at your parents' home during the summer break.
And if you need a really short-term broadband service, perhaps because you're emigrating or you're planning to be only live at an address for a few months, you may want to look into one-month home broadband from Virgin Media, NOW, or Cuckoo.
Or you could get a mobile broadband deal and just take your connection with you when you relocate.
Take into account set-up costs
The good news is that nowadays almost all providers waive set-up costs on broadband and phone deals, as long as you're signing up for a contract of 12 months or more.
That goes whether you're signing up for most fibre broadband packages or a cheaper standard ADSL service.
However, the higher-end superfast and ultrafast broadband packages from the likes of Virgin Media and BT generally require you to pay for installation. Unless your premises have been provisioned for a comparable service in the past, that is.
Rolling 30-day broadband contracts generally come with high upfront costs as well.
You may also be liable to pay a charge when you sign up for pay-TV from some providers. For instance, Sky charges you to install the satellite dish that's required to get Sky TV.
Extras and add-ons
If you want to customise your packages with add-ons, such as anytime calls or TV packs that get you access to premium sport or movie premieres, it's worth remembering that these can really swell the price of your package.
But even so, it's nearly always cheaper to bundle all your services together in a single package and get from them one provider than it is to get them from separate suppliers.
And you'll benefit from the convenience of having just one monthly bill to pay too, so it's easier to keep track of your outgoings.
Free gifts, vouchers, reward cards and cashback
It's very common for the big-name to sweeten their broadband deals with cashback offers or free gifts, such as gadgets or vouchers to spend online or at high-street stores.
If you want the most for your money, it's well worth keeping an eye out for these promotions.
But bear in mind that they're usually strictly time-limited. So you'll need to be act quickly to ensure you qualify for the giveaway.
Usage limits
Pretty much all home broadband deals are now 'truly unlimited'.
So there's no chance that you'll rack up extra charges for exceeding a usage limit. And you won't have to worry about your provider intentionally slowing down your speed at peak times either.
But that's not true of mobile broadband deals, where usage limits are still very common. You're also likely to have to adhere to a usage limit on some satellite broadband deals.
What broadband packages are available?
There are three main types of home broadband - ADSL, cable broadband and fibre optic broadband.
We use your postcode to show only what's available in your area. Some providers offer multiple types, while others are specialists in one particular technology.
Is it cheaper to bundle my services?
You can make real savings by taking multiple services from the same provider, than if you took the same services separately from different suppliers.
Bundling is also a good way of simplifying your finances, because you'll only ever have the one bill to manage.
Should I bundle broadband and home phone?
In most cases, whether you should take home phone with your broadband is a decision that you won't have to make.
That's because most broadband, including BT, EE and Sky, is delivered by landline, so you have no choice to take a landline when you sign up for their broadband.
The exceptions are the likes of Virgin Media and Hyperoptic, which use separate broadband networks to deliver your broadband.
So on paper you should be able to cut your outgoings by getting standalone broadband from those providers.
However, this is where comparing your options comes in. On close examination, it can in fact be cheaper to get a broadband and landline bundle from the likes of BT and Sky than it is to get standalone broadband from Virgin Media or Hyperoptic.
But that's not the case for every provider. EE, for example, knocks a few pounds off your bill if you take its services without a landline.
If you don't intend to use your landline at all, we recommend filtering your comparison results by 'Cheapest by provider' under the home phone options.
Should I bundle broadband and TV?
You can save money by bundling TV and broadband from the likes of BT, Sky, Virgin Media or TalkTalk. And depending on the provider you choose, you could get a great set top box as part of the deal.
But bear in mind that when you take TV from broadband providers, you're almost certain to be tied into a lengthy contract for the TV services you subscribe to.
If you'd prefer to mix and match, it might be a better idea to sign up for pay as you go monthly passes for streaming services instead.
What's the fastest broadband I can get?
To see the fastest broadband available are available at your address, use our postcode checker. Just input your postcode.
Then when the deals comparison table appears, use the filters to sort by speed.
If you can only get standard (ADSL) broadband in your area, the fastest broadband you can get has average speeds of around 10Mbps - though it can be a fair bit faster or slower than that in practice.
If you can get fibre optic broadband, the fastest you can get is usually around 65Mbps - but could be as high as 150Mbps with the right package. Or if Virgin Media is available, your speeds could be up to an average of 630Mbps.
If you're one of a lucky few where gigabit broadband is available, you can get speeds up to 1Gbps (1,000Mbps).
Will I get the advertised broadband speed?
Not necessarily. If you see a package advertised as offering average download speeds of 58Mbps, there's no guarantee you'll actually get that speed.
Sometimes, you might get a lower or higher speed than the average speed your provider has advertised, depending on how far you live from the telephone exchange.
Legally, broadband providers are obliged to tell you the likely minimum speeds you'll get at peak time when you're signing up.
In the event that you're getting a very unsatisfactory speed and your provider fails to amend the situation within a month of being told, you're free to leave penalty-free.
Not happy with your broadband speed? Here's some tips to help you speed up your service.
Can I get fibre broadband?
Fibre broadband isn't available everywhere. But if you live in a city or town, you'll almost certainly be able to get fast fibre service.
If you're somewhere remote, however, fibre broadband availability is much more limited.
The best way to find out if you can get fibre at your address and which providers you can choose from is to use our availability checker.
Just insert your postcode and email address below and we'll show you what's on offer where you live.
Can I get broadband without line rental?
Yes, it is possible to get broadband without line rental.
You see, although most packages come with line rental included as standard, providers like Virgin Media and Hyperoptic run on different kinds of network infrastructure, which mean they're able to offer broadband on its own.
Bear in mind, though, these broadband deals aren't available everywhere.
Moreover, the networks that offer them are usually smaller, and they aren't necessarily cheaper than a low-cost deal that includes a landline.
Some providers, such as BT and EE, deliver your broadband via the normal phone lines - but will happily shave a few quid off your bill if you don't want a landline service included.
If you really don't want line rental, take a look at our broadband-only deals here:
How do I find the cheapest broadband?
To find the cheapest broadband available for you, enter your postcode into our comparison tool above, and sort the results by cost.
You can sort by first year cost or monthly cost, and the calculation takes things like cashback into account.
The cheapest broadband tends to be ADSL (as opposed to fibre), from budget-focused providers, with very few extras included.
Can I change broadband provider?
If you're out of contract with your broadband provider, you're free to switch whenever you like.
But if you're still under contract, you'll probably have to pay off the rest of your contract if you want to switch.
There are some exceptions, however. If you're under contract, you can switch to another provider with no financial penalty if…
Your provider hikes prices for services to which you subscribe at a rate that's higher than inflation.
Your broadband speed is much lower than you were told you'd receive.
Need more help? We've got a comprehensive guide that walks you through the process of how to change your broadband provider, as well as offering some handy expert tips.
Mid-contract switching costs explained
Broadband providers are permitted to hike broadband prices in line with inflation during the course of your contract.
Conversely, subscribers affected by inflationary hikes cannot leave without incurring a penalty charge or paying up the rest of their contract.
The situation is very different if a provider hikes prices at above-inflationary rates, however.
In these circumstances, they are legally bound to allow customers to leave and are not permitted to charge them for doing so.
It's also worth noting that providers are also obliged to contact customers about looming above-inflation price rises in advance.
After which point, you've got 30 days to cancel free of charge and switch supplier.
How do I know if I'm out of contract?
You can find out your contract end date by…
Opening up your broadband provider's customer app on your phone
Logging into the customer account section of your provider's website
Calling up your provider and speaking to a customer service rep
Checking any paperwork you have from when you first signed up to your deal
What happens when my contract ends?
Broadband providers are legally obliged to notify you by email, phone or text when the end date for your minimum contract term is approaching.
The notification must be sent out 10-40 days before your minimum term ends.
As part of the notification that's sent to you, providers are also obliged to inform you of the best comparably priced deals they offer as well as any upgrade options that are available to you.
Naturally, if you choose not to recontract with your existing provider you're free to switch to another supplier whenever you like.
But be aware: if you don't recontract or switch you'll almost certainly be paying more than you should for your package. Much, much more, in fact.
Research conducted by Ofcom, which brought the end-of-contract notifications into force, shows that customers who take landline and broadband packages pay an average of 20% more when they're out of contract.
Got a bundle that includes TV too? According to Ofcom, there's a good chance you're paying 26% more if you're out of contract.
What is the best home broadband for families?
That largely depends on the number of people in your family and the age of your kids. If you have a large household with older kids or teenagers, you'll need a speedy fibre broadband that can handle the demands of a busy home.
Conversely, if you've got young kids you'll probably be able to get by with standard broadband.
Every family is different. But here's a rule-of-thumb guide to help you choose the right broadband for your family, as determined by the number of kids you have and their age:
One child - If you have one young child, and you're not heavy users yourself, a standard low-cost broadband package may be sufficient. That said, if you can afford it, we'd still recommend fibre if available - the extra speed will make for a much smoother experience, particular for video services.
Two children - If your children are very young, you may be able to get away with a low-speed broadband package. However as they get older, you may find that a fibre connection better meets their streaming and gaming requirements.
Three children or more - We strongly recommend fibre optic broadband. The increased speed means that everyone will be able to connect at the same time, on lots of different devices, without speeds dropping.
What is the best home broadband for people who live alone?
If you live alone and only use the web for email, social media, browsing and occasional episodes on Netflix, standard ADSL broadband will probably be sufficient. And work out as the most cost-effective option.
On the other hand, if you spend a lot of time watching Netflix or play a lot of video games, you should go for a faster fibre package, as the vastly superior speeds will mean less buffering and a smoother, more responsive gaming experience.
How do I find the best broadband deals in my area?
The easiest way to find the best broadband deals in your area is to use our postcode checker. However, you can also browse broadband deals by location for various areas in the UK:
What is the best home broadband for students?
BT and Virgin Media's nine-month contract, student-friendly fibre broadband deals are well worth a look.
Not least because they mean you won't be paying for broadband during the summer holidays and are fast enough to cope with the demands of busy, multiple-occupancy student households.
However, we'd recommend you still take a look at standard 12-month broadband deals too. They sometimes work out cheaper than a nine-month 'student broadband' package.
Which providers offer WiFi routers?
Wifi routers come as standard with packages from all household-name providers, such as TalkTalk, BT, Virgin Media, Sky and Plusnet.
Below we take a look at the WiFi routers on offer right now:
TalkTalk
TalkTalk provide a super router with one of its broadband deals. Each device has a decent dual-band connectivity and has been built to last. It comes with wireless AC, dual-band WiFi and four ethernet ports.
BT
With BT broadband, you get to choose between two routers - the BT Home Hub 4 if you get standard ADSL broadband, or the state-of-the-art BT Smart Hub 2 if you take out a fibre package.
BT fibre customers also have the option to add BT Complete WiFi too, which boosts signal strength and is designed for large homes.
Virgin Media
Every Virgin Media broadband package comes with an impressive Hub 3.0 router capable of delivering superfast cable broadband speeds.
Equipped with Intelligent WiFi, the Hub 3.0 continually analyses signal quality and strength and adjusts to get you the best connection possible.
Sky
Sky broadband customers get a Sky Hub as standard, although you can also upgrade to the high-tech Sky Q hub for an extra fee.
All Sky broadband packages include its WiFi guarantee. This guarantees a service of at least 3Mbps in every room of the house or you'll get your money back.
Plusnet
Plusnet broadband packages come with the a Plusnet Hub One as standard. Key features include the latest wireless AC standard, dual-band WiFi and four 1GB speed ethernet ports.
Which providers does broadbandchoices work with?
We partner with a range of home and business broadband providers to bring you a variety of deals from all across the market.
You can see the full list, and read more about how we choose who we work with, on our About Us page.
Frequently asked questions
What is broadband?
Broadband is a type of internet connection. It's a category that includes standard ADSL broadband, as well as super fast fibre broadband. And even 4G and 5G connections that get you online on your phone while you're on the move.
As you may recall, broadband replaced the shaky and slow dial-up connections that were once the way most of us connected to the internet.
The key difference is that broadband is always on. Whereas with dial-up, you had to literally dial-up and wait each time you wanted to connect to the internet.
Broadband is also several times faster than dial-up. As of 2022, the fastest commercially available broadband packages in the UK get you a service of up to 1Gbps, compared with speeds of around 40kbps for dial-up.
Do I need a landline to buy broadband?
It depends on the provider, but the short answer is no.
Most broadband is delivered via phone lines, so in technical terms a phone line connection is vital for receiving broadband. But whether you use that connection for a home phone or just for broadband is up to you.
Some providers (such as Sky and Vodafone) include a landline service as standard at no extra cost, and plugging in a home phone is completely optional.
Others (such as BT and EE) give you the choice whether to take a home phone service or just broadband on its own, and usually charge less if you take the broadband-only option.
And some – including Virgin Media and most independent full-fibre providers – don't even require a phone line to deliver your broadband. But you can still add it on as an extra service if you want.
What is my current internet speed?
The best and most failsafe way to find out the broadband speed you're getting with your current provider is to use our speed test.
It only takes a few seconds and all we'll need is your postcode and email address.
To get the clearest picture of the speeds you're receiving, it's a good idea to do the test a few times, at different times of day.
What broadband speed should I go for?
With a faster connection you can download and stream without lags, no matter how many people in your house are using the internet at once.
Here's a simple guide to broadband speeds:
Standard - Average speed usually around 10Mbps / 11Mbps- If you're just checking emails, browsing websites, shopping and reading news, you don't really need fast broadband. Standard packages with advertised speeds of around 10Mb are enough for light internet usage.
Superfast - Average speed usually between 35Mbps and 67Mbps- If you want to stream TV and films, or download music and games, you'll find this much easier with superfast broadband. It's perfect for households of three or more people, who all want to be online.
Even faster - Average speed between 100Mbps and 1Gb - For larger families, with everyone connected - on tablets, mobile phones, PCs and consoles - even faster fibre broadband, or Virgin Media's top-whack cable broadband, could be a worthwhile investment.
Should I choose a broadband package based on price?
Though looking at price is important, we don't recommend it be the single deciding factor when choosing a broadband package.
After all, just because a provider offers cheap packages, doesn't mean it'll be able to give you what you need - such as fast speeds or an inclusive bundle.
Once you've read the information above and considered everything you need out of your package, use our table to compare the best deals.
Do I have to change my landline number?
There's no need to change your landline number when you switch broadband provider, unless you're moving house to an address located in a different telephone exchange area.
Assuming you're switching between providers that use BT's network (for example Sky, BT, EE, TalkTalk), you simply inform the network you're joining that you'd like to keep your number. And they'll do the rest.
When you're switching to or from Virgin Media or Hyperoptic, you should still be able to keep your phone number.
To do so, you'll need to speak to your new provider and make arrangements to transfer your number.
Should I change my broadband provider?
If you're really unhappy with the speeds you're getting, we always recommend you vote with your feet and switch.
The same goes if you've gone beyond your minimum contract term with your current provider, which means you'll be paying well over the odds for package.
Once your initial contract terms are over, the price you pay can rise by 50% or more. So there are major savings to be had by switching.
Conversely, if you're happy with the service you're receiving think long and hard before you switch.
If you do decide to stay, make sure you call your network to renew your contract and maybe even negotiate a lower price.
Otherwise you'll continue paying much higher out-of-contract rates.
Do I need to contact my provider when I switch?
If you're switching from providers thatuse the same infrastructure, such asBT,Sky, Plusnet, EE and TalkTalk, you won't need to contact your provider to cancel.
You simply need to contact the provider you're joining and they'll contact the supplier you're leaving and handle the entire switching process for you.
However, if you're switching from or to a provider that uses its own infrastructure (for example Virgin Media or Hyperoptic), you will need to contact the provider you're leaving, as well as the one you're joining.
Will I lose connection when I switch broadband provider?
If you're switching between providers that use BT's nationwide infrastructure through Openreach (TalkTalk, BT, Sky, Plusnet, EE and more), you'll only be without a broadband service for a matter of minutes.
If you're switching to or from a provider that uses a different network, such as Virgin Media or Hyperoptic, your downtime will most likely be longer. But should only be up to two hours.
In the event that you can't be without a connection for that long, we'd recommend you either use a mobile broadband dongle as a stand-in connection.
Or activate tethering on your phone, which will mean you can share your phone's mobile internet connection to get online on your laptop, tablet, desktop or any other internet-enabled gadget you've got.
Can I get home broadband with unlimited usage?
Almost all broadband deals listed on broadbandchoices offer unlimited downloads. So you'll be able to use the internet as much as you like without worrying that you'll rack up unexpected charges for exceeding a usage limit.
That's because unless you're the lightest of internet users and only really go online to check email for Facebook, you'll probably need the flexibility that unlimited broadband gives you.
What is WiFi?
WiFi is a another term for wireless broadband. It refers to a broadband signal that's transmitted around the house in the form of radio waves by a wireless router.
The result is that you can use a wireless signal to get online with multiple internet-enabled devices in all rooms of your home.
That's in contrast to old-fashioned wired broadband, which required you to plug in a cable to the device you wanted to use to go online. And could only provide internet connectivity to one device at a time.
How do I set up WiFi?
To set up WiFi, you simply have to plug in your router and download some broadband software. But it's important you think hard about where to place your router to ensure the signal extends around the home and won't mean that some rooms are blackspots.
We'd suggest you place it somewhere high-up or on a wall. And don't hide it away in a cupboard or behind something that'll obstruct the signal.
If you do find you're struggling with a weak signal and need a bit of help, head to our handy guide for some useful tips.
Besides the monthly charge for your broadband, you should also be mindful of...
Set-up fees: Providers often waive set-up costs as a sweetener. But make sure you check, so you don't get hit with an unexpected expense
Cancellation charges: Unless you're on a one-month, rolling contract, expect to pay up your entire remaining contract term if you choose to leave before it comes to an end
End-of-offer pricing: When your minimum contract ends, your monthly price is likely to go up substantially. Make sure you don't overpay by either renewing with your provider or switching
Excess usage charges: Almost all fixed-line home broadband packages now feature unlimited usage, so there's no change of racking up excess-usage charges. But be careful, since that's not the case with satellite broadband or mobile broadband