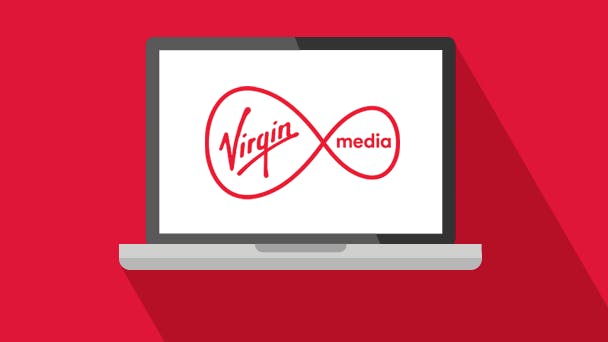 It's got just about everything, from lightning-quick broadband to hundreds of TV channels - so is Virgin Media worth getting?
We've taken a good look at Virgin Media's broadband, TV, and home phone packages to see if they're any good. Here's everything you need to know...
Is Virgin Media broadband any good in 2023?
Generally speaking, Virgin Media's broadband packages are right up there. They're among the fastest on the market - and the provider is the fastest widely available in the UK. Likewise, its pay-TV packages are some of the best, rivalled only by Sky. But let's look a little closer at how that breaks down.
Value for money
Virgin Media is among the more expensive broadband providers. It comes at a similar price point to Sky for most comparable services, and it usually costs more than 'value providers', such as TalkTalk and Plusnet.
However, for the broadband speed you get, Virgin Media represents pretty good value.
For instance, its M100 package, which offers average speeds of 108Mbps, will cost you about the same as 60Mbps packages from most rival providers. But, on paper at least, you're getting more than double the speed from Virgin Media.
If Virgin offers you what you want – incredibly fast broadband, and perhaps the kind of TV package you want as well – you do get what you pay for. It's not the best choice if you have a tight budget to stick to, but if you have the cash and want some of the best internet and home entertainment you can get your mitts on, it's not an unreasonable price to pay.
*Average speeds are based on the download speeds of at least 50% of customers at peak time(8pm to 10pm). Speed can be affected by a range of technical and environmental factors. The speed you receive where you live may be lower than that listed above. You can check the estimated speed to your property prior to purchasing.
Broadband speeds
| | | |
| --- | --- | --- |
| Package | Download speed (average) | Upload speed (average) |
| M50 | 54Mbps | 5Mbps |
| M100 | 108Mbps | 10Mbps |
| M200 | 213Mbps | 20Mbps |
| M350 | 362Mbps | 36Mbps |
| M500 | 516Mbps | 36Mbps |
| Gig1 | 1130Mbps | 52Mbps |
Virgin Media broadband is very fast indeed. Its widely available fibre optic packages offer average speeds of 54Mbps, 108Mbps, 213Mbps, 362Mb or 516Mbps. To put that in context, BT's fastest standard fibre broadband service offers a top speed of 67Mbps.
If you're lucky, you may also be in an area where Virgin Media's fastest speed of all is available: 1130Mbps. That's ridiculously fast, and is rivalled by similar gigabit broadband from Openreach (used by BT, Vodafone, EE, Zen). But, whichever ultrafast network you choose, availability will be limited to large towns and cities.
Needless to say, the speeds available to you from Virgin are blisteringly fast – and hardly even compare to what's available widely from other providers.
Router
At the time of writing, all Virgin Media broadband packages come with a Hub 3 router.
It's decent. Its specs are certainly good enough to handle the faster Virgin broadband speeds – though it's otherwise not really much to write home about.
The Hub 3 does the job. It has 'next generation' AC Wi-Fi, dual band connection, and five antennae. And its Intelligent WiFi tech, which adjusts itself to your home network to give all your devices the most optimum connection, is a rather nice bonus.
It's a tad better than the equipment you'll get with budget broadband providers – but it has some serious rivals. The free routers you get with BT and Sky are noticeably better.
If you're springing for Gig1 broadband, however, you can upgrade to a Hub 4 for free. This one's better. It has more antennae, meaning it can connect more devices and has stronger Wi-Fi signal, and is capable of faster Wi-Fi speeds.
That said… it still can't reach those 1Gbps speeds over Wi-Fi. It can reach 750Mbps, which is certainly more than enough. But do bear this in mind.
Virgin has a new trick up its sleeve too: the Hub 5. It's the latest router, with the best tech the provider offers. It's only available to select customers right now – but if you're offered it, it's definitely worth going for.
It includes Wi-Fi 6, the latest Wi-Fi standard capable of ultrafast speeds; a 2.5Gbps ethernet port; and five antennae.
As free routers from broadband providers go, the Hub 5 is among the very best. It's on par with the top router you can get from BT, for instance. But if you're concerned about getting a really good router, there are better ones on the market if you're willing to spend just a small amount of money.
Customer service
According to Ofcom data, Virgin Media's customer service isn't quite the best in the game. On the plus side, it didn't attract a huge number of Ofcom complaints – but customers also didn't report very high satisfaction with Virgin's complaint handling.
If you're concerned and want to be sure of excellent customer service from your broadband provider, the top dogs for those same metrics were EE and Sky.
Coverage
Virgin Media's network covers more than 70% of the population. That's a lot – but nowhere near as much as the Openreach network (powering BT, Sky, TalkTalk, and most other broadband providers), which reaches just shy of 100% of us.
So, for most broadband speeds and services, Virgin Media's coverage isn't the best.
However, for ultrafast broadband, it's the most widely available provider by a long shot. It reaches far more of us than Openreach's gigabit broadband, and other independent ultrafast providers don't even come close.
Packages
Virgin Media's approach to packages and bundles is… a little esoteric.
The good news is that you cam take whatever combination of broadband, and/or home phone, and/or TV you want, and may be able to add an O2 SIM onto that as well.
In terms of bundling to save money, however, it gets a bit confusing. Precise broadband + landline + TV combos in Virgin Media's special bundles are fixed – and although most of the time you can change individual components (e.g. switching out the broadband for a different speed), it may mean you don't save money in the same way.
So, if there's a bundle that ticks all your home telecoms boxes, you're in luck. But if not, you may end up paying more, or getting a package a bit more advanced than what you need.
Virgin Media TV review
Virgin Media offers a range of TV packages, which bundle hundreds of channels together for a single monthly price.
It's one of the biggest TV providers in the country – second only to Sky TV in terms of the breadth of channels available.
Even the smallest package – which gives you 100+ channels, including premium entertainment channels – beats out some of the most premium offerings from other providers.
The biggest TV package, meanwhile, gives you 230+ channels including Sky Cinema and Sky Sports. Again, the only provider to beat that is Sky, with over 350 channels to offer.
You'll also get a Virgin 360 TV box, which is one of the best TV set-top boxes you can get (yet again rivalled only by Sky's).
In short, you get a lot from Virgin Media TV, with some excellent tech to help you along. It's significantly better and more extensive than what you'll get on Freeview or with smaller TV providers (such as BT TV or TalkTalk TV).
The key disadvantage is that it's a premium service – in contrast to the more budget-friendly YouView or Apple TV options from providers like BT and EE.
If you want a lot of telly, you're picking between Virgin and Sky. And while Sky certainly wins in terms of breadth of channels to choose from, Virgin TV gives you more than enough: premium entertainment channels, movies, sports, on-demand services, box sets, and top-notch tech to keep it all in one place.
Virgin Media Home phone review
Home phone from Virgin includes inclusive calls to UK numbers at the weekends.
You can upgrade that to include evenings, anytime calls, calls to 50 international locations, and extra calling features.
That's fairly on par with other providers, including BT. And there are definitely more options available – especially in the realm of calling features, like call divert, anonymous caller rejection, and three-way calling – than you'll get from smaller landline providers.
On the other hand, a landline from Virgin Media is entirely optional. You can get your broadband without it, if you prefer, and save a few quid.
Extras
Here's some of the other stuff you get with Virgin Media.
Virgin Mobile - Virgin's got a good range of mobile plans, including SIM-only, PAYG, and contract deals.
O2 SIMs - Thanks to its partnership, Virgin offers some bundles with an O2 SIM included.
Virgin TV Go - The free app that lets you watch your Virgin Media TV on the go, including on-demand stuff and lots of live channels.
Public Wi-Fi - All customers can access Virgin Media Wi-Fi hotspots, including Wi-Fi on the London Underground if you're in the capital.
Security - With broadband, you get free Web Safe, that blocks harmful websites and includes parental controls; and a 12-month trial of F-Secure SAFE, which protects your devices from malware and viruses.
Our verdict
Well, it's expensive, but Virgin Media has some of the best broadband and TV services on the market. You'll be hard pressed to find faster internet, and only one other provider - Sky - can rival it for TV.
That makes Virgin Media a really good choice perfect for large, shared households and families but may be a bit much for anyone who lives alone or doesn't use the internet much.
So long as it's in your budget - and you can get it in your area, of course - we think it's worth splashing out.
Reasons to buy
The fastest widely-available broadband, with speeds up to 1Gbps
Ultrafast gigabit broadband available in some areas for a reasonable price
TV packages are extensive, with a great set top box
Can bundle together broadband, landline, TV, and even add a mobile deal
Lots of options for home phone
Reasons to avoid
It's expensive, compared to most other providers
Bundles aren't very flexible, so you may be paying for something you don't want
Not as widely available as BT or Sky
Hub 3 router could be better
Compare Virgin Media against other providers