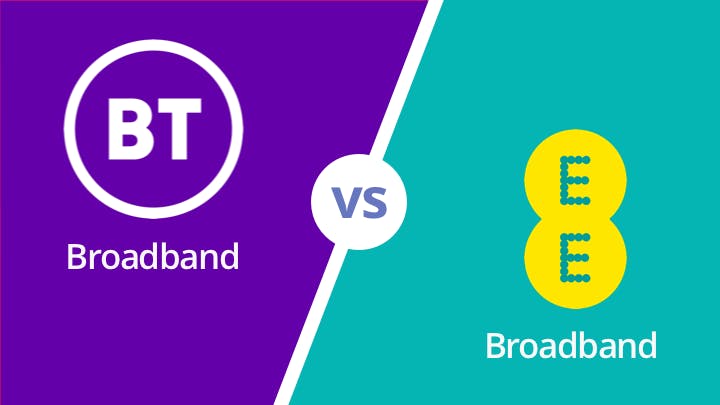 They may come from the same company, but BT and EE broadband are quite different. BT focuses on quality and lots of top-notch features, while EE offers something a little more straightforward. So… which one should you get?
It's time to break the two providers down and put them head to head. Keep reading to find out how BT and EE broadband compare - and which one we think is best.
See also:
Or take a look at our full BT broadband review and EE broadband review.
BT vs EE at a glance
| | | |
| --- | --- | --- |
| | BT | EE |
| Download speeds | Average 10Mb, 36Mb, 50Mb, and 67Mb | Average 10Mb, 36Mb, and 67Mb |
| Usage | Totally unlimited | Totally unlimited |
| Router | BT Home Hub 4, BT Smart Hub | EE Bright Box 1, EE Smart Hub |
| Online security | BT Web Protect, plus BT Virus Protect for £4 per month | Free 12-month trial of Norton Security |
| Home phone | Weekend calls, evening and weekend calls, anytime calls, cheap international rates, inclusive international calls | Landline only, anytime landline calls, anytime landline calls and minutes to mobile numbers, anytime UK and international |
| TV | Starter (80 channels), Entertainment (110 channels), Max (140+ channels, 4K box) | EE TV (80 channels, apps) |
| Minimum contract | 12 months | 18 months |
Cost
EE broadband is usually lower in price than BT.
That said, both providers often have deals and special offers on, so it's always best to compare deals and see who's currently best.


New customers only Offer ends 07/12/2023

£0.00

for 3 months

£35.99

for months 4 - 24

£29.41

Avg. monthly cost
New customers only Offer ends 07/12/2023



New customers only Offer ends 07/12/2023

£0.00

for 3 months

£35.99

for months 4 - 24

£26.91

Avg. monthly cost
New customers only Offer ends 07/12/2023

*Average speeds are based on the download speeds of at least 50% of customers at peak time(8pm to 10pm). Speed can be affected by a range of technical and environmental factors. The speed you receive where you live may be lower than that listed above. You can check the estimated speed to your property prior to purchasing.
Verdict

EE typically wins on price, but special offers can change that, so always check for deals.
Speed
With BT, you can get Broadband with average download speeds of 10Mb, BT Superfast Fibre with average speeds of 50Mb, and Superfast Fibre 2, average 67Mb.
In a smaller number of places, you can also get the Ultrafast 1 and 2 packages, which have average speeds of 145Mb and 300Mb respectively.
EE, meanwhile, offers Broadband with average 10Mb download speeds, Fibre Broadband, average 36Mb, and Fibre Plus Broadband, average 67Mb.
Considering the limited availability of BT's ultrafast broadband, the biggest difference in speed comes from BT's basic fibre package - which gives you average speeds of 50Mb, unlike the mid-30Mb speeds you'll see advertised by most other providers.
Verdict

BT wins for that 50Mb package, but otherwise package speeds are much the same.
Download limits and traffic management
Both providers are exactly the same here. Unlimited packages are truly unlimited, with no download caps or fair usage clause. Neither practise web traffic management either, so your connection won't ever be artificially slowed down.
Verdict

No winner here. It's a tie.
Equipment
The routers you'll get with each provider's standard ADSL broadband - the BT Home Hub 4 and EE Bright Box 1 - aren't much different. You'll get a similar router experience with either one.
The routers you get with fibre broadband used to be a little different - but these days, they're exactly the same. Both the BT Smart Hub and EE Smart Hub come with the latest 'ac' Wi-Fi standard, which means faster speeds on compatible devices, and 'smart' or 'intelligent' wireless to cut through interference. Compared to the ADSL routers, both Smart Hubs also add faster ethernet ports, more antennas, and Wave 2 ac Wi-Fi.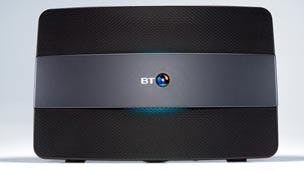 Verdict

Another tie - both providers give you extremely similar hardware.
Home phone
Both BT and EE broadband come with line rental, and in both cases you can add extras.
BT's standard line rental includes weekend calls to landlines, but you can upgrade that to include evening calls, anytime calls, or add cheaper international rates. There are loads of calling features you can add on too, via its more premium Line Rental Plus.
EE, however, just gives you basic line rental with pay-as-you-go calls. You do have the option to add anytime calls, calling minutes to mobile numbers, cheaper international calls, and calling features (like call barring and three-way calls), but it isn't quite as flexible as BT.
Verdict

There are more options available with BT, and weekend calls come as standard, so it wins here. However… they're cheaper with EE.
TV
Both providers also let you sign up for their TV service alongside your broadband too.
From BT, this means a YouView box, with 80-140 channels depending on your package. You can add Bolt-ons for even more, including entertainment channels, kids' TV, Sky Sports Main Event, Sky Cinema, and so on. And you can get BT Sport either very cheaply or for free.
EE gives you an EE TV box, which only includes basic Freeview - around 80 channels. The thing about this box, however, is that it has absolutely loads of apps. It means you can subscribe to more stuff, such as NOW TV, Sky Sports, catch-up services, and so on.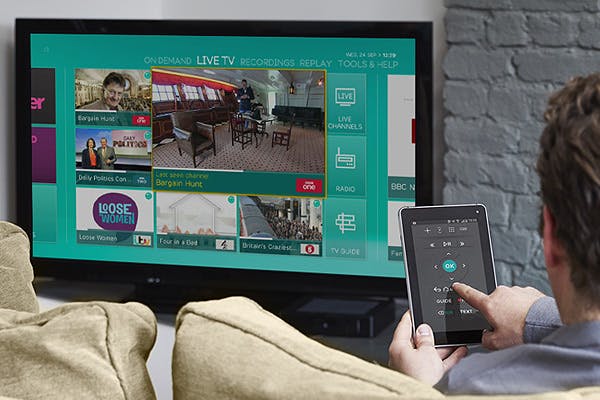 All those apps aren't really integrated with live telly, which is a tad annoying, but it's a good bit of tech if you want to turn your TV into a smart one. You can access it all from a number of devices too, including your smartphone and tablet.
Verdict

For live TV and channels, BT is best.
Mobile
Oh yes, that's right. Broadband from BT and EE gives you extra special deals on the companies' mobile plans too.
BT broadband customers get a £5 monthly discount on BT Mobile plans, whether you pick a SIM-only deal or a phone contract.
And EE broadband gives you an extra 5GB of monthly data on your EE Mobile, so long as you're on a pay-monthly plan. Yeah, seriously. That's worth about a tenner by EE's estimates.
EE and BT Mobile are both pretty good for mobile plans - BT is straightforward and reasonably priced, while EE has absolutely tons of choice and the fastest 4G speeds around. EE mobile costs a little more though, so a free 5GB of data is very welcome.
Verdict

It does depend on how you use your mobile, but 5GB monthly data from EE is excellent value. EE wins.
What else?
BT Sport - With BT, you can get BT Sport for a much cheaper price than anywhere else, including BT Sport Ultra HD with the top-tier TV package.
Wi-Fi hotspots - BT customers also have access to its 5 million Wi-Fi hotspots around the country.
Security - EE comes with a 12-month free trial of Norton Security Premium, and BT comes with free BT Web Protect - plus you can add BT Virus Protect for a monthly fee.
Cancellation credit - If you're cutting your previous broadband contract short to switch to EE, you can claim up to £50 to help with the cancellation fee.
Final verdict
BT has won the most rounds here. Its broadband comes with more features, impressive extras (BT Sport, for instance), better tech, and its base fibre package is faster. We're going to have to give the crown to BT!
However, it's worth mentioning that it only just about pips EE in most rounds. A major advantage of EE is that it's generally cheaper - with a few more ways to keep your costs down too.
Get BT if… you want broadband speeds up to 52Mb, you want BT Sport, you prefer live TV over apps, or you want more options for your home phone. BT also offers business broadband packages.
Get EE if… you're on a budget, you're at the cutting edge of technology and want a smart TV, or if you could use an extra 5GB of EE mobile data each month.