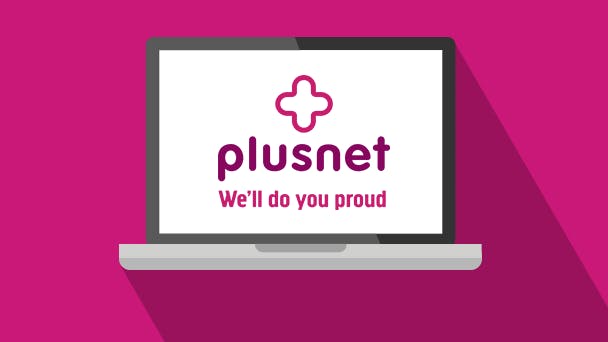 Sheffield-based Plusnet has built a solid reputation for affordable, straightforward broadband packages and highly-rated, UK-based customer service. While it's owned by BT, Plusnet is run independently and differs quite a bit from its parent company.
What broadband packages can I get with Plusnet?
Plusnet offers a small, easy-to-understand selection of standard broadband and faster fibre optic broadband packages. We'll take a look at what they've got to offer.
Plusnet standard broadband
Plusnet's cheapest package is Unlimited Broadband. You get an ADSL broadband service with average download speeds of 10Mbps, as well as totally unlimited downloads.
It also includes a free router and security software to keep you safe online.
At the time of writing, Unlimited Broadband is one of the cheapest broadband packages on the market, especially when compared to equivalent packages from other household-name providers.
It's also worth noting that you can choose between a 12-month or 24-month contract.
In a sector where 24-month contract terms are the norm, the option of a shorter contract term is a real selling point. However, note that you can't get the 12-month contract online.
Plusnet fibre optic broadband
Plusnet also offers fast fibre optic broadband options:
Fibre – average speeds of 66Mbps
Full Fibre - FTTP (fibre-to-the-premises) broadband with average speeds of 74Mbps, 145Mbps, 300Mbps, 500Mbps, and 900Mbps
All come with truly unlimited downloads, a Plusnet Hub Two router, and internet security in the form of Plusnet Safeguard.
As with Unlimited Broadband, Plusnet fibre packages come with line rental included in the price, with pay as you go calls as standard.
Can I get Plusnet broadband deals in my area?
To find out which Plusnet deals are available in your area, use our postcode checker.
Got your heart set on a particular service from Plusnet? Click on the links below to find out more:
What speeds can I get with Plusnet broadband?
The speeds you'll get with Plusnet depend to some extent on the location of your home. But in general, the average download speeds you can expect are:
Unlimited – 10Mbps average speed
Fibre – 66Mbps average speed
Full Fibre - 74Mbps, 145Mbps, 300Mbps, 500Mbps, or 900Mbps average speeds
Plusnet home phone
All Plusnet broadband packages are broadband-only, meaning they don't include a home phone - but you have the option to add this on to your package for an extra monthly fee.
Basic line rental comes with 'pay as you go' calls as standard, so you'll only need to pay for calls you make. Calls to Plusnet numbers and Plusnet support are free.
But if you have a more talkative household, you can upgrade for an extra charge. You can choose from three call plans:
Evening and Weekend UK and Mobile Calls – calls to UK landlines between 7pm and 7am on weekdays and anytime on weekends, and 1000 minutes of evening and weekend calls to UK mobiles
Unlimited UK and Mobile Calls – unlimited anytime calls to UK landlines, and 2000 minutes of anytime calls to UK mobiles
Anytime International Calls – unlimited calls to UK landlines and 300 minutes to select international destinations
You also have the option to add extra call features and mobile minutes to your plan.
It's worth mentioning that you can't get a Plusnet phone line on its own – you can only get it bundled with Plusnet broadband.
Plusnet TV
Unfortunately, Plusnet scrapped its TV offering back in January 2021. So you can no longer add a YouView box to your broadband package.
If you have Plusnet broadband and want to add TV onto that, you can still hook up a Freeview or Freesat box, sign up to Sky TV on its own, or subscribe to a NOW TV Membership.
Plusnet customer service
Plusnet is consistently highly rated for its UK-based customer support and has a cabinet full of 33 awards to show for it. Its support centre's opening hours are 8am-8pm every day.
You can get in touch by calling 0800 432 0200.
What's good about Plusnet?
Specialises in affordable broadband
12-month and 24-month contracts available
Unlimited broadband, with no download limits
Special offers and vouchers regularly available to new customers
Award-winning UK-based customer service
BT Sport available cheaply, to watch online and via app
Free Plusnet Hub Two with fibre broadband packages
What's bad about Plusnet?
Full fibre broadband not available everywhere – use our postcode checker to see if you can get it
Not much in the way of extras – favours simple and affordable deals over fancy perks and add-ons
12-month contracts aren't available online - only by contacting the provider directly
Home phone costs extra
How does Plusnet compare with other providers?
Plusnet does two things very well: value for money and customer service. Its ADSL and fibre packages are consistently among the cheapest on the market, with speeds that are in line with many bigger and better-known providers.
Plusnet is also consistently rated among the best providers for customer support and customer satisfaction, regularly sweeping up awards in these areas.
The catch is that you don't get many extras, and no option to add pay TV to your bundle.
More providers like Plusnet
Want to compare your options? Have a look at our guides to other broadband and TV services as well:
Frequently asked questions
How much is Plusnet broadband?
Plusnet is one of the cheapest and best value providers around. At the time of writing (November 2023), its standard broadband comes in at £25.99 per month, while its fibre services are a few pounds extra per month.
Can I get broadband-only deals with Plusnet?
Yes. All of Plusnet's packages are broadband-only. But you still have the option to add line rental and a calls package on if you want to.
Does Plusnet offer deals for existing customers?
Yes, just like BT, Sky, TalkTalk and EE, Plusnet offers existing broadband customers the same prices and packages as new customers.
How long does it take to switch to Plusnet?
Switching to Plusnet from most household-name providers, such as TalkTalk and BT, usually takes about two to three weeks. However, you're only likely to be without a service for half an hour.
The switching process may take a bit longer if you require any installation work – for example, if you need a new phone line or have full-fibre broadband connected for the first time. This requires an engineer visit and can take up to two hours.