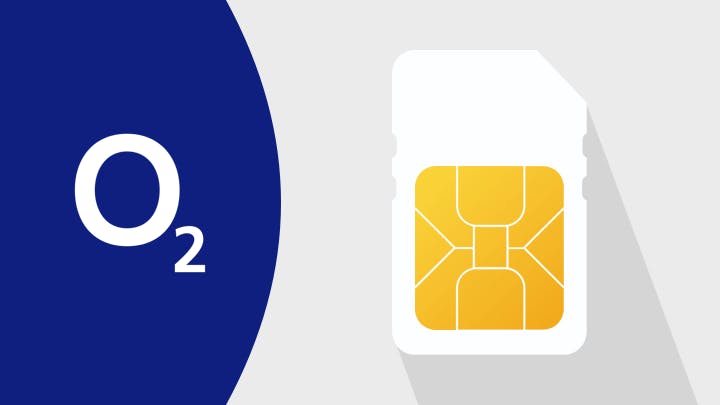 The great thing about Telefonica-owned O2 is that it has a really wide range of mobile plans, enough to suit anyone. And that includes a good selection of SIM-only deals that you can use in any unlocked phone.
You get reasonably-priced tariffs, a wide choice of monthly allowances, and some great benefits too – like O2 Priority. In this guide, we'll take you through what you get from O2, and how to choose a SIM deal.
What SIM-only deals can I get from O2?
O2 has a huge range of SIM deals. There's something for everyone, regardless of how much you use your phone.
Monthly allowances range from a modest 1GB of data all the way to unlimited data. The vast majority of O2 SIM plans come with unlimited texts and calls as standard – in fact, only the 30-day 1GB data plan has a limit of 1000 minutes.
SIMs are available on 30-day, 12-month and 24-month contracts. The flexible 30-day contracts are great if you're looking for something short-term, as you can change or cancel your plan at the end of every month.
Conversely, if you're fine with committing to something more long-term, the 12-month and 24-month plans are well worth checking out. Not only do they cost less per month, giving you more data for the price you pay, but they also come with extra perks thrown in.
For example, at the time of writing (April 2022), you can get up to six months' worth of Disney+ or Amazon Prime Video for free, up to six months free Apple Music – depending on the plan you pick.
O2 also offers data-only SIM deals for mobile broadband devices, like iPads and dongles. Visit our page to find out more about O2 mobile broadband.
Why choose O2?
Being a pay-monthly SIM customer with O2 gets you plenty of perks that you can't find with other providers:
Is O2 a good network?
Being one of the UK's first mobile networks, O2 has firmly established itself as a major name when it comes to mobile phone and SIM deals.
It offers a wide range of plans, with a variety of data allowances and contract lengths to choose from.
Coverage is excellent, with over 99% of the UK population able to get access to its 4G network, and service is reliable.
While it's not the cheapest network, it does give you some real value-adding perks that you don't to get with budget providers.
Not least of which are exclusive O2 Priority benefits, such as early access to gig tickets and vouchers for events.
For more on O2, read our other reviews:
How to compare O2 SIM-only deals
Comparing O2 SIM deals is easy - just use the table at the top of this page. You can see all the deals together, compare what you can get, and filter them down so you only see the ones that suit what you need.
Think about things like:
Click on the deal you like best, and we'll take you to O2's website so you can sign up and get started.
If you're not convinced O2 is the network you want, that's no problem – you can compare its deals right next to those from other providers too. Just select the networks whose SIMs you'd like to see and we'll show you the lot.
Can I get an unlimited data O2 SIM?
Yes, you can. Its 30-day, 12-month and 24-month plans all have an unlimited data option.
What's the cheapest O2 SIM-only deal?
At the time of writing (April 2022), the cheapest mobile SIM deal you can get from O2 is a 24-month plan that comes with 5GB of data per month, plus unlimited minutes and texts.
However, if you don't want to commit to a two-year plan, the next cheapest is a 12-month plan with 1GB of data per month, as well as unlimited calls and texts.
You can also get a 1GB plan on a flexible 30-day basis, but with a limit of 1000 minutes. However, O2's 30-day plans are pretty expensive for the amount of data you get.
Instead, much better deals can be had if you sign up for one of their longer-term deals. As well as working out a lot cheaper per month, they'll also throw in a few rewards, such as up to six months' worth of Disney+ or Amazon Prime Video. These offers can be time-limited, so it's worth keeping an eye out for those.
To find the cheapest deal that fits your use, use our comparison table. Adjust the filters to make sure you only see SIMs that have enough monthly allowance for you, and then sort the whole table by monthly cost. You'll see the lowest-priced deals right at the top.
Is an O2 SIM deal cheaper than a phone contract?
In general, yes – it's almost always cheaper in the long run to buy a phone outright and take out a SIM-only deal.
However, because of the way O2's 'Refresh' contracts work, they're actually not that much more expensive than going SIM-only. O2 Refresh splits your bill up to show you how much you're paying for your device and how much you're paying for your SIM plan – you can see that the only extra cost you pay on the handset is interest.
Plus, it's easy to upgrade to the latest smartphone whenever you want – and O2 has a decent line-up of handsets.
So, yes, going SIM-only costs you less. But if you do want the benefits of a phone contract plan – like lower upfront costs, a nice new phone in your hand today, and free screen replacements – it's easy to do so with O2.
Roaming with O2
While some major networks have reintroduced roaming charges, it's a relief to see that O2 has kept inclusive roaming in Europe. So, you can use your calls, texts and data in your plan just as you would back home, for no extra charge.
Bear in mind, though, that you have a roaming limit of 25GB. Plus, you're only allowed to make use of inclusive roaming if you're on a holiday or short break, not if you're living in a European country for an extended period.
If you're travelling outside Europe, there's the O2 Travel Inclusive Zone Bolt On, which gives you inclusive roaming in 27 international destinations. At the time of writing (April 2022), you can only get this with 12-month and 24-month SIM-only plans above 30GB a month.
And if you don't quality for the O2 Travel Inclusive Zone Bolt On, you can still buy the O2 Travel Bolt On, which gives you unlimited minutes, texts and data for a fixed daily rate.
Overall, there are quite a few options if you're travelling abroad. It's always best to check before you set off, by visiting your My O2 account or by calling the customer service team.
Can I upgrade an O2 SIM-only deal?
O2 has a pretty good upgrades system. It's super easy to switch to another tariff once your SIM contract runs out, and sometimes there are special existing customer deals available.
There are even better upgrades available if you go for a Refresh phone contract, including the ability to pay off your handset cost and get a new one whenever you like.
Of course, the easiest O2 deals to upgrade are its 30-day SIMs – which you can change every single month, if you want to. But they're not the cheapest.
Can I keep my number if I switch to an O2 SIM-only deal?
Yes – you can easily keep your current phone number when you switch to a new network.
Choose a new SIM-only plan. Compare deals and sign up to one that you like the look of. Your SIM will be sent through the post to you. While you're waiting…
Contact your current provider and request your PAC (porting authorisation code). You can request your code in a few ways: online, or by text or phone call. If you phone, they may try to talk you into sticking with them, but stick to your guns if this happens. They'll send you the PAC as a text message within two hours.
Give the PAC to your new network. When your new SIM arrives, it will have a new number. To change it to the old one, contact your new network and give them the PAC code. They'll take care of porting the number over. It could be as fast as one working day before the old number's transferred, but be aware that it can occasionally take a little more time.
It may sound complicated, but it's very simple in practice. If you want a bit more detail, check out our full guide to keeping your phone number:
Does my phone have to be unlocked to use an O2 SIM?
Some phones are locked onto a particular network, and will need to be unlocked before you can use another company's SIM. Fortunately, this is really easy to do.
To find out if your phone is locked, pop in a friend's SIM card – they'll need to be on another network obviously. If it works, then your phone is good to go. Otherwise, you'll need to contact your current operator and ask them to unlock it.
To find out more about unlocking your mobile, check our full guide:
More SIM-only deals
Take a look at the SIM deals you can get from other providers too:
What else can I get from O2?
As well as SIM-only deals, there's a fantastic array of phone plans you can add a SIM to, as well as tablets and laptops on 36-month and 48-month plans.
It's a very comprehensive selection, too – you'll be able to find the latest and greatest gadgets from the likes of Apple and Samsung.
Do other providers use O2's mobile network?
Yes – being one of the four big networks, O2 has excellent and extensive coverage across the UK.
So it's little wonder that giffgaff, Lycamobile, Sky Mobile and Tesco Mobile all use O2's network.
Plus, O2 and Vodafone have a partnership, meaning that O2 customers can enjoy stronger phone signals and faster 5G speeds.
Frequently asked questions
Are all O2 SIMs 4G?
Yes, all O2 SIMs are 4G-ready as standard. And as O2 has extensive 4G coverage that reaches 99% of the UK population, you'll be able to enjoy a reliable connection.
Even better, all O2 SIMs are now 5G-capable, too. However, you'll only access these top speeds if you're using a 5G phone, and you're in a 5G area.
Should I get unlimited calls and texts?
These days, pretty much most SIM only plans come with unlimited calls and texts as standard. O2 is no different – all SIM only plans include unlimited calls and texts, except for its 30-day 1GB deal.
How do I cancel an O2 SIM only contract?
It's easy to leave O2. You can cancel your contract any time by calling 202 – just make sure to give 30 days' notice, and to pay any outstanding charges on your account before you leave.