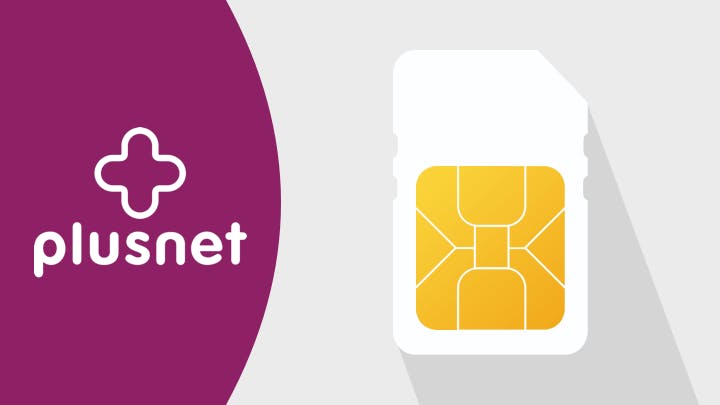 For light data users, Plusnet offers a reasonable range of plans; and if you're an existing Plusnet broadband customer, there are even better SIM-only deals available with more data, minutes and texts.
Plusnet Mobile SIM-only deals
For light data users, Plusnet offers a reasonable range of plans; and if you're an existing Plusnet broadband customer, there are even better SIM-only deals available with more data, minutes and texts.
Flexible 30-day contracts and a UK-based customer service are both good reasons to consider their SIM-only deals. You can also grab a SIM on a 12 month plan.
Also, Plusnet is powered by EE, the UK's biggest network, so you can relax knowing you have the best network coverage, speed and reliability in the UK
What SIM-only deals can I get from Plusnet?
Plusnet's monthly data allowances range from 4GB to 20GB, with unlimited calls and texts on all plans available through Broadband Choices. If you're a heavy data user, 20GB may not be enough, so consider other networks that offer bigger and unlimited data deals.
All Plusnet SIMs are available on one-month contracts. Longer term 12-month plans cost less per month, and higher allowances are available; while one-month deals give you more flexibility.
Keep an eye out for time-sensitive special offers that focus on high minutes or texts or bump up data allowances.
Perks and benefits
All pay-monthly SIMs from Plusnet get you these benefits:
Mates rates - existing Plusnet broadband customers get more minutes and more data on a range of SIM-only plans
UK-based customer service
Roam like at home - this feature allows you to use your monthly plan allowance in EU destinations
Smart cap - limit how much you spend above your monthly bill
Tethering comes out of your monthly allowance - so, if your handset allows it, you'll be able to use your phone as a Wi-Fi hotspot
Flexible 30-day contracts
How to compare Plusnet SIM-only deals
Comparing Plusnet SIM deals is easy - just use the table at the top of this page. You can see all the deals together, compare what you can get, and filter them down so you only see the ones that suit what you need.
Think about things like:
Allowance - how much data o you need per month? If you're not sure how much to go for, take a look at our full guide to data usage
Contract length - Plusnet SIM-only deals are available as one-month and 12 month plans
Price - if you have a budget, choose the maximum you want to pay each month in the cost filter
Click on the deal you like best, and we'll take you to Plusnet's website so you can sign up and get started.
If you're not convinced Plusnet is the network you want, that's no problem - you can compare its deals right next to those from other providers too. Just select the networks whose SIMs you'd like to see and we'll show you the lot. Or, compare all SIM deals here.
Is Plusnet a good network?
When it comes to value, PlusNet is definitely a good network. The fact it has rolling, one month plans at low prices makes it a standout, while its offer of unlimited calls and texts puts it up alongside the likes of BT Mobile.
Throw in the fact it uses EE's excellent network and you're looking at a solid option for users who want a simple deal without bells and whistles.
Other networks offer better perks, but if you're not fussed about extras, Plusnet is a decent option.
Can I get an unlimited data Plusnet SIM?
No. At the time of writing, the maximum data allowance you can get with a Plusnet SIM-only deal is 20GB on either a one-month or 12 month plan.
This allows you plenty of data for internet browsing and frequent social use, but if you're a regular watcher of Netflix or YouTube, or want to tether your phone, then consider networks that offer larger or unlimited data allowances.
What's the cheapest Plusnet SIM-only deal?
lusnet's cheapest SIM only deal is £6 per month for 4GB of data with unlimited calls and texts, available on either a one month or 12 month deal.
Is a Plusnet SIM deal cheaper than a phone contract?
Yes - it's almost always cheaper in the long run to buy a phone outright and take out a SIM-only deal.
However, if you want the benefits of a longer contract, such as lower upfront costs, a nice new phone in your hand toda, and free screen replacements, it's worth seeing what other networks offer.
Can I upgrade a Plusnet SIM-only deal?
Yes. If you take out a one month Plusnet SIM-only deal, you can change your plan at any time.
If you have a 12 month deal you'll need to wait until the end of your term to upgrade.
What network does Plusnet use?
Plusnet uses EE's network, which means some of the best speeds and coverage around at a low price.
You can opt for an EE deal instead if you want extra perks and access to its ultrafast 5G network.
Roaming with Plusnet
Plusnet allows you to use your allowance for data, calls and texts across Europe at no extra cost, part of its Roam Like At Home package.
This is similar to BT Mobile, although parent network EE now charges £2 a day for similar.
If you travel a lot, we reckon this makes Plusnet a winner.
Can I keep my number if I switch to a Plusnet SIM-only deal?
Yes - it's almost always possible to keep your current phone number when you switch to a new network.
1) Choose a new SIM-only plan - compare deals and sign up to one that you like the look of. Your SIM will be sent through the post to you. While you're waiting…
2) Contact your current provider and request your PAC (porting authorisation code) - you can request your code in a few ways - online, via text and even by post if you're really old-school. If you phone, they may try to talk you into sticking with them, but stick to your guns if this happens. They'll send you the PAC as a text message within two hours.
3) Give the PAC to your new network - when your new SIM arrives, it will have a new number. To change it to the old one, contact your network and give them the PAC code. They'll take care of porting the number over. It could be as fast as one working day before the old number's transferred, but be aware that on occasion it can take a little more time.
It may sound complicated, but it's very simple in practice. If you want a bit more detail, check out our full guide to keeping your phone number:
More SIM-only deals
Take a look at the SIM deals you can get from other providers too:
What else can I get from Plusnet?
Plusnet also offers broadband at low prices. It's worth checking to see what deals you can get to lower the price of a Plusnet mobile deal if you also sign up for broadband,
Frequently asked questions
Are all Plusnet SIMs 4G?
Yes. Sadly, this also means that there are no 5G SIMs available from Plusnet. At a time when you can grab a cheap 5G SIM from the likes of BT Mobile, and with more and more 5G phones available, this is a big miss.
Should I get unlimited calls and texts with Plusnet?
All Plusnet SIM only deals come with unlimited calls and texts as standard.
How do I cancel a Plusnet SIM only contract?
You can call 500 from a Plusnet mobile or 0800 013 2632 to cancel your Plusnet SIM only contract at the end of its term.
This is easier to do on a one month plan, as you can cancel at any time without paying a penalty for doing so.
Can I get a Plusnet data only SIM?
Unfortunately you can only get Plusnet SIMs with calls, texts and data.