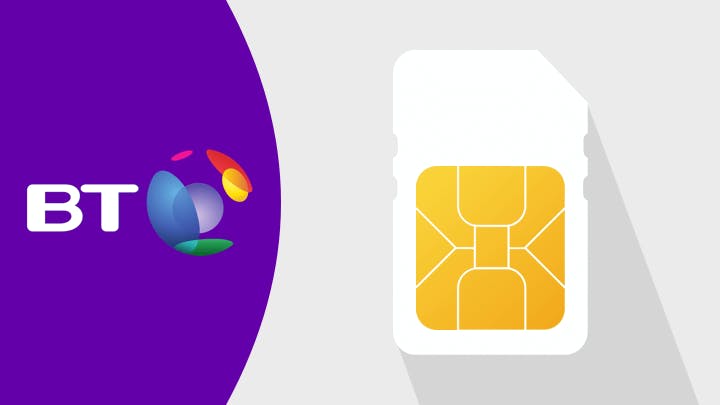 It's the UK's biggest broadband provider, but it's also a top choice for mobile deals too. BT's cellular branch, BT Mobile, has the perfect SIM-only plan for everyone.
BT Mobile uses the BT-owned EE network, meaning you'll always have good 4G or superfast 5G coverage, as well as offering tons of extra ways to save you money. Here's what you can get from the network's range of SIM deals.
What SIM-only deals can I get from BT Mobile?
BT Mobile has just a small but well considered range of SIM-only plans, with tariffs varied enough to suit anyone. They've all got unlimited calls and texts, and data allowances range from 4GB per month to 100GB. Some offer 4G only while others have access to the increasingly common 5G. All are on 12-month or 24-month contracts.
It also peddles amazing value Family SIM plans. With these, you can add more SIM cards with the same allowance onto your bill, and you get some impressive discounts. Each additional SIM means at least a 20% saving compared with getting a SIM on its own.
It's perfect if you have multiple people in your home who need a mobile plan - especially as all additional SIMs are on just 30-day terms rather than 12-month, meaning they can be added or removed as needed.
BT Mobile SIMs are decent value as they are, but they're even better value for anyone with BT broadband or BT Business broadband - this will give you an extra £5 discount on your mobile bill every month.
Why choose BT Mobile
Extras and special benefits abound with BT Mobile SIMs, including:
Great coverage, since it uses EE's network for both 4G and 5G
Monthly discount for BT broadband customers
Free BT Sport app with higher-end plans
Free use of BT Wi-Fi hotspots around the country
Ability to set monthly spending caps, so you don't get bill shock
As packages are 12 month only, there's also less confusion and lower prices compared with EE for example. And while prices are comparable with Three, we reckon the perks with BT are better.
Is BT Mobile a good network?
We certainly think so. BT Mobile is backed by EE, meaning you get the fastest 4G and 5G speeds going.
Throw in its range of extras and the chance to get money off if you have BT broadband or TV, plus discounts through its Family SIM deals and it's hard to argue against it.
If you have a phone you love and only need a SIM, BT Mobile is an excellent option.
How to compare BT Mobile SIM-only deals
Comparing BT Mobile SIM deals is simple: just use our comparison table.
You can see all the available deals in one place, and use the filters to alter it so you only see deals relevant to you. If you want, you can even compare BT Mobile deals alongside plans from other networks too.
When picking a SIM, remember to look at things like:
Existing customer deals - If you have BT broadband, you qualify for these.
Monthly data allowance - Choose from between 4GB and 100GB. Remember that all BT SIMs have unlimited calls and texts, so data is the only thing you need to make a decision on.
Cost - Select a maximum monthly price in the filters if you have a budget.
Extras - Want the BT Sport app for free? Remember this is only available with higher data plans
Select the SIM that looks best for you, and we'll take you to BT to sign up. If you're after a Family SIM deal with more SIMs too, it's easy to add these at the checkout.
Can I get an unlimited data BT Mobile SIM?
Sadly not. However, BT offers up to 100GB with 5G speeds, which should be more than enough for even the most data hungry of users. That will be ample for lots of video streaming, catching up on podcasts and gaming with friends.
It's also worth remembering that all BT Mobile plans give you free use of the provider's five million or so Wi-Fi hotspots around the country. You could potentially do most of your downloading on Wi-Fi - particularly if you live and work in a big town or city.
If that's not an option, of course, and you really do want unlimited data, you may have to look at SIM-only deals from other networks such as Three.
What's the cheapest BT Mobile SIM-only deal?
At the time of writing, the cheapest BT Mobile SIM only deal is £13 for 5GB of 5G data on a 24 month contract.
However, if you have BT Broadband, you can take a fiver off, meaning it's just £8 per month. That's a great deal in our book.
You can also save a quite a chunk of cash by choosing a Family SIM plan - a great idea if you need more than one SIM on a similar allowance, as you could potentially save up to 50% overall.
Is a BT Mobile deal cheaper than a phone contract?
Almost always. Buying a phone on its own and going SIM-only tends to be cheaper overall than getting a phone on contract.
This is the case when you compare similar plans on BT Mobile too - with some phones, you could save a good hundreds of pounds by choosing the SIM-only route instead.
Roaming on BT Mobile
One of the big perks of BT Mobile is being able to use your phone across Europe at no extra cost. Its Roam Like Home service lets you use data, calls and texts in 47 destinations without paying extra.
You can check restrictions by logging into your account. Outside the EU, you can get 500MB for £6 per day.
This compares favourably with the likes of Three and EE, which have changed their policies and added fees for new customers. O2, however, does offer inclusive data roaming in Europe, as does Vodafone on select plans.
Can I keep my number if I switch to a BT Mobile SIM-only deal?
Yes - it's almost always possible to keep your current phone number when you switch to a new network.
1) Choose a new SIM-only plan - compare deals and sign up to one that you like the look of. Your SIM will be sent through the post to you. While you're waiting…
2) Contact your current provider and request your PAC (porting authorisation code) - you can request your code in a few ways - online, via text and even by post if you're really old-school. If you phone, they may try to talk you into sticking with them, but stick to your guns if this happens. They'll send you the PAC as a text message within two hours.
3) Give the PAC to your new network - when your new SIM arrives, it will have a new number. To change it to the old one, contact your network and give them the PAC code. They'll take care of porting the number over. It could be as fast as one working day before the old number's transferred, but be aware that on occasion it can take a little more time.
It may sound complicated, but it's very simple in practice. If you want a bit more detail, check out our full guide to keeping your phone number:
Does my phone have to be unlocked to use a BT Mobile SIM?
Some phones are locked onto a particular network, and will need to be unlocked before you can use another company's SIM. Fortunately, this is really easy to do.
To find out if your phone is locked, pop in a friend's SIM card - they'll need to be on another network obviously. If it works, then your phone is good to go - otherwise, you'll need to contact your current operator and ask them to unlock it.
Different networks have different rules on unlocking. Some examples are:
Three - all handsets are unlocked out of the box.
O2 - phones are locked, but O2 will unlock them for free when you're out of contract. Pay-as-you-go (PAYG) customers will have to pay though.
Vodafone - phones are locked, but Vodafone will unlock for free.
EE - phones are locked, but EE will unlock for free - so long as you're out of contract. PAYG customers must wait 12 months after purchasing to unlock.
Those are just the major networks. To find out more about unlocking your mobile, check our full guide:
What else can I get from BT?
BT offers a whole range of services beyond its excellent mobile plans. You can, of course, get BT Broadband, with superfast fibre speeds available, as well as its comprehensive BT TV packages, including access to BT Sport.
And if you want a phone to go with your SIM, you can also check out BT Mobile deals.
More SIM-only deals
Take a look at the SIM deals you can get from other providers too:
Frequently asked questions
Can I get a 5G-enabled BT SIM?
Absolutely. In fact, most BT Mobile SIM only deals come with 5G as standard, meaning you can access the fastest networks and get ahead of the curve even if your area lacks 5G.
Remember you'll need a newer, 5G compatible phone in order for it to work.
Should I get unlimited calls and texts?
The good news is that all BT Mobile SIM only plans come with unlimited calls and texts.
So you're covered if you like to keep it old school when staying in touch.
How do I cancel a BT Mobile SIM?
If you're at the end of your deal you can text INFO to 85075 and request a PAC to transfer to a different network, call 0800 800 150 or log onto your BT account and go to Manage Mobile to ask for a PAC.
If you're mid contract remember you will be liable to pay the remainder of your fee before leaving.
What network does BT use?
BT owns EE and, as such, uses its award winning network for 4G and 5G access. You can check out EE mobile deals here.