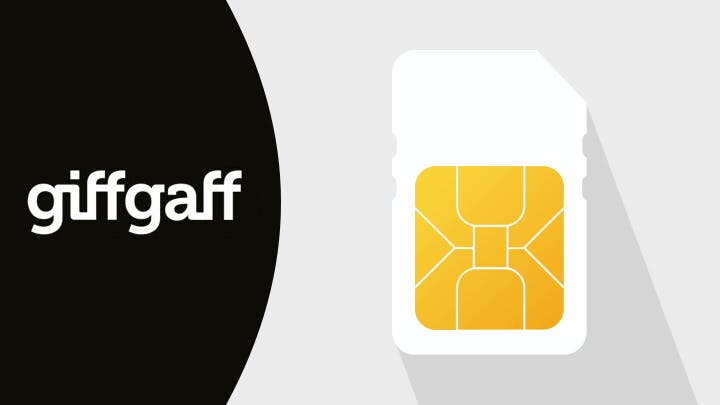 If you're weighing up which SIM-only mobile provider offers the best value for money, it's hard to look beyond giffgaff and its one-month plans.
What SIM-only deals can I get from giffgaff?
Monthly allowances range from 1GB data, up to sort of unlimited data (you can download as much as you like, but speeds are reduced if you exceed 80GB in a month) with unlimited minutes and texts.
All giffgaff SIM plans available through Broadband Choices come with unlimited texts and calls.
Perks and benefits
EU Roaming - enjoy using your allowance, data, minutes and texts in the EU and selected destinations at no extra cost
Payback - each time you do something to earn Payback points (like bringing mates to giffgaff or helping out on the community) points will be added to your account. You can then convert these points to cash, top-up credit or a donation to charity
Change your plan each month - you can change your giffgaff plan each month or cancel anytime (as all giffgaff plans are one-month contracts)
Tethering - all giffgaff plans allow tethering, so you can use your phone as a Wi-Fi hotspot
Is giffgaff a good network?
Few networks offer as good value as giffgaff. Its SIM-only plans are super affordable and extra flexible and use O2's network, which means coverage is excellent for both 4G and 5G.
The fact it offers inclusive roaming to the EU makes it better than big names like EE and Three, while its tethering offering means you can use your phone to work wherever there's coverage.
However, as it's community powered there's no customer service line you can call for help. This isn't a deal breaker, but worth being aware of if you ever need quick and easy help from a dedicated professional.
How to compare giffgaff SIM-only deals
Comparing giffgaff SIM deals is easy - just use the table at the top of this page. You can see all the deals together, compare what you can get, and filter them down so you only see the ones that suit what you need.
Think about things like:
Allowance - how much data and how many minutes and texts do you need per month?
Contract length - choose between a 12-month or a 30-day plan
Price - if you have a budget, choose the maximum you want to pay each month in the cost filter
Click on the deal you like best, and we'll take you to giffgaff's website so you can sign up and get started.
If you're not convinced giffgaff is the network you want, that's no problem - you can compare its deals right next to those from other providers too.
Just select the networks whose SIMs you'd like to see and we'll show you the lot. Or, compare all SIM deals here.
Can I get an unlimited data giffgaff SIM?
You can, but caveats apply. At the time of writing, giffgaff offers truly unlimited data with a golden goodybag as long as it's set to recur each month.
Alternatively, a regular goodybag offers 'always on' data but throttles speeds between 8am and midnight when you go beyond 80GB. If you're a hardcore phone user, then the latter probably isn't for you.
Does giffgaff offer data only SIMs?
At the time of writing, giffgaff does not offer data only SIMs for tablets etc. However, if you want one, you can compare data only SIMs with Broadband Choices now to see what's available.
What's the cheapest giffgaff SIM-only deal?
The cheapest mobile SIM deal you can get from giffgaff is a one-month contract that comes with 1GB data and unlimited calls and texts.
This is fine if you don't use your phone much for online services and just want to stay in touch with friends and family. But you'll need a lot more data if you're a heavy user.
To find the cheapest deal that fits your use, use our comparison table. Adjust the filters to make sure you only see SIMs that have enough monthly allowance for you, and then sort the whole table by monthly cost. You'll see the lowest-priced deals right at the top.
You'll generally find that 12-month plans work out cheaper per month than one-month ones, so it's worth the commitment if you really want to save money.
And sometimes there are limited time deals that are worth pouncing on - keep an eye out for those.
Is a giffgaff SIM deal cheaper than a phone contract?
Yes, it's almost always cheaper in the long run to buy a phone outright and take out a SIM-only deal.
As all giffgaff SIM-only deals are one-month plans, if you do want the benefits of a longer contract (like lower upfront costs, a nice new phone in your hand today, and free screen replacements), it's worth seeing what other networks can offer.
Can I upgrade a giffgaff SIM-only deal?
giffgaff offers flexible one-month plans so you always have the option to upgrade and change your plan month to month.
Can I keep my number if I switch to a giffgaff SIM-only deal?
Yes - it's almost always possible to keep your current phone number when you switch to a new network.
1) Choose a new SIM-only plan - compare deals and sign up to one that you like the look of. Your SIM will be sent through the post to you. While you're waiting...
2) Contact your current provider and request your PAC (porting authorisation code) - you can request your code in a few ways - online, via text and even by post if you're really old-school. If you phone, they may try to talk you into sticking with them, but stick to your guns if this happens. They'll send you the PAC as a text message within two hours.
3) Give the PAC to your new network - when your new SIM arrives, it will have a new number. To change it to the old one, contact your network and give them the PAC code. They'll take care of porting the number over. It could be as fast as one working day before the old number's transferred, but be aware that on occasion it can take a little more time.
It may sound complicated, but it's very simple in practice. If you want a bit more detail, check out our full guide to keeping your phone number:
What network is giffgaff using?
Giffgaff uses O2's network, meaning broad coverage of 3G and 4G and a growing 5G network that you can access if you take out a compatible SIM-only deal.
However, if you want extras that O2 customers enjoy, such as priority access for tickets to major gigs and events, you'll need to take out an O2 SIM-only deal.
Roaming with giffgaff
Roaming across Europe comes as standard with giffgaff, although with a fair usage cap of 20GB. This is standard and puts giffgaff ahead of the likes of Three and EE, which now charges extra to use your phone abroad.
Using your phone abroad can be costly, with networks reintroducing charges, so read our guide to mobile broadband abroad to get the latest.
What else can I get from giffgaff?
Giffgaff also offers phone plans, but its contracts are offered through Klarna. That means it's not like your standard network. If you want a contract that has extras and the backing of a big name, you may want to look elsewhere.
More SIM-only deals
Take a look at the SIM deals you can get from other providers too:
Frequently asked questions
Are all giffgaff SIMs 4G?
All giffgaff SIMs offer at least 4G, with a growing number coming with 5G for connecting to faster networks using the latest smartphones.
Should I get unlimited calls and texts?
giffgaff now offers unlimited calls and texts, in line with most SIM-only rivals.
How do I cancel my giffgaff SIM-only contract?
You can choose to turn off your recurring giffgaff goodybag and deleting your auto payment details by logging into your giffgaff account. Your account will then auto delete after six months.
To switch to a new network, request a PAC via your online account and give this to your new provider and they'll do the rest.
Are giffgaff SIMs pay as you go?
Yes, you can get giffgaff pay as you go SIMs. It charges 25p per minute, 10p per text and 10p per MB.
This is simple, but nowhere near as good value as its monthly goodybags or rival PAYG plans from the likes of iD Mobile.