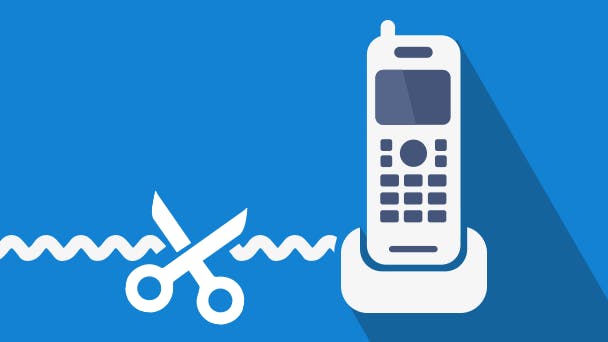 Resent paying for a landline that you barely use? The good news is that you no longer have to. Read on to find out the pros and cons of broadband-only deals, as well as which providers offer these.
What is a broadband only deal?
A broadband-only deal is just what it sounds like: a contract that doesn't include the cost of line rental or any other services.
Most broadband-only deals involve 'fibre to the premises' (FTTP) technology. This is when providers use their own network to deliver an internet connection straight to your house, rather than relying on the Openreach network that uses copper telephone cables to connect UK homes to the nearest street cabinet.
Because your internet connection isn't delivered via those copper telephone cables, there's no need for a landline at your home. Therefore, you can choose to get a broadband-only deal if you don't want line rental included in your plan.
Can I get broadband without a landline?
Yes, you can. An increasing number of providers now offer broadband-only deals, with no need to get line rental as well. This comes with the potential for cost savings – ideal for those who never use a landline to make calls.
However, broadband-only deals aren't as widely available as broadband and landline bundles. This is because most types of common broadband – in particular, 'fibre to the cabinet' (FTTC) broadband and standard ADSL broadband – still need a landline to provide an internet connection in your home.
Additionally, most providers use the same Openreach network, and therefore require you to get line rental with their broadband packages. Major providers BT and EE do offer broadband-only deals, but cheaper providers like Plusnet and Now Broadband don't.
Alternatively, there are some networks that don't use the Openreach network, and therefore offer broadband-only deals. Virgin Media is your best bet, as it runs on its own network and uses FTTP technology. However, you'll need to live at an address that's covered by its fibre broadband network.
Otherwise, availability for other providers' broadband-only services is even more limited and region-specific.
For example, Hyperoptic is mainly concentrated in London, although it's expanding its network to cover other major cities like Birmingham, Leeds and Manchester. On the flip side, Gigaclear is generally only available in select rural areas.
There's also the option to get Three's 4G and 5G home broadband, which doesn't use any cabling at all. Instead, it uses the same internet signal as your smartphone to connect your other devices. Again, this service is currently limited to London.
Similarly, Vodafone's GigaCube provides home internet via its 4G and 5G network.
The best way to find out if you can get broadband-only service in your area is to use our postcode checker. Just enter your postcode and we'll show you what's available at your address.
Which providers offer broadband only deals?
These days, many providers have broadband-only deals, including:
Virgin Media has long been the market leader when it comes to broadband-only deals. It operates a network separate to BT's Openreach network, which most providers use to provide their internet services.
There's also a handful of smaller providers offering FTTP broadband, which means no line rental is required. Hyperoptic, Gigaclear, Community Fibre and G.Network are all examples, although they're highly limited by region – Gigaclear is only available in certain rural locations, while the others are pretty much London-only.
Don't worry if you can't get any of the above at your address. Household-name providers, such as BT, EE and TalkTalk, as well as Zen Internet, now offer fibre broadband without the need for line rental.
What's more, some of these providers offer broadband-only options with speeds between 36Mbps-63Mbps, which are much more widely available than the ultrafast speeds of FTTP broadband.
Use our postcode checker to see what's available where you live.
Who offers the cheapest broadband-only deals?
EE offers fibre broadband without a landline for £27 a month, at speeds of 36Mbps. BT's broadband-only fibre deals have similar speeds and cost around the £28.99 a month mark. Virgin Media boasts faster speeds, but with a higher price tag to match.
It's also worth keeping an eye out for time-limited sales that'll bring down the monthly cost of your broadband. For example, at the time of writing (August 2022), Hyperoptic is offering discounts on its 24-month and 12-month contracts, bringing the cost of its cheapest deal to £20 a month.
Can I get unlimited broadband without a landline?
For sure – these days, most broadband deals are unlimited, regardless of whether they come with or without line rental.
That means you can use the internet as much as you want, without having to worry about going over a usage limit or having your internet slowed down.
What are the pros and cons of broadband-only deals?
Pros
No worries about paying line rental costs, or any extra call packages or pay-as-you-call charges on your monthly bill
Access to truly superfast broadband right to your front door
Increasing number of providers mean better deals to be had
Cons
No landline bundled with your broadband package
Limits the number of providers you can secure a deal from
Access is limited by where you live
Not always necessarily cheaper, as the cost of line rental is included in your monthly bill
Frequently asked questions
Will I save money by getting broadband without a landline?
Getting broadband without a landline seems to make a lot of sense, especially if you don't make landline calls. But you won't necessarily save money by getting a broadband-only deal.
After all, broadband and home phone bundles come with line rental included in the price. And unless you add a call plan or make pay-as-you-go calls, you won't have to pay anything extra.
So, when comparing broadband-only deals from the likes of Virgin Media and Hyperoptic with broadband and landline deals from rival providers, you may find that the latter can work out cheaper, even though you're technically paying for an extra service.
For example, when we checked, Virgin Media's Broadband + Phone plan has a lower monthly cost than its standalone M50 Fibre Broadband deal – both of which offer the same speeds.
It's also worth noting that many broadband-only packages use FTTP technology, which delivers amazingly fast broadband speeds. And, as expected, fast speeds generally come with a higher price tag to match.
So, it's always worth checking the price of broadband and home phone deals in your area before springing for a broadband-only option. If you find one that works out cheaper than a broadband-only service and offers comparable speeds, we'd recommend getting the broadband and home phone deal instead.
Keen to save money? Take a look at our pick of the best money-saving cheap broadband deals.
Can I get fibre optic broadband without a phone line?
Definitely. Quite a few of the big providers, such as BT, EE, TalkTalk and Virgin Media, offer widely-available fibre broadband deals that don't require you to sign up for a landline.
Plus, many smaller regional providers, such as Hyperoptic and Gigaclear, have full fibre broadband without the need for a landline – you'll just need to see if it's available at your address.
Virgin Media and Hyperoptic have the added advantage of offering fibre-optic broadband on one-month contracts, allowing you to leave with 30 days' notice.
Compare no contract broadband deals
Can I get BT or Sky broadband without other add-ons?
BT offers a broadband-only service as standard.
However, Sky requires you to have a landline. It gives you the option of having pay as you go calls, so you don't have to make use of it, but line rental will be included as part of your monthly bill.