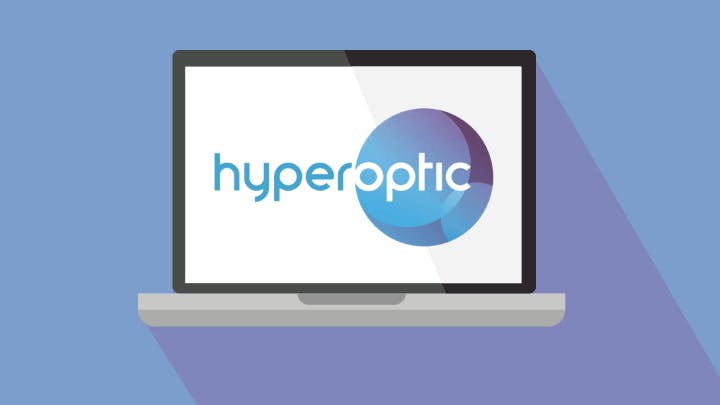 There's superfast broadband, and then there's super-duper-fast. Hyperoptic offers broadband packages that are off the charts when it comes to speed: its fastest package has average download and upload speeds of a whopping 900Mb.
Its broadband is 'fibre to the building', also known as 'fibre to the home' or 'fibre to the premises' (FTTP). While most fibre connections incorporate copper cables, usually between the local street cabinet and your home, Hyperoptic broadband is entirely fibre optic all the way from the exchange to your router.
That means some of the fastest download speeds known to man – but it's also expensive to install, and not as widely available.
That's why Hyperoptic generally installs it on a building-by-building basis. If enough residents of an apartment complex or block of flats register an interest, Hyperoptic will seriously consider connecting your building. Or, if you're lucky, it just might already be available where you live. Enter your postcode to find out.
What can I get from Hyperoptic?
You can get extremely fast fibre optic broadband, in four different speeds:
Fast – average speeds of 50Mbps, ensuring simple, speedy, and reliable broadband that can handle things like video streaming
Superfast – with average speeds of 150Mps, it's well-suited for large households, or for anyone who likes HD movies, gaming, video calling, and so on
Ultrafast – average speeds of 500Mbps, Broadband with no limits, for a big household of people who all want to game, download, or watch TV online at the same time without a hitch
Hyperfast – top of the range gigabit broadband with average speeds of 900Mbps
All come with unlimited downloads so you can really put those quick speeds to good use, and a free HyperHub router. To take your internet connection to the next level, you can also add Hyperoptic Total Wi-Fi to your package. This is a mesh Wi-Fi service that supercharges your connection to ensure top speeds and coverage in every room of your house.
There's a good range of contract lengths to choose from – you can get Hyperoptic packages on a 24-month or 12-month contract, or even a monthly rolling contract.
While the monthly contracts are more flexible, they cost more per month – but if you want to cancel your contract, you won't need to pay any early termination charges. Overall, it's good to have some shorter-term options available.
Hyperoptic works on its own cable network, so line rental isn't required. So, you can choose whether to get a broadband-only deal, or pay a few extra pounds a month for a broadband and home phone package.
Its broadband and phone packages come with some free calling features, such as caller display, call waiting and call barring options. Plus, you get inclusive evening (7pm-7am) and weekend UK landline calls as standard. Otherwise, Hyperoptic offers two add-ons for an extra monthly charge:
Anytime Landline UK – calls to UK landlines, 24/7
International – discounted international calls, 24/7
Can I get Hyperoptic broadband in my area?
That depends on where you live. Unfortunately, as Hyperoptic is a full fibre network, it's not quite as widely available as most other providers, which use BT's widespread Openreach network.
While Hyperoptic is continuing to roll out its network to more areas in the UK, right now it's mainly limited to cities and towns.
It's also common in new-build apartments and housing complexes, where it may be the exclusive provider to a particular building or street.
You can use our postcode checker to see if you can get it at your address, or view Hyperoptic's coverage map.
What type of broadband can I get with Hyperoptic?
All Hyperoptic packages use 'Fibre to the premises' (FTTP) technology to deliver amazingly fast speeds.
What's different about FTTP? Well, most superfast fibre services (with speeds around 36Mbps-63Mbps) are 'Fibre to the cabinet' (FTTC), which uses fibre cables up to a telephone cabinet in your area. It then uses slower, older copper cables from the cabinet to your home.
On the other hand, FTTP, or full fibre broadband, uses fibre cables that connect directly to your home. This way, it delivers a much faster and more reliable connection.
Can I get Hyperoptic without a landline?
Yes, you can. You can get all Hyperoptic packages either as a broadband-only deal, or with a landline included.
What speeds can I get with Hyperoptic broadband?
At the time of writing (July 2022), Hyperoptic offers four speeds:
50Mbps
150Mbps
500Mbps
1Gbps
Its fastest 1Gbps service promises average speeds of 900Mbps, over 18x faster than the UK's average broadband.
Moreover, Hyperoptic promises symmetrical speeds with its 150Mbps+ packages. This means upload speeds are as fast as download speeds.
What's good about Hyperoptic?
One of the fastest providers, offering full fibre broadband with speeds between 50Mbps-900Mbps
Broadband-only packages available, with the option to add a landline for a few more pounds
Regular sales and discounts – packages are decently priced for the speeds you get
Good choice of contract lengths, with 24-month, 12-month and even monthly rolling contracts available for ultimate flexibility
Unlimited downloads on all packages, so you can browse, stream, and transfer files without worrying about a usage cap
No slowdowns, even at peak times
24/7 customer service and tech support
Hyperoptic promises no mid-contract price rises
Fibre phone lines mean incredibly clear call quality
What's bad about Hyperoptic?
Very limited availability – use our postcode checker to see if you can get it
Landline packages aren't that comprehensive – international calls are still quite expensive, and there aren't any options for cheaper calls to UK mobiles
Other than a rather limited landline, there aren't any options to bundle broadband with other services
Prices are on the higher side when there's no sale
No extra perks or rewards for new and existing customers
If you don't need top speeds, less costly fibre connections are available from providers like TalkTalk and Plusnet
Depending on the package you get, a one-off activation fee may apply
While the speeds into your router may reach 1Gb, the HyperHub can only transfer data over Wi-Fi at a maximum of 130Mb
Our latest Hyperoptic deals














£62.00

per month

£2.42

Avg. monthly cost


£43.00

per month

£3.25

Avg. monthly cost


£52.00

per month

£2.42

Avg. monthly cost






*Average speeds are based on the download speeds of at least 50% of customers at peak time(8pm to 10pm). Speed can be affected by a range of technical and environmental factors. The speed you receive where you live may be lower than that listed above. You can check the estimated speed to your property prior to purchasing.
What if I can't get Hyperoptic broadband?
As Hyperoptic uses its own network and FTTP technology isn't as common, it may be the case that you can't get Hyperoptic broadband just yet.
If you're looking for top speeds of anywhere between 10Mbps to 1Gbps and beyond, Virgin Media is your best bet. Like Hyperoptic, it runs its own network, achieving top speeds of a lighting fast 1,130Mbps. It's also more widely available than Hyperoptic, so you'll have a better chance of getting it in your area.
Otherwise, the big-name providers BT, Sky and EE now all offer full fibre services. While they're not quite as fast as Hyperoptic, they use the Openreach network – which means they're much more widely available.