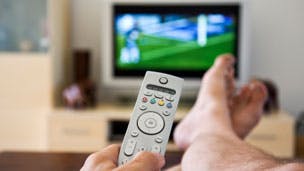 For most people, watching TV is an opportunity to relax and catch up on their favourite shows. But for some - especially those in large families and couples who share everything but a mutual love for Made in Chelsea - it can be a headache choosing one programme everyone is happy to watch.
Fortunately, a multi-room subscription lets you watch digital TV in different rooms, at the same time. Read on, and we'll tell you how multi-room works, and which providers offer the best deals.
Why get multi-room?
Whether or not you should take out multi-room depends entirely on your household's viewing habits. For example, on-demand apps like Sky Go and Virgin TV Go let you watch on laptops and mobiles - and for some people that will suit them just fine.
For the best possible viewing experience, though, you should consider a multi-room subscription, as it comes with a wide range of advantages:
For large families - if you're part of a large family, you'll already be pretty nifty at the reoccurring remote-control tussle. Thankfully, multiscreen solves this problem, as the whole family can enjoy what they want in different rooms - hurrah
For kids - if the kids are off school, and you want to catch up on your favourite show without interrupting Tom and Jerry, you'll be extra grateful for a multi-room subscription. Plus, it'll keep the kids quiet in their rooms for hours.
For sports fans - believe it or not, not everyone in Britain is a football fan, and with multi-room, not everyone in the house has to be subjected to the Premier League. That's surely worth paying a few extra quid for, right?
Who offers multi-room?
Most of the UK's major TV providers offer multi-room subscriptions, so you'll likely find a good deal - either with your current supplier, or a new one. That said, it's important to know how each provider sets up multiscreen, and how their boxes work, before you pick a deal.
Sky Q Multiscreen
Nowadays, those with a Sky Q box can also watch Sky TV on their smartphone, laptop, or tablet. But if you want to take advantage of your full Sky package, on multiple TVs, you'll need to take out Sky Multiscreen.
Is Sky Multiscreen the same as Multi-room?
Not quite. Put simply, multiscreen is an upgraded version of Sky's previous offering, Sky multi-room.
Here's how it works; a wireless Sky Q 'Mini' box will connect to your main Sky Q box, eliminating the need for drills and wires, as the boxes won't need to be hooked to your Sky dish.
If you opt for a 1TB box, you can watch your full Sky package on two TV's at once, and a 2TB will allow for up to three tellies at a time.
Plus, with multiscreen, you can also watch Sky TV outside of the comfort of your home thanks to Sky Go Extra, which is included as part of Sky's Multiscreen deal.
How much does it cost for Sky Multiscreen?
Prices for Sky Multiscreen can vary depending on which box you get, and what package you're on, so you're best off browsing for deals:
Virgin Media multi-room
Virgin Media multi-room lets you watch Virgin TV on up to five additional set-top boxes. Plus, if you're a Virgin Media customer, you'll get a second Virgin TV V7 box, for free.
To connect any extra boxes you purchase from Virgin, you'll need an ethernet cable to hook-up the box to your Virgin router, which is pretty simple to do.
Bear in mind, though, if you want to watch shows in HD, then your extra box will have to have HD functionality.
How much does it cost for Virgin media multi-room?
You'll need to pay an activation fee, as well as an extra payment for the box, depending on which package you're on. To find out more about deals on Virgin Media, check our deals page.
TalkTalk Multi-room
TalkTalk lets you watch your TalkTalk TV package on up to two TVs at the same time. To get started, you'll need to pay a small fee for the box, as well as for an engineer to come out and install it. To use TalkTalk multi-room, you'll also need fibre broadband to get the best viewing experience.
How much does TalkTalk Multi-room cost?
The good news is that TalkTalk Multi-room is relatively cheap, and TalkTalk always offer some cracking deals.
BT Extra Box
BT's version of multi-room is called 'BT Extra Box' and requires customers to take out a 12-month subscription, as well as buy an extra YouView plus box.
Like TalkTalk, you can only add one extra box, and the service is only available to those with Fibre broadband. Also, speeds must be greater than 23Mbs for the service to work properly.
How much will BT Multi-room cost?
Prices for BT Extra Box vary, and you may need an additional aerial connection to your second YouView Box. So, we recommend taking a look a look at some of BT's latest deals:
Frequently asked questions
What are the alternatives to multi-room?
Most people think the only way to watch TV in another room is to pay for a multi-room subscription, but this isn't always the case. For example, if you like to watch shows on your tablet, laptop, or phone, you'd be better off using an app like Sky Go.
Alternatively, you could take out a Netflix, Now TV or Amazon Prime Instant Video subscription, and watch the latest shows on numerous devices at a time. This is likely to be cheaper than a multi-room subscription and unlikely to lock you into a long-term contract.
How do I find the best multi-room offer?
So, now that you know a little more about multi-room and the providers that offer it, the next step is to pick the right deal for you.
If you're currently on the hunt for a TV package, check out the best deals by clicking on the button below. If you're with any of the providers listed above, take a look at our handy comparison tool to get the best deals.