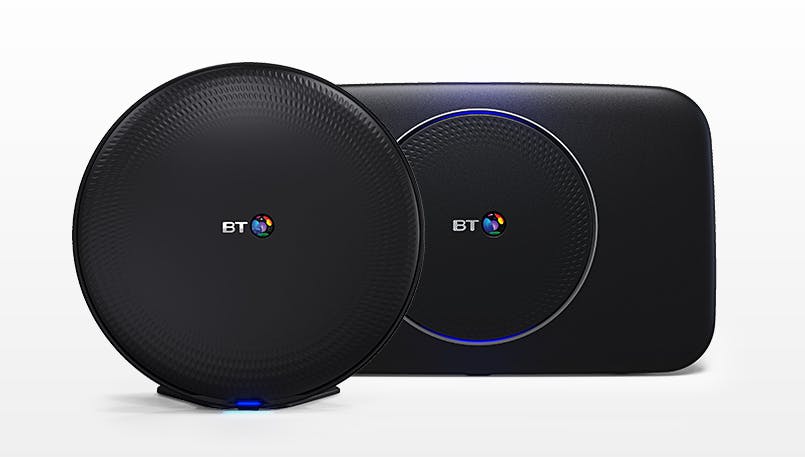 I've heard BT are guaranteeing strong Wi-Fi signal in every room and I'd like to know how it works, and how expensive it is.
Pete, Via Email
There's nothing more frustrating than a patchy Wi-Fi connection.
Indeed, if you run a business from home, stream movies or play games online, a strong signal is especially important. But for those who live in a large home or a cottage with dense walls, a sturdy connection in every room of the house is hard to come by.
Luckily, BT has created Complete Wi-Fi which, according to the network giant, will put an end to patchy Wi-Fi once and for all. But is this just more bluster from a big network?
Let's take a look…
What does BT Complete Wi-Fi do?
Put simply, BT Complete Wi-Fi increases the strength of your broadband using Wi-Fi 'discs.' And we have to say, on paper it's an impressive bit of kit.
It's compact, reliable and, according to BT, guarantees flawless Wi-Fi in every room of your home.
What's more, if you live in a four-bedroom house, BT claims you could potentially see increased speeds of up to 25% - and that's thanks to just one disc.
Here's the best part, though: BT is so confident in its assertion that if you don't get a seamless connection throughout your home for any reason, it'll send you two more discs to boost your signal free of charge.
And if that doesn't work, it'll give you £100 cashback.
Who is it for and how can I get it?
As we say, it's intended for anyone who has to put up with patchy Wi-Fi spots at home. But you can only sign up and get the WiFi Guarantee if you're a BT fibre broadband customer with its Smart Hub 2 router.
You can't use the Complete Wi-Fi discs with Sky, Plusnet, EE, Virgin Media or any other household-name supplier.
However, customers from other providers can sign up for a comparable service from BT in the form of Whole Home Wi-Fi. This is similar, but doesn't require you to use to a BT Smart Hub 2.
Before you rush out and get Whole Home Wi-Fi though, we recommend contacting your current provider to see if there is a solution to your poor connection first, as you may have a faulty router with an out-of-date driver.
To find more ways to improve your Wi-Fi signal, check out our handy guide.
All that said, if you're a BT broadband customer who lives in a large house, cottage or older terraced house, BT Complete Wi-Fi could well be for you.
How does BT Complete Wi-Fi work?
Put simply, it works by using a combination of Wi-Fi discs and BT's Smart Hub 2 to create one complete 'mesh' network throughout your home.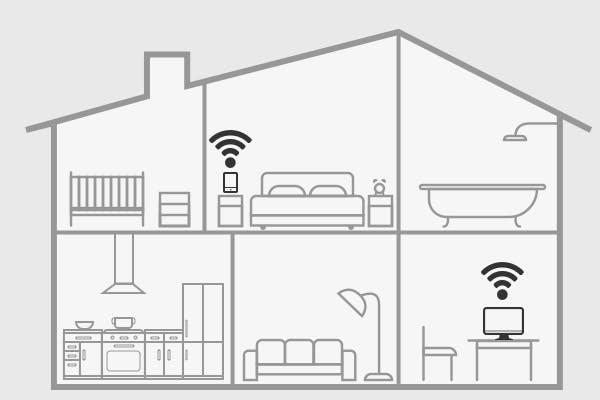 As you can see, the discs connect to the hub with the strongest signal, increasing the signal from the hub as you go about the house, and significantly reducing the chance of hitting a patchy spot.
All of this, according to BT, will generate a faster connection and even allow you to stream HD content in every room.
Brilliantly, because the network will be treated as one single unit you won't need loads of different passwords to connect to it, either.
To figure out where to position the disc for the best signal, you'll need the 'My BT' app. Once you've downloaded it, you can check your Wi-Fi signal in every room and also see if other devices are connected, too.
How much is BT Complete Wi-Fi?
That depends on what equipment you already have. At the time of writing you can get Smart Hub 2 & Wi-Fi Disc for £200.
Or if you already own at Smart Hub 2 you can get a single disc for £100, two discs for £300 and three for £300.
You can also add Complete Wi-Fi to your package if you're signing up for BT broadband as a new customer. At the time of writing, this added a charge of £10 per month to your bill. So you're effectively spreading the cost of the equipment over the course of your contract.
If you like the sound of BT Complete or would like more information, click on the link below to be taken to their dedicated page.
Frequently asked questions
How many Complete Wi-Fi discs will I need?
That mostly depends on the size of your home, as well as factors such as the number of floors and whether you've got especially thick walls. However, in general one disc should be enough for most properties.
If you've got three bedrooms, or four-plus bedrooms, though, there's a good chance a second or third disc will be required.
Do I need a Smart Hub 2 to get BT Complete Wi-Fi?
Yes. Complete Wi-Fi will only work with a BT Smart Hub 2. But you can get a comparable service that works with other routers and with other providers' broadband by opting for BT's Whole Home Wi-Fi service instead.