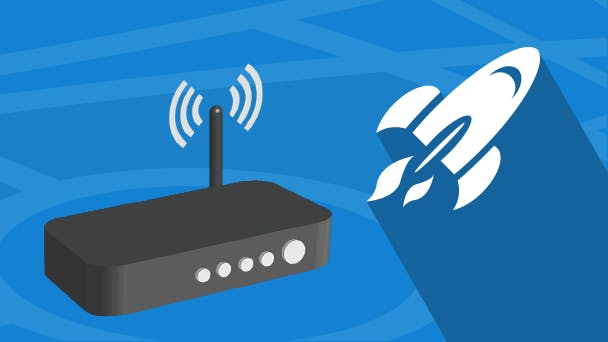 If you have 4G, you're probably pretty impressed with the internet you get on your mobile. 4G's faster and more widely available than ever, and sometimes, in some cases, you can get a faster connection through your smartphone than through home internet. So it would make sense to forsake your home broadband altogether and just use 4G, right?
Sadly, it's not that simple. It's certainly possible to get a good connection through 4G, but for most of us it isn't necessarily a practical, long-term replacement for fixed-line broadband just yet.
What is 4G?
4G is the fourth generation of mobile communication tech and can deliver speeds comparable to those you get with some home broadband packages.
The majority of the UK's mobile networks - including BT Mobile, EE, giffgaff, iD, O2, Three, and Vodafone - all offer 4G as part of their mobile deals, though speeds and coverage vary from network to network.
According to Ofcom, however, speeds average at 15.1Mbps and can reach up to 30Mbps.
But 4G isn't just for internet connectivity on smartphones. It can also be used as a home internet service to get online with all sorts of internet-enabled gadgets throughout your house.
How can you use 4G as home broadband?
There are three main ways to do this.
With a 4G WiFi router, such as Three's Plug and Play Home Broadband or Vodafone's Gigacube.These create a wireless signal that extends throughout your home, so you can use it go online with multiple gadgets simultaneously.
With a mobile broadband dongle. This is gadget that you insert in your computer's USB drive and lets you get online with computer it's plugged into. But won't transmit a signal you can use to get online with other devices.
By tethering from your smartphone. If you've got a phone with a 4G mobile plan, you can likely tether from it. This essentially turns your phone into a Wi-Fi hotspot that you then connect to from your other gadgets.
Can 4G replace home broadband?
Well, maybe… but not entirely. Let's take a look at the pros and cons of 4G.
Pros of 4G over home broadband
Packages are often far more flexible - 30-day contracts abound that can be cancelled whenever you want.
Speeds can be pretty fast, sometimes faster than ADSL home broadband connections.
A mobile broadband device is portable, so you can take it wherever you take your laptop or tablet.
It eliminates the need to pay for home broadband, line rental, and a mobile plan - using 4G for your home connection could potentially cut out some bills completely.
Cons of 4G over home broadband
Mobile broadband, whether from a hotspot or your smartphone, usually has more restrictive download limits than even the cheapest of home connections. You can get unlimited-usage 4G mobile internet, but it'll cost more than a standard, unlimited-usage ADSL service.
Tethering from a mobile isn't always possible. Some plans don't allow it, and some networks apply narrow download limits for tethering.
It's more expensive than similar home broadband packages… which often give you unlimited downloads, comparable speeds, and extras like internet security or TV.
It's less reliable. A lot of things can get in the way of a wireless signal, and if it goes down or starts being slow, there's very little you can do about it. Mobile internet speeds have also been known to be pretty inconsistent, too.
4G can reach good speeds, but fixed line broadband can reach even higher ones - over 500Mbps with a widely available service from Virgin Media, for instance. Or 1Gbps with a full-fibre service, such as Hyperoptic or Virgin Media's Gig 1 product.
See our mobile broadband vs fixed broadband guide for more detail.
*Average speeds are based on the download speeds of at least 50% of customers at peak time(8pm to 10pm). Speed can be affected by a range of technical and environmental factors. The speed you receive where you live may be lower than that listed above. You can check the estimated speed to your property prior to purchasing.
Our verdict
Generally, a wired home broadband connection is preferable to a 4G one. It's more reliable, it works out cheaper for heavy users, speeds are pretty good most of the time, and it's likely you'll get unlimited downloads too. For general internet use there's not much better, provided you can get decent speeds.
It's only worth using 4G for your home broadband if you absolutely need internet right now for a period of less than a few months - and can stand an unreliable connection, of course. If you're a very light user and only use the 'net for a bit of browsing and email, you may well be fine with just 4G too… although it won't be quite as good for streaming video or playing games.
Frequently asked questions
Can I use 5G for home internet?
Faster 5G mobile internet is a much more viable alternative to fixed-line broadband than 4G. But the catch is that 5G is much less widely available and is currently largely restricted to cities and towns.
Find out more about using 5G as your home internet in our one-stop guide.
Which networks offer 4G home broadband?
You can get 4G home broadband from EE, Vodafone and Three, with a range of one-month and longer-term contract options and usage allowances to choose from.
Is 4G home broadband suitable for online gaming?
You can use 4G home broadband for online gaming and can expect a decent gaming experience. However, faster fibre fixed-line broadband will minimise ping (the delay between pressing a button and it registering), so you'd get a competitive advantage over other players and get a better gaming experience than you would with 4G home broadband.
If you're still minded to get mobile internet and want to keep ping to a minimum when you're gaming, you may want to look at 5G home broadband instead.
How fast is 4G home broadband?
That largely depends on which network you're with. But studies show that the average UK 4G speed is about 20Mbps. That's fast enough for streaming video, even in HD, and for online gaming.
However, it's a lot slower than average speeds on traditional fibre broadband products, which are around the same price.