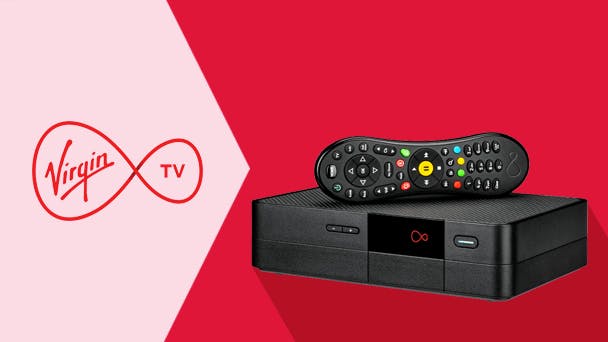 I'm thinking of upgrading to Virgin Media's V6 box. Is it worth getting, and if so how do I go about doing that? Thanks for your help!
Virgin Media's V6 set top box is a significant upgrade on the TiVo box. And it's easy to get your hands on one.
As for whether it's worth the extra outlay… well, that's trickier to answer. Let's get into it.
What is the Virgin TV V6 exactly?
The V6 is the latest set top box from Virgin Media. It contains all the functionality you get with a standard Virgin TiVo box, but adds loads of extra features, is easier to use and also looks considerably sleeker.
And yes - we know looks don't matter that much for set top boxes, but if you're going to have something under your TV, it may as well be pleasant to look at.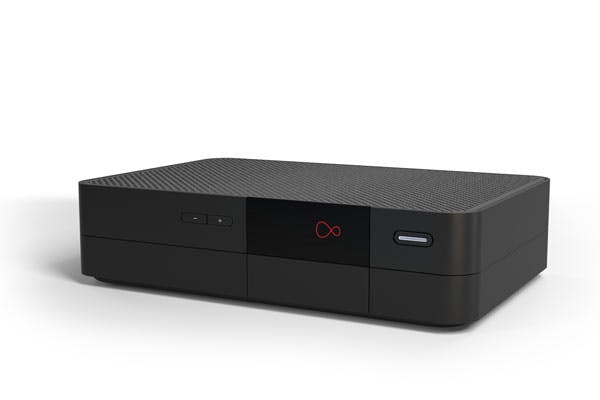 Here are just some of the ways it kicks the old Tivo box into touch:
It's faster - If you've ever used a TiVo box, you know they can be a little sluggish at times. The V6 is ten times faster - menus are near instantaneous and apps launch extremely quickly.
It's 4K-ready - If you have, or were thinking of buying, an Ultra HD TV, this feature will be particularly appealing. The V6 supports the resolution, so you can watch certain on-demand shows with incredible detail. In truth, there's not a whole lot to watch right now but 4K is the future, and the V6 is prepared for it.
Search is fantastic - A search function may not seem like the most glamourous feature, but it is by far my favourite. Simply start typing the name of a show into the box, and it will immediately start looking for it, before you've even completed the word. Even better, if that show is on multiple services - be it TV, catch-up or Netflix - all of them will show up in the results.
You can launch catch-up TV from the guide - Finally, you can scroll back in the guide, select a show you missed and immediately launch that show to watch on catch-up. YouView's been doing this for a while, so it's great to see Virgin Media catching up.
You can record six shows at once - I can't recall a time when there were six things on TV at the same time that I wanted to watch. But if it's something you've experienced (I'm not convinced it's a common problem, but feel free to tell me I'm wrong)… well, it won't be a problem anymore.
A new remote that beeps when you lose it - Here's another one I particularly like. If you lose the remote control (and I do this all the time), you can press a button on the V6 to make the remote start beeping so you can find it.
How do I get the V6 box?
The Virgin Media V6 box is now included as standard with all TV and broadband bundles. That goes whether you're a new or existing customer.
You can see some Virgin Media deals right here:
*Average speeds are based on the download speeds of at least 50% of customers at peak time(8pm to 10pm). Speed can be affected by a range of technical and environmental factors. The speed you receive where you live may be lower than that listed above. You can check the estimated speed to your property prior to purchasing.
Can I still use my old TiVo box?
You can! Put it in another room, and you can watch Virgin Media TV in another part of the house. It'll work pretty much as before - just be aware that the speed of the new box will make this one seem like a slog in comparison.
You can even watch your old recordings through your new box. You'll have to connect the old TiVo box to your router directly via Ethernet cable to do so, but it means you won't lose any of those precious episodes of Planet Earth you've been hoarding.
Is it worth upgrading to the V6?
The Virgin TV V6 is a very, very good bit of kit, and for some people an upgrade is definitely worth it. It's not for everyone though - some people would be better off saving the money.
Obviously there is no correct answer here. Ultimately, only you know whether you want it, or can afford it, but here's what I think.
I'd say it's a clear yes to upgrading if:
You watch a lot of TV
You have a 4K TV
You want to put the old TiVo in a different room
You want more recording space, or the ability to record more channels simultaneously
You use apps like Netflix or catch-up TV a lot via your set top box
Otherwise, I'd say it's a nice-to-have rather than a must.
Frequently asked questions
What is the Virgin V6 box?
The Virgin V6 box is Virgin Media's latest set-top box which gives customers access to Virgin Media TV bundles.
Which is better – TiVo or V6?
Because the V6 box is newer, that means it also boasts more impressive features than Virgin Media's TiVo box, such as 1TB of storage, compared to 500GB.