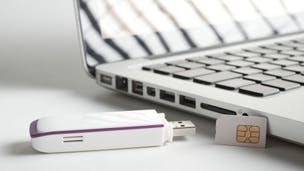 Looking for a great mobile broadband plan? Whether you're ready to buy or just want information, you're in the right place. In this guide, we'll talk about the different mobile broadband options out there, and show you where to find deals.
Mobile broadband is pretty simple on the face of it. It's right there in the name - it's broadband while you're on the go.
Where things can become complicated though, is the dizzying variety of ways to get it. Read on and we'll tell you a little about each, and send you where you need to go to find out more.
Dongle deals
Dongles are among the most popular mobile broadband devices out there. Simply plug them into your laptop and you're good to connect to the internet wherever you are. There's no shortage of choice when it comes to dongles either. Go take a look:
Portable Wi-Fi / Mi-Fi deals
Portable Wi-Fi devices (also known as Mi-Fi, pocket hotspots, and so on) allow you to create a wireless hotspot anywhere with network coverage. This lets you connect multiple Wi-Fi-enabled devices to it, including phones, tablets, e-readers and more. You can find out more, and see some great deals right here:
iPad SIM deals
It's the most famous tablet in the world, and most mobile operators are eager to sell you a data-only SIM to go with it. Here's everything you need to know about choosing a plan, and loads of great deals to compare.
Tablet SIM deals
…but perhaps you have an Android, Windows, or Amazon tablet. If it's 4G or 5G-ready, then you need a decent data SIM plan to go with it. Allow us to help:
Data-only SIM deals
If there's one thing you can say about data-only SIM plans, it's that there sure are a lot of them! With so much choice, it can be daunting to try and find a better deal for your tablet or laptop. Our comparison service makes it easy though - simply click the link below to immediately search for the best deal.
Pay as you go mobile broadband
Contracts are all well and good, but perhaps you're just not ready for that level of commitment. Pay as you go mobile broadband exists, and it's a good choice for infrequent users, or if you just want to try out a network. Our guide goes deep into the ins and outs of pay as you go plans:
Mobile broadband providers
The UK's big four mobile networks all offer mobile broadband deals, selling everything from SIM-only plans to dongles. Naturally, we have pages for each - click the link below to see more from each of the providers or for head over to our mobile broadband providers page.
How to pick a mobile broadband deal
So, with all that choice, what should you go for? That depends on a few things…
Choose the right gadget
Mobile broadband comes in many different forms, so the first step is figuring out which is best for you. This all comes down to how you want to use your mobile internet.
For broadband out and about, or while travelling - Go for a personal mobile Wi-Fi device (aka MiFi) that gives you portable Wi-Fi wherever you go. Or, if you only need the internet on a laptop, grab a dongle.
For your iPad or tablet - All you need is a SIM card. Take a look at our data-only SIM deals, which give you a monthly data allowance but no minutes or texts.
At home - For broadband for the whole family, or lots of connected devices, go for a 4G/5G router. These are home broadband routers that use mobile internet (rather than fixed lines), and are capable of connecting more devices at faster speeds. You'll find them from mobile providers such as EE, Vodafone, and O2.
Data limit
Data allowances on mobile broadband range from a light 4GB or so up to much heftier unlimited data deals. Higher tariffs can get quite expensive, mind.
To work out what allowance you need, have a think about what you'll be using your mobile broadband for, and how often. For just browsing the web a few days a month, you'll probably be fine with a few gigabytes; but if you plan on streaming video, listening to several hours of music, or using your device every day, a far larger plan may be best.
For home 4G/5G broadband, you'll almost certainly want unlimited data.
See our guide to data usage for help here, and use your current mobile allowance as a guideline.
Still not sure how much data you need? Take out a 30-day plan on an allowance that looks about right, and see how much you use. At the end of the month, you can always move to a bigger or smaller tariff.
Contract length
You can get mobile broadband deals with long contracts, or ones with none of that whole commitment malarkey.
12-month, 18-month, or 24-month contracts can save you money in the long run, or spread out the cost of a gadget.
30-day plans, for data-only SIMs or devices that you buy outright, are perfect if you need broadband temporarily, or want the option to cancel or change your allowance later. Just bear in mind you'll need to pay the full cost of the gadget upfront.
Providers
You're not exactly short on choice when it comes to choosing a network for your mobile broadband deal. Mobile broadband devices are available from these providers:
And data-only SIMs are available from a number of networks too. Compare deals from across the market using our comparison tool.
Pick a provider that offers the kind of plan you want at a price that suits you, and then - and this is the important bit - use their coverage checkers before you sign up. Make sure you'll be able to get signal in all the areas where you want to use your device, or pick one with especially wide coverage - like EE - if you'll be using it on the road.