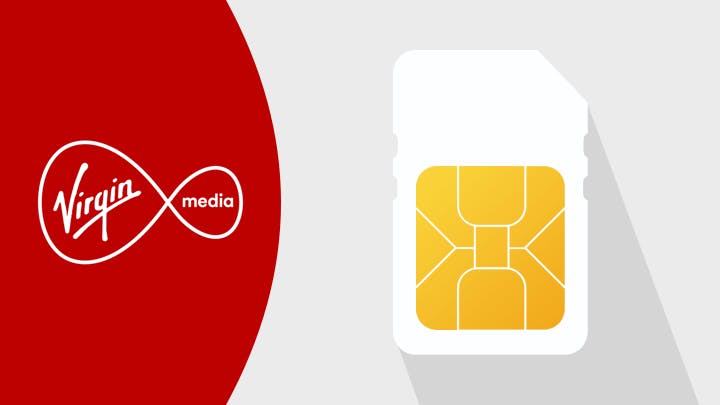 Virgin Mobile is known for its nicely-priced phone plans, packed full of extras to make your mobile life a whole lot better. And if you already have a phone you want to keep using, you'll be pleased to hear that Virgin doesn't hold back with its SIM-only deals.
You get a ridiculous amount of benefits, plenty of flexibility, and lots of choice over tariffs and costs.
Here's everything you need to know, and the answers to some common questions you may have about Virgin Mobile SIM deals.
What SIM-only deals can I get from Virgin Mobile?
There's a good number of SIMs to choose from here, with no extra charge for a 5G service.
Tariffs range from 4GB of data a month to unlimited data. If you have a broadband or TV package from Virgin Media at home, you're also lucky enough to have access to another, exclusive plan: unlimited data and minutes.
All of the network's SIM plans give you unlimited calls and SMS texts as standard. You also get data-free messaging on WhatsApp, Facebook Messenger, and Twitter, which doesn't come out of your monthly allowance.
Every SIM is on a 30-day deal, so you have the flexibility to cancel or change your plan every month.
Perks and benefits
There are loads of benefits to choosing a Virgin Mobile SIM, such as:
Data-free use of WhatsApp, Messenger, and Twitter
5G service in 100 towns and cities as of January 2021
No extra charge for 5G
Flexibility - you can change your allowance every month
Data rollover, which lets you keep any unused data from your allowance to use the next month
Free use of Virgin Media Wi-Fi hotspots
Free calls to other Virgin Mobile numbers, if you have Virgin Media broadband or TV
Excellent coverage, thanks to Vodafone's network
How to compare Virgin Mobile SIM-only deals
We're here to help you compare Virgin Mobile deals and find the best one for you. Just use the comparison table on this page - we'll show you all the SIM deals we have right next to each other, so you can see them all.
To narrow them down so you only see ones that fit what you're looking for, use the filters and the sorting tool. You can filter for things like:
Monthly data allowance - This ranges from 4GB to unlimited
Cost - Set a budget in the filter, or sort the deals by monthly cost to see the cheapest first.
Existing customer deals - If you have Virgin Media broadband or TV at home, you'll qualify for these.
Find one you like the look of best, and simply click through to sign up. Not sure you got the right allowance? Don't worry - all Virgin Mobile SIM-only deals are the flexible kind. You can change your tariff next month if it isn't working for you.
Can I get an unlimited data Virgin Mobile SIM?
For some people, their mobile phone has become an extension of themselves. They spend most of the day staring at the screen and feeding on data - messaging friends, checking email, streaming music, browsing the web, watching Netflix…. they're more phone than human now. If you're one of those people, you're probably interested in a plan with unlimited data.
Virgin Mobile does have an unlimited plan, as well as other reasonably large data options that might suit your needs. Use the filters at the top of the page to select a minimum amount of data and see what deals are available. If none appear, or your chosen mobile operator doesn't offer enough GB to sate you, check out this page for more options:
What's the cheapest Virgin Mobile SIM-only deal?
The cheapest SIM-only deal you can get from Virgin Mobile is the one with the lowest allowance: 4GB of data for £6 a month, with unlimited calls and texts.
If your budget's on your mind, you can set a maximum monthly cost using the filters in our comparison grid - or sort all the deals by cost to put the cheapest at the top.
It's also worth looking out for special deals, which Virgin Mobile puts out fairly often; and remember you'll get access to some special money-saving extras if you have Virgin broadband or TV.
Is a Virgin Mobile deal cheaper than a phone contract?
Buying a phone in full and getting a SIM-only deal is almost always cheaper than getting a phone contract, yes. This is the case with Virgin Mobile, though the difference in overall cost isn't actually that drastic.
Most Virgin Mobile phone contracts are 'Freestyle', meaning they're split up into the phone cost and the SIM cost (which is flexible month-to-month, as per SIM-only plans). This makes it easy to see that they're priced pretty fairly and the only extra you're paying is interest. It's still cheaper to choose SIM-only and buy a phone outright, but you won't be ripped off if you get a contract from Virgin instead.
Can I upgrade a Virgin Mobile SIM-only deal?
Yes - you can upgrade to a new plan, including a phone contract deal, up to a month before the end of your SIM contract.
The flexibility of Virgin Mobile SIM plans also means you can upgrade to a bigger monthly allowance - or downgrade to a smaller one - whenever you like.
What size SIM do I need?
There's no need to fret about getting the right size SIM card from Virgin Mobile. When you sign up to a plan, it'll send you a multi-SIM - which contains all three possible sizes, so you can pop out the one you need for your phone.
Can I keep my number if I switch to a Virgin Mobile SIM-only deal?
Yes - it's almost always possible to keep your current phone number when you switch to a new network.
Choose a new SIM-only plan - compare deals and sign up to one that you like the look of. Your SIM will be sent through the post to you. While you're waiting…
Contact your current provider and request your PAC (porting authorisation code) - you can request your code in a few ways - online, via text and even by post if you're really old-school. If you phone, they may try to talk you into sticking with them, but stick to your guns if this happens. They'll send you the PAC as a text message within two hours.
Give the PAC to your new network - when your new SIM arrives, it will have a new number. To change it to the old one, contact your network and give them the PAC code. They'll take care of porting the number over. It could be as fast as one working day before the old number's transferred, but be aware that on occasion it can take a little more time.
It may sound complicated, but it's very simple in practice. If you want a bit more detail, check out our full guide to keeping your phone number:
Does my phone have to be unlocked to use an Virgin Mobile SIM?
Some phones are locked onto a particular network, and will need to be unlocked before you can use another company's SIM. Fortunately, this is really easy to do. To find out if your phone is locked, pop in a friend's SIM card - they'll need to be on another network obviously. If it works, then your phone is good to go - otherwise, you'll need to contact your current operator and ask them to unlock it.
Different networks have different rules on unlocking. Some examples are:
Three - all handsets are unlocked out of the box.
O2 - phones are locked, but O2 will unlock them for free when you're out of contract. Pay-as-you-go (PAYG) customers will have to pay though.
Vodafone - phones are locked, but Vodafone will unlock for free.
EE - phones are locked, but EE will unlock for free - so long as you're out of contract. PAYG customers must wait 12 months after purchasing to unlock.
Those are just the major networks. To find out more about unlocking your mobile, check our full guide:
More SIM-only deals
Take a look at the SIM deals you can get from other providers too: