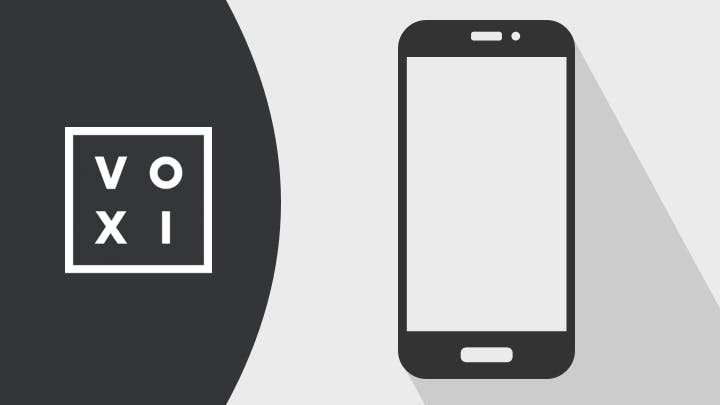 Owned by Vodafone, VOXI's big selling point is you can use social media apps as much as you like and won't use up any of your data allowance. But what else has it got to offer? We take a look.
What VOXI's got is a range of SIM-only plans with some very special features to suit the younger generation's mobile needs. In other words, it focuses on data and all your favourite social media apps.
What can I get from VOXI?
SIM-only plans
You can choose from five SIM-only plans, with a range of data allowances:
15GB a month
20GB a month
30GB a month
100GB a month
Unlimited data
All SIM plans are 5G ready, come with unlimited calls and texts, and are available on rolling 30-day contracts so you can change or cancel your plan as you wish. Depending on when you look, you can also sometimes get time-limited special offers, such as double data for a month. At the time of writing (July 2022), prices range between £10-£30 a month.
And you get another big bonus as well. VOXI's major selling point is unlimited social media: that is, you can use Facebook, Messenger, Snapchat, Twitter, Instagram, WhatsApp and Pinterest without using any of your monthly data allowance. What's more, some of the more expensive plans also offer unlimited streaming for YouTube, Netflix, Prime Video and TikTok.
If those are your go-to apps, that's kind of an amazing deal – especially since streaming video eats up a lot of data. Depending on your habits, you can essentially get unlimited data with the cheapest plan.
However, it's worth noting that VOXI no longer offers inclusive EU roaming. Instead, you'll need to buy a European Roaming Pass if you want to use your plan abroad. Some networks with rolling 30-day contracts still provide EU roaming free of charge, so this is something to bear in mind if you like travelling.
Mobile phone contracts
If you're after a handset contract, VOXI offers a selection of 30-month contracts for new and refurbished phones, with the majority being flagships from Apple, Samsung and Google. They help spread out the pricey upfront cost of a new phone over monthly payments that are more manageable.
However, they're not quite like the phone contracts you get with big networks, such as O2, Three and EE. Firstly, you'll have to buy a SIM plan on top of the phone contract – they're not bundled together. Secondly, you don't get any cool perks or incentives for taking out a mobile contract with VOXI as you would with some other networks.
VOXI coverage
Since VOXI comes from Vodafone, it uses the same network. That means it has extensive 4G coverage that covers around 99% of the population, as well as an ever-growing 5G network.
Plus, Vodafone's network is known for its reliability: once you're connected, signal is far less likely to cut out, and calls almost never drop.
Should I get a VOXI plan?
If most of your data allowance gets used up on social media apps and streaming videos - then definitely, VOXI is great value. It essentially means you can pay £10 for the cheapest plan and get unlimited use, depending on your habits.
They're all 30-day plans anyway, so there's no harm in giving it a go for a month and stopping if it doesn't work out. Some other networks, such as EE and Virgin Mobile, offer similar data-free usage of streaming and social apps, but VOXI is the most comprehensive and flexible option.
However, it's not necessarily the best if you don't use social media that much, or you're a light phone user in general. Although VOXI gives you a lot of data for the price you pay, you might not need such a generous amount. If so, you may be better off with a plan that gives you a smaller data allowance for a cheaper price.
What's good about VOXI?
Flexible 30-day rolling plans
SIM-only, so you can use it in any unlocked phone
Good value for the data allowance you get
Unlimited use of social media apps, and unlimited video streaming with certain plans
Unlimited calls and texts
Unrestricted tethering is allowed
All SIMs are 5G-ready
What's bad about VOXI?
If you don't use data or social media that much, cheaper plans can be found elsewhere
No free EU roaming
Handset contracts don't offer anything special