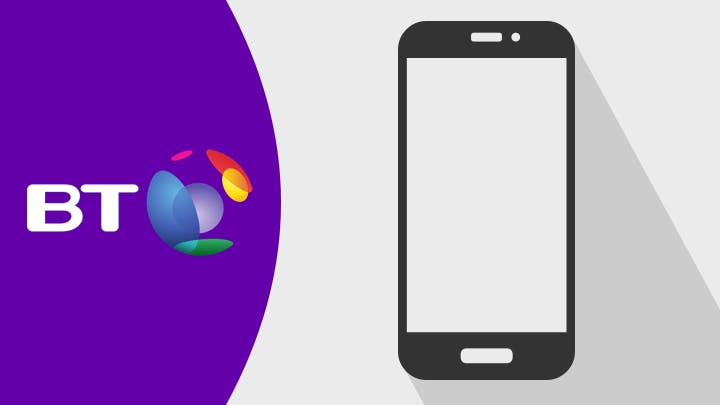 With affordable SIM-only plans, loads of perks like BT Sport and discounts for BT broadband customers, BT Mobile's landed in a big way. Here's everything you need to know about it.
BT may be more commonly associated with broadband deals and business broadband than mobile ones, but the provider's hit the mobile scene in a big way. How big? It bought 4G operator EE for £12.5 billion. That's pretty darn big.
Since then, it's perfected its range of mobile plans - affordable SIM-only deals with lots of cool extras, like BT Sport, free access to Wi-Fi hotspots, and discounts for families and existing BT customers.
Here we'll discuss the BT Mobile plans you can get, network coverage, customer service, what the provider does well, and where it might let itself down a little.
BT Mobile SIM-only plans
BT Mobile currently offers a selection of SIM-only plans, on 12-month or 24-month contracts, with tons of extras like BT Sport (see extras section below). If you get broadband from the provider too, then you'll get a £5 discount on any plan - a nice little perk for the BT faithful.
Tariffs range from a modest 4GB of data per month up to a healthy 100GB, and all plans come with unlimited calls and texts.
Unfortunately there are no unlimited data SIM plans from BT Mobile just yet - but 100GB is more than enough for most of us.
BT Mobile Family SIM
If you need to sort out mobile plans for the whole family, BT makes that nice and easy.
Its Family SIM plan lets you add up to five SIM cards onto a single account - and each one you add gets cheaper. They'll all have to have the same monthly allowance, but luckily that can be up to 100GB data per month. Plus, it means all your family's mobile plans, your broadband, and your home phone can be dealt with on a single bill.
BT Mobile perks and extras
All BT Mobile plans come with some very cool extras - all included at no extra cost. Here's what you get:
Unlimited access to BT's 5 million public Wi-Fi hotspots.
BT Sport app (with higher-end plans), which lets you watch Premier League matches and other sports while out and about. You can find out about BT Sport in our extensive guide.
Monthly spending caps to ensure bills don't spiral out of control - even when you're abroad.
Unlimited calls to 0800 numbers.
Free voicemail.
£5 monthly discount for BT broadband customers.
BT Mobile coverage
BT owns EE, therefore it uses EE's network. That means it has the widest 4G coverage of any network in the UK, covering more than 90% of the UK population. Its 4G is also the fastest, regularly topping RootMetrics speed tests.
Of course, it's worth noting that there are still parts of the country where even basic mobile coverage is spotty or even non-existent. That's why it's crucial you use a coverage checker to see if you can get BT Mobile not just where you live, but in all the areas you typically frequent.
What's good about BT Mobile?
Fastest, widest 4G network in the UK
Affordable mobile plans to suit causal and heavy users alike
Discounts for existing BT broadband customers on all call plans
Good range of SIM plans to suit different tastes and budgets
Free access to 5 million BT Wi-Fi hotspots across the UK
Free BT Sport on top-tier plans
Set monthly spending caps so you stay in control of your phone bill - the caps even stay in place when you're abroad
Have up to five SIMs on one monthly bill with extra discounts - great for families
Unlimited calls to 0800 numbers and free voicemail on all plans
What's bad about BT Mobile?
No unlimited data plans available
Only three choices of allowances on plans
4G mobile internet not available everywhere yet
No pay as you go plans as yet
No longer offers contracts on handsets
A cheap way to get BT Sport for non-BT customers
BT Mobile offers an extremely cheap way to get all the live sport on BT, including Premier League football, via the BT Sport App.
If you're not currently a BT Broadband customer but want BT Sport, you can get free access by taking a high-data BT Mobile plans. The cheapest price for a plan with BT Sport for non-BT customers is £20 a month. If you're a Sky customer you'd have to pay around £20 a month + £15 activation fee to get BT Sport on your Sky package. You're saving yourself over £50 by opting for the BT Mobile SIM route.
It's worth noting that BT Mobile SIM-only deals only give you access to BT Sport via the BT Sport app, not via your television. You can stream BT Sport via the app on iOS and Android smartphones and tablets. The app gives full access to BT Sport 1, BT Sport 2 and ESPN live as well as a host of sports news and info to keep you up to date when you're on the go.
Streaming a live football match can eat up over 1GB of internet data, so we recommend hooking up to Wi-Fi where possible.
BT Mobile customer service
If you need to get in touch with BT Mobile customer service, you have a few options. Its help page is loaded with a dizzying number of FAQs and guides to help solve common issues.
If you prefer the more direct approach, you can call customer service directly by dialling:
150 from a BT Mobile phone
0330 123 4150 from non-BT mobile phones
0800 800 150 from landlines
+44 179 359 6931 from abroad