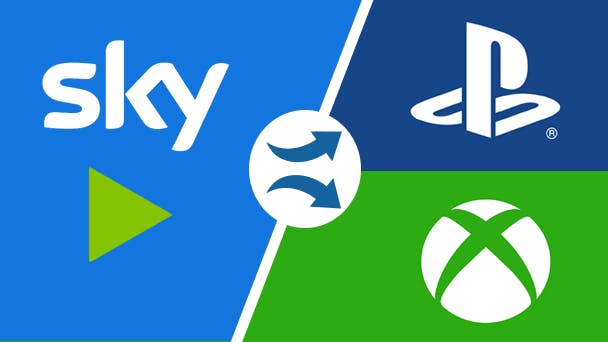 If I get Sky, can I watch it on the PlayStation? I reckon that might be a cheap way to watch TV in more than one room - but how does it actually work?
Shawn Kowalski, via email
You know what Shawn - that's actually not a bad idea. The Sky app (not called Sky Go for some reason) is available on both PlayStation 4 and Xbox One. To help others who might be reading this - and to avoid igniting a tedious 'my console's better than your console' discussion - I'll cover both.
But first, one crucial point:
You'll need Sky Go Extra to watch on console
Regardless of which console(s) you own, you must have Sky Go Extra to watch both live TV and on-demand channels. That comes as a surprise to many people - particularly as it's something you have to pay extra for. Hence the name, we suppose.
See, everyone who takes a Sky TV package gets access to the bog-standard Sky Go. This lets them watch live TV, catch-up and box sets from any of the channels they subscribe to - either online via the website, or with a smartphone / tablet app. But not, sadly, on a console.
Sky Go Extra, on the other hand, costs around a fiver extra a month, and does let you use your games machine to watch Sky TV. It has other benefits too - you can download shows to laptops, phones and tablets to watch offline later, and register the service on more devices than the standard version.
How to watch Sky on PS4
Here's what you need to watch Sky on PS4:
A current PlayStation Network (PSN) account
Sky Go Extra subscription
Here's how you actually do it:
1. Choose the TV & Video panel and press down, or the x button.
2. Choose TV from Sky and press the x button.
3. If you haven't got the Sky app installed, you'll be sent to the store to get it. Go ahead and download that bad boy.
4. When installed, head back to the TV & Video menu and open the TV from Sky app.
5. Sign in on the welcome screen with your Sky iD and password.
Then you're good to go. Enjoy watching Game of Thrones or whatever your show of choice is.
How to watch Sky on Xbox One
That's Shawn's question dealt with, but what about Xbox users? Here's what you need:
A Sky Go Extra subscription or a Sky Multiroom subscriptionAn Xbox Live account (doesn't have to be Gold)Here's how to get it all going:
1. Navigate to Xbox One apps
2. Choose the Sky tile and press A on the controller to download the TV from Sky app
3. Launch the TV from Sky app from the main Xbox One menu
4. Sign in with your Sky ID and password
Once you've done all that, you can start watching either on-demand or live TV.
Finally…
I hope that helps, Shawn. If you're willing to pay for Sky Go Extra, it could prove a good way to make Sky accessible in other parts of the house - plus when you're out and about.
Of course, Sky's not the only cool thing you can do with a games console - we have some other guides about gaming that might prove useful. Take a look: