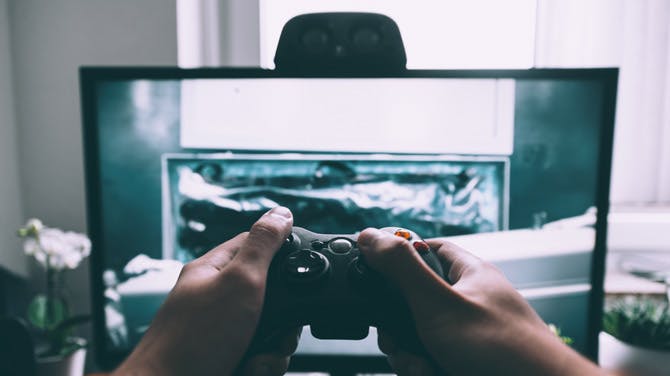 These days, almost every modern console or PC game requires a broadband connection in some way. On this page, we tell you what the best broadband is for gaming, as well as how to find the best deals.
The most obvious online feature is multiplayer to connect with your friends. But even single-player games benefit from being online – in the form of downloadable quests and gameplay fixes, for example.
What's the best broadband for gaming?
Your broadband doesn't need to be particularly fast to play games online. But it's fair to say that the faster your speeds, the better your gaming experience will be.
That means faster in-game response times, that'll give you a real advantage over your opponents whether you're playing Fifa or the latest first-person shooter.
Just as importantly, you'll benefit from faster game downloads, so you won't be waiting around for hours to get new games and DLC (downloadable content, such as fresh missions and costumes for in-game characters and add-ons).
The best choice is fibre optic broadband, with average download speeds no slower than 38Mbps.
You'll also need unlimited downloads, so you don't have to worry about going over a download allowance. Luckily, unlimited downloads have become a standard with most broadband packages.
There are many providers that offer broadband packages suitable for gaming:
Why do I need gaming broadband?
Without a reasonably fast connection, you'll have to wait longer for games to download, might miss out on all the extra content new games have to offer, and won't be able to play and connect with your friends.
Let's take a look in more detail…
Online gaming – one of the most fun and satisfying things about gaming is the ability to play with others online. Although you don't technically need a particularly fast connection to do this, the faster the speed, the better the experience will be
Single player gaming – developers are constantly tinkering with their games, fixing bugs and other issues that come to light after a game has released. These fixes are known as patches or updates, and are typically downloaded automatically if you're online. Sometimes a patch is a few MB, but sometimes they can be enormous – the Xbox One Borderlands Handsome Collection update, for example, was a stonking great 16GB!
Buying new games – an increasing number of people are downloading their games digitally rather than buying boxed copies from a shop. Big blockbuster games can be more than 100GB – Call of Duty: Modern Warfare (2019) came in at a whopping 231GB – but even smaller digital-only games are getting pretty hefty
Indie games – some of the most interesting titles now come from independent developers. Games like Among Us, Stardew Valley, Undertale and Goat Simulator, for example – all fascinating, memorable games, and all primarily available through downloads
Downloadable content (DLC) – many games get extra downloadable content after release (or in some cases, even before release). From extra multiplayer maps for series like Call of Duty and Halo, to fully-featured expansion packs, these can greatly enhance the game you're playing, or scratch an itch if you're desperate for more
Film, TV and music – whether you're gaming on the PC or a console, you can use it for other purposes. You can watch catch-up TV services like BBC iPlayer and All 4, rent movies and TV shows, stream flicks via Netflix and NOW TV, access Sky channels and box sets (if you have Sky TV), watch feeds of other people playing games, listen to music via services like Spotify, browse the web, and so much more. All these require a decent internet connection – without one, you're only scratching the surface of what your machine can do
What should I consider when looking at broadband for gaming?
Before signing up for a broadband package, there are a few things to consider – particularly if you're a gamer:
Speed – To decide on a speed that best fits you, first use our online broadband speed test to see what speed you're currently getting, and then you can work out what you need. Next, enter your postcode in our postcode checker to see what you can get. It's likely that you'll want the fastest plan available in your area, whether that's a fibre broadband package with average speeds of 38Mbps, or an ultrafast package with speeds above 300Mbps
Download limits – nowadays, most packages offer unlimited downloads. However, there's a difference between 'unlimited' and 'truly unlimited' broadband. While both don't have any usage caps, providers may still implement traffic management during peak times with unlimited packages. On the other hand, truly unlimited broadband has no traffic management, so you'll still get the fastest service even during busy periods
Type of connection – fibre optic broadband is much faster and more reliable than a standard ADSL connection, and it's widely available these days. It's also well worth checking if you can get a full fibre connection, which uses 'Fibre to the premises' (FTTP) technology to deliver ultrafast speeds straight to your home. It's the fastest connection out there, although it's only available in select locations
Routers and boosters – some packages come with a powerful router and/or extra Wi-Fi boosters to help maximise your home broadband coverage
Does the internet speed make a difference to gameplay?
Yes, it does – a fast broadband speed means an all-round smoother and better gaming experience.Nevertheless, most games don't use as much data as people think. So, don't worry if you can't get ultrafast speeds in your area – a fibre optic broadband package with average speeds of 38-67Mbps will be able to handle gaming with ease. Plus, those speeds are widely available across the UK.
What broadband speed do I need for the PS5?
As an absolute bare minimum, you'll need a download speed of at least 3Mbps to play games on the PlayStation 5. But you'll definitely want to get a broadband plan with faster speeds than that, especially if you live with other people and have multiple devices connected to the internet, or if you want to download games and updates quickly.To get the most out of the PS5, you should look for fibre optic broadband package with average speeds of at least 50-100Mbps.
Frequently asked questions
How fast does my internet need to be for online gaming?
Generally, the faster your connection, the better the chances of having a smooth game online. Although technically, you only need speeds of around 5Mbps to actually play most console or PC games.
That said, the games themselves, and the necessary updates required to play online, are often huge downloads and use up quite a bit of data. So, if you have a slow broadband connection, you're going to spend a lot of time waiting to play instead of actually doing it.
To avoid being held up, it's best to get a fibre optic broadband package. The most common plans have average download speeds between 38-67Mbps.
And if you live in an area that can get full fibre broadband, you could also get speeds ranging between 100-900Mpbs.
Can I play games online through mobile broadband?
Most mobile phone operators sell mobile broadband dongles that you can plug into a computer to create a Wi-Fi hotspot. Alternatively, some handsets, such as the iPhone, can also be used to create a wireless hotspot via 4G or 3G.
But although 4G connections are technically capable of managing online gaming, most mobile plans come with tight data limits. That data will go fast when you start gaming, so it's best to stick to a home broadband connection where you can.
We'd advise steering clear of 3G connections entirely for gaming. They seem like they should be capable of it, but players of fast-paced shooters are likely to experience some lags.