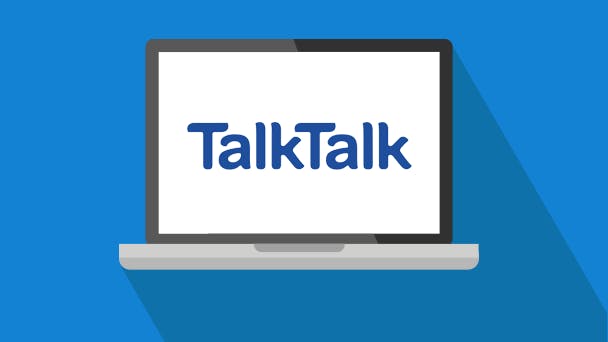 Want a superfast package that won't break the bank? TalkTalk (www.talktalk.co.uk) may be the provider for you. It's one of the cheapest in the UK, and committed to offering affordable and simple packages.
As well as phone, TV, and standard internet, TalkTalk also offers superfast fibre broadband - and it comes with blistering speeds some good features, like unlimited downloads.
What can I get from TalkTalk fibre?
If it's speedy fibre broadband you're looking for, TalkTalk has three kinds to offer you:
Fibre 35 - 38Mbps average speeds
Fibre 65 - with average speeds of 67Mbps
Fibre 150- Faster 150 Fibre plan with average speeds of 145Mbps, with the option of a speed boost that improves speeds to 300Mbps.
All three include unlimited downloads, so you can surf, play, and download as much as you want without worrying about usage caps.
HomeSafe network security is included as standard too, so you can block sites known to contain viruses or adult sites you don't want the kids to see. As it's network-level, it applies to all devices that connect to your line, from laptops to tablets to phones.
Since the broadband connection relies on a TalkTalk phone line, you'll get that too, with free calls to other TalkTalk customers and the option to upgrade.
You can even get your internet and phone as part of a bundle with TV as well - or if you already have a TalkTalk package, you can upgrade it to include fibre whenever you want. TalkTalk TV uses YouView, with on-demand shows delivered over the web, and fibre optic broadband's perfect for this - faster speeds give you a smoother, more consistent experience.
TalkTalk broadband and phone can both have 'boosts' added on as well, such as the International Calls Boost, or the Super Safe Boost, which gives you antivirus software for an even more secure internet connection.
To find out which deals are available in your area, use our postcode checker to see what your options are.
What's good about TalkTalk fibre?
Superfast average speeds
Specialises in being affordable, and is one of the cheapest broadband providers in the UK
HomeSafe security included with all broadband packages, which blocks sites known to contain viruses and restricts access to adult material you don't want the kids to see
Unlimited downloads with all packages
WiFi Hub - developed specifically to work best with the TalkTalk network; tailors speeds based on specific device
Can include fibre broadband as part of a bundle with TV and phone
Can upgrade your existing package to include fibre if you're already with TalkTalk
Special offers and exclusive deals are often available
What's bad about TalkTalk fibre?
Not available everywhere - use our postcode checker to see if you can get fibre where you are
TalkTalk broadband relies on a TalkTalk phone line which may need to be installed, which can be a bit of a hassle and incurs an extra fee
Faster speeds are available from other providers, such as Virgin Media and Hyperoptic
24-month contracts are a bit on the long side
Weaker customer service compared to other providers, according to Ofcom's figures last year
How does it compare?
TalkTalk fibre has similar speeds to the likes of BT Superfast Fibre (formerly known as BT Infinity), usually at a much more affordable price - although it favours simplicity, so you'll find a wider range of options from BT when it comes to broadband deals. Their TV packages aren't too different, however, especially as both use YouView, but with TalkTalk you'll have more flexibility in the form of Boosts. Read more: BT vs TalkTalk
It's a similar deal with Sky fibre as well - TalkTalk is cheaper but with fewer options and a lot less TV. There's more in the way of extras from Sky too, like free access to public Wi-Fi hotspots.
Virgin Media fibre is less widely available, since it runs on its own cable network, but offers higher average speeds - its fastest fibre package has average download speeds of 362Mb. You'll also get better tech in your router. And again, TV bundles are more comprehensive from Virgin Media.
Broadband from Plusnet is fairly similar to TalkTalk's in terms of price, download speeds, and the simplicity of its packages. The key difference comes in its bundling options: TalkTalk offers more in the way of TV, and it has mobile deals under its belt as well. Read more: TalkTalk vs Plusnet
For more info and the complete lowdown on what we think, take a look at our full TalkTalk broadband review.
Our latest TalkTalk fibre deals
*Average speeds are based on the download speeds of at least 50% of customers at peak time(8pm to 10pm). Speed can be affected by a range of technical and environmental factors. The speed you receive where you live may be lower than that listed above. You can check the estimated speed to your property prior to purchasing.
What else does TalkTalk do?
Take a look at the other services TalkTalk has to offer:
Frequently asked questions
How much is TalkTalk fibre?
Although fibre broadband from the likes of the Post Office, Plusnet Shell Energy usually works a little bit cheaper, TalkTalk fibre represents really good value for money. Not least because extras such as an award-winning router and free security software are included with TalkTalk's Fibre 35 deal for a monthly outlay of about £25 or so per month.
Can I get TalkTalk fibre in my area?
TalkTalk uses the same nationwide Openreach network as BT and most other fibre broadband providers. So it's very widely available. To check if it's on offer in your area, use our postcode checker.
Can I get TalkTalk fibre to the premises?
TalkTalk's fibre to the premises broadband is only available in select areas. To find out if you can get it where you live use TalkTalk's availability checker.
Is TalkTalk fibre any good?
TalkTalk fibre combines good speeds with a well reviewed router and good security software. All of which makes it a really good value option for anyone on a budget, or who just wants to get the most for their money.
What speed can I get with TalkTalk fibre?
TalkTalk offers a range of widely available fibre broadband packages, with speeds that range from decent to superfast. These are Fibre 35 (38Mbps), Fibre 65 (67Mbps) and Fibre 150 (145Mbps with the option to pay extra for a boost to 300Mbps).
Does TalkTalk fibre include line rental?
With the exception of its selectively available fibre to the premises broadband service, all TalkTalk fibre broadband deals include line rental and are delivered to your home in part by landline infrastructure.