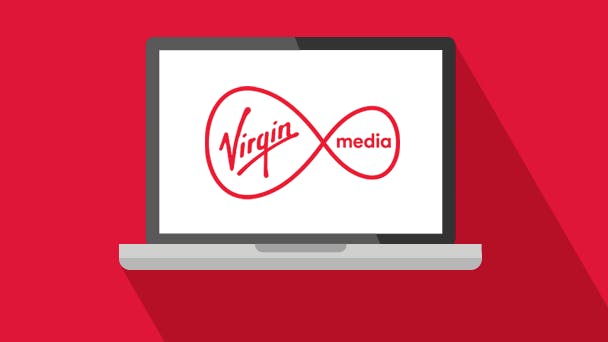 If you're after breakneck-speed broadband that can download files in a jiffy, take a look at Virgin Media's fibre optic broadband packages.
As the UK's fastest widely available broadband provider, Virgin Media is ideal for households with a lot of people, online gamers and film buffs who insist on Ultra HD.
And since Virgin Media does TV, landline and mobile too, it's easy to find a great deal on a bundle.
What can I get from Virgin Media fibre optic broadband?
All Virgin Media's broadband packages are fibre optic, which means they're incredibly fast. You can choose from a range of superfast speeds:
M50 – average speeds of 54Mbps
M100 – 108Mbps
M200 – 213Mbps
M350 – 362Mbps
M500 – 516Mbps
Gig1 – 1130Mbps
They all come with unlimited downloads, so you can stream HD video, play games, and download big files without having to worry about a usage cap.
What's more, they're all available on an 18-month contract. However, if you're looking for something more short-term, you can also get some of the plans on 12-month contracts, and even rolling 30-day ones.
When you sign up for a Virgin Media broadband package, you'll get the Virgin Media Hub 3 router. It's a high-tech piece of kit, with Intelligent WiFi technology, smarter channel selection and the ability to manage your connectivity via the Virgin Media Connect app. And if you get the top Gig1 package, you'll be bumped up to the Virgin Media Hub 4 router.
All broadband packages come with free Web Safe security. This has two main features: Child Safe (to block sites you don't want the kids to see, such as adult material or violence) and Virus Safe (to block sites known to contain viruses, scams, phishing, and so on). It works at a network level, so any device connected to your Wi-Fi will be protected.
You'll also get a free three-month trial of F-Secure SAFE. This internet security software can be installed on up to five devices – including PCs, Macs, phones, and tablets – and will give your gadgets protection from viruses and scam sites.
Finally, with every Virgin Media broadband package you'll also get:
Wi-Fi on the London Underground – Use your Virgin Media account to log onto hotspots at over 250 tube stations
Perks with O2 Priority – Thanks to its partnership with O2, Virgin Media customers can access exclusive rewards and experiences
Free repairs or replacements – If something goes wrong with your Virgin Media equipment, you can get it repaired or replaced at no extra cost
You can get Virgin Media fibre optic broadband on its own or pick up a bundle with phone, TV, and mobile.
Remember that Virgin Media isn't available everywhere just yet. Use our postcode checker to see the best broadband deals in your area.
How can I get Virgin Media Gig1?
Virgin Media Gig1 is the fastest full fibre service in the UK right now. With ultrafast download speeds averaging 1.13Gbps (1130Mbps), it's 22 times faster than the national median – seriously impressive.
While it used to only be available in very few locations, it's now available across Virgin Media's entire network. Both new and existing customers can get it.
If you live in a big household, with many people using the internet on different devices, or you want the best connection possible for online gaming and working, Gig1 is well worth considering.
What is gigabit broadband and how does it compare to standard broadband?
Put simply, gigabit broadband is a lot faster than standard broadband. A 2021 Ofcom report found that the median average broadband speed in the UK is 50.4Mbps.
But with Gig1 fibre broadband, average peak-time download speeds can reach a whopping 1130Mbps, or 1.13Gbps.
This means tasks that usually take hours, such as downloading a PlayStation 4 game, can be completed in just fourteen minutes.
Similarly, while it would usually take around thirteen minutes to download a HD film at 5GB, Gig1 fibre broadband can complete that in just fourteen seconds.
And if you live in a large household where multiple people are using several devices at the same time, there's much less chance of lags and interference.
The speed and reliability of gigabit broadband makes it a top choice for power users, online gamers, people working from home, and large households – or simply anyone looking for the best broadband on the market.
What's good about Virgin Media fibre optic?
The fastest fibre broadband provider in the UK – perfect for streaming, gaming and connecting on multiple devices
Superfast and ultrafast speeds are more widely available than with other providers
Broadband-only options if you don't want to pay for line rental
You can get shorter-term 12-month and 30-day contracts
Unlimited downloads, so you needn't worry about hitting a usage cap
Impressive Virgin Media Hub router included with all packages
Fibre is available with Virgin Media TV - one of the most comprehensive TV options available in the UK
Some nice extras thrown in for free, such as security software, Wi-Fi hotspots on the London Underground and O2 Priority perks
Can self-install if there's been a Virgin Media connection in your home before – no need for an engineer to come to your home
What's bad about Virgin Media fibre optic?
Virgin Media's own network still isn't as wide-reaching as BT's Openreach network – use our postcode checker to see what you can get
Some bundles have steep price hikes once your contract is up
Cancellation charges can be costly
How does it compare?
Virgin Media fibre is some of the fastest out there, with average download speeds of 516Mbps on the M500 package. And although Virgin Media broadband isn't available everywhere, it's much more widely available than ultrafast broadband from the likes of BT, Sky and Hyperoptic.
Take a look at our comparison reviews:
Our latest Virgin Media fibre deals
*Average speeds are based on the download speeds of at least 50% of customers at peak time(8pm to 10pm). Speed can be affected by a range of technical and environmental factors. The speed you receive where you live may be lower than that listed above. You can check the estimated speed to your property prior to purchasing.
What else can I get from Virgin Media?
Want more than just broadband? Here's what else Virgin Media has to offer:
Frequently asked questions
How much is Virgin Media fibre broadband?
Virgin Media's fibre broadband packages are more expensive than those from budget providers, such as TalkTalk and Plusnet.
It's in line with or slightly more expensive than the likes of big-name providers BT and Sky – but with Virgin Media, you'll generally get a faster service for the same sort of price.
Plus, you can usually get some good deals by bundling your broadband with other services, such as line rental.
Can I get Virgin Media fibre in my area?
Virgin Media isn't as widely available as other providers using the Openreach network, such as BT.
Nevertheless, if you're in a large town or city you're almost certain to be able to get it. To find out if it's available where you live, use our postcode checker.
Can I get Virgin Media fibre to the premises broadband?
Virgin Media's cable broadband service, which uses fibre optic to deliver broadband to your exchange and then coaxial cables for the journey to your home, is widely available. And although it's technically 'Fibre to the cabinet' (FTTC), it's a lot faster than Openreach's FTTC network, and can offer speeds that are even quicker than 'Fibre to the premises' (FTTP) broadband.
Nevertheless, Virgin Media is also perhaps the biggest FTTP provider in the UK, with plans to upgrade its entire network to FTTP over the coming years.
To find out what's available in your area, use our postcode checker.
Is Virgin Media fibre any good?
Virgin Media has a lot to recommend it, not least because it's the UK's fastest household-name broadband provider.
It also offers the advantage of not requiring a landline, options to bundle with TV, landline and mobile, and shorter-term 12-month and rolling 30-day contracts.
The downside is that Virgin Media fibre isn't quite as widely available as rival providers.
Does Virgin Media fibre include line rental?
Virgin Media is one of the few providers that doesn't require you to take a landline to sign up for its broadband. If you want a landline too, however, Virgin Media also offers broadband and home phone bundles that are priced broadly in line with the likes of BT and Sky.