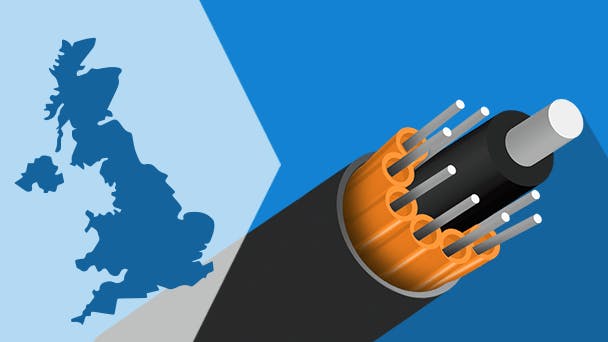 I'm thinking about switching to fibre optic broadband, but I don't really understand it all. How does fibre work? And should I get it?
Sam, via email
Fibre optic broadband, as you may already know, is telecommunications technology that gives us superfast broadband speeds and enough bandwidth to get lots of internet-enabled gadgets online at once.
All household-name broadband providers offer fibre packages - but with some of the jargon the tech industry uses, it can definitely get confusing when you try and figure out exactly what you need. So let's unpack it all and take a look.
What is fibre optic broadband and how does it work?
Fibre broadband is all in the cables.
The lines that deliver fibre broadband do indeed consist of fibre optics. The cables involve tiny tubes, each about as thick as a human hair, that are reflective on the inside.
They transfer information by sending flashes of light through the tubes, which bounce off the inner walls to travel along the cable. Equipment at the receiving end can then interpret the flashes as data.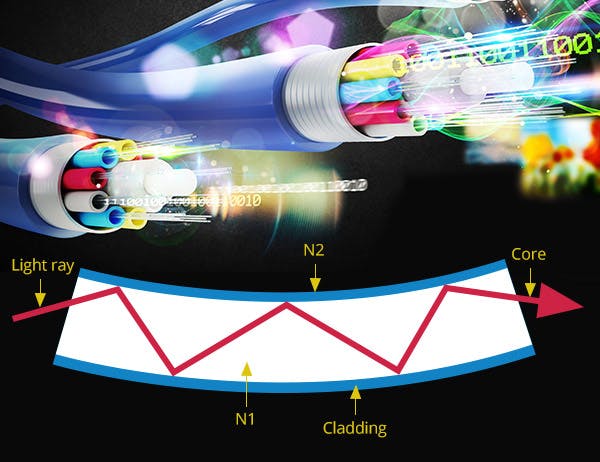 Because the data is travelling at literally the speed of light, it means very fast broadband speeds for you. Generally, you'll find fibre broadband available with average speeds of 35Mbps, 57Mbps or 63Mbps, though some providers can offer packages with average speeds of 350Mbps and above or even 1Gb (1,000Mbps).
Fixed line broadband that isn't fibre optic is called ADSL (asymmetric digital subscriber line).
With ADSL broadband data is instead sent through the traditional copper phone lines all the way from the exchange, and it's usually available with average speeds of 17Mbps.
Does fibre optic broadband use a phone line?In most cases, it does. Although the majority of your broadband connection is fibre optic, the part between your local street cabinet and your home is still the old copper phone line. That's why line rental is almost always included in a broadband package.
Virgin Media is an exception to that though, since it uses its own kind of cables.
Ultrafast broadband services with limited availability, such as those from Sky and BT, also dispense with phone lines in favour of 'full-fibre' technology.
Switching to fibre
If fibre optic broadband is available in your postcode, switching to it is easier than you may think. All you need to do is choose a package and sign up.
If your home's never had a fibre connection before, an engineer may need to visit to install the right equipment in your phone socket - but that's the extent of any hassle, and it's done at no extra cost to you.
Once your home has an appropriate socket, all you need to do is plug in your new router and wait for the new fibre service to go live.
*Average speeds are based on the download speeds of at least 50% of customers at peak time(8pm to 10pm). Speed can be affected by a range of technical and environmental factors. The speed you receive where you live may be lower than that listed above. You can check the estimated speed to your property prior to purchasing.
Fibre-to-the-cabinet (FTTC) vs fibre-to-the-home (FTTH)
Fibre-to-the-cabinet (FTTC) is the most common set-up for fibre broadband. Fibre cables run from the exchange to the cabinet on your street, which then connects to your home via the old copper phone line.
This is the kind of fibre broadband you'll generally get from Openreach-based providers, including BT, Sky, TalkTalk, Plusnet, Vodafone, and EE.
Fibre-to-the-home (FTTH), meanwhile, means the entire line is fibre from the exchange all the way into your building. It allows for even faster speeds, but is only available in a few places - and can be very difficult and expensive to install.
BT offers FTTH connections in certain circumstances, and you'll find packages available from niche, regional providers too.
It's also known as FTTP (fibre-to-the-premises) or FTTB (fibre-to-the-building).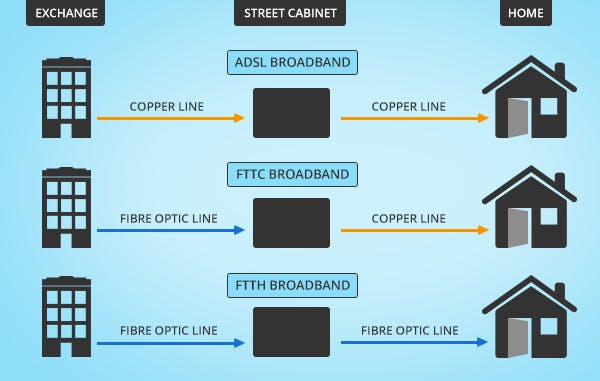 Again, one provider that works a bit differently is Virgin Media. If you have Virgin Media broadband, the lines between the exchange and your street cabinet are fibre optic, but between the cabinet and your home is a coaxial cable.
Although they're mostly made of copper, coaxial cables can send data way faster than standard phone lines. That's how Virgin Media can offer average speeds of 362Mbps.
Do I need fibre broadband?
Fibre broadband is a very useful thing to have, as it's much faster and a lot more reliable than ADSL. It means more devices can connect at once and still get decent speeds, videos barely buffer at all, and files download nice and quickly.
On the downside, it's more expensive than ADSL - and it's not available everywhere. It also takes longer to install and go live in the first place, especially if your home hasn't had a fibre connection before.
We recommend getting fibre if…
You have a large household - say, three or more people
Lots of gadgets in your home are connected to the internet - remember that computers, smartphones, tablets, smart TVs, and games consoles all use broadband
You like to watch videos, streaming sites like Netflix, or catch-up TV
You work from home and need to download important files or connect to a VPN
Or if you just want superfast speeds when you use the 'net, of course.
Frequently asked questions
Is it worth switching to fibre optic broadband?
That depends on your circumstances. If you're a very light user or live in a low occupancy household (perhaps you live alone or with one other person), you may be able to get by with a cheaper ADSL broadband service. However, if you work from home, live in a busy home, play online games or watch a lot of movies in Ultra HD, a faster fibre optic broadband service is well worth the extra outlay.