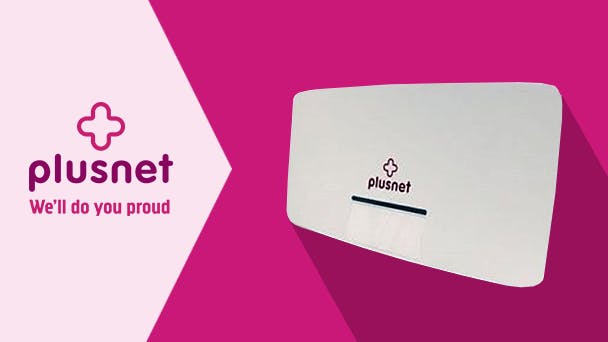 When you sign up to fibre optic broadband with Plusnet, you'll find yourself the proud owner of a snazzy Plusnet Hub One. So what the heck is it? Let's have a look.
Last year, Plusnet (www.plus.net) launched a new router in the form of the Hub Zero. Now it's gone one step further with the Hub One: it's similar in look and feel, but with a bit of an upgrade.
How do I get a Plusnet Hub One?
You'll get a Hub One router chucked in free with a Plusnet fibre optic broadband package - either Unlimited Fibre or Unlimited Fibre Extra. The simple Unlimited, Plusnet's ADSL package, instead comes with the Hub Zero.
Take a look at our guide to Plusnet broadband to find out more.


*Average speeds are based on the download speeds of at least 50% of customers at peak time(8pm to 10pm). Speed can be affected by a range of technical and environmental factors. The speed you receive where you live may be lower than that listed above. You can check the estimated speed to your property prior to purchasing.
What features does the Plusnet Hub One have?
The Hub One isn't a huge step up from the last generation Hub Zero, but this time around a few key features have been added. The big news is that it now supports dual-band Wi-Fi. While the Zero only had 'wireless n' Wi-Fi, the One also broadcasts 'wireless ac'. This means it'll cleverly pick the best of the two bands to transfer data, which can mean faster internet speeds.
And if you're interested in fibre broadband, time to rejoice - the Hub One is enabled for fibre optic connections. The Hub Zero needed a separate BT Openreach modem to connect to fibre, but that's not necessary with the One. There's a new USB port too, where you can connect things like storage devices and printers.
Besides that, it's very similar to the Zero: there's the same handy labelling, the same smart power management so it won't drive up your electricity bill, and the same naff white plastic casing.
The other stuff you get in the box includes an ethernet cable, power supply, microfilter, internet cable, and of course your setup guide.
What does the Plusnet Hub One look like?
It may have retained the same tacky plastic as the Zero, but that's where the One's similarities to its older sibling end. It's wider and slightly more stylish, and pretty much exactly like the BT Home Hub 5 in shape - not surprising given that BT is Plusnet's parent company. There are little pink feet jutting out at the bottom to stand it up, though sadly there's no longer a way to hang it up on a wall. It's for standing on a table or nothing, we're afraid.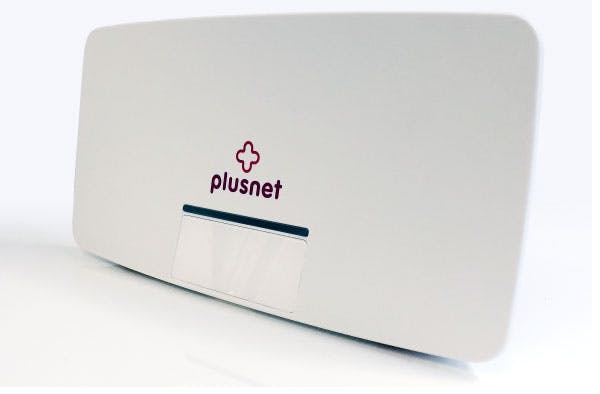 The front is kept minimalist, with just the Plusnet logo above a simple light panel. An LED stripe serves to tell you whether your router's connected okay, and below that is a flat white panel that lights up with symbols when there's a problem. It's pretty swish. It's also colour-coded and super easy to understand, thanks to the guidelines in the manual.
The top edge holds a restart button (to press when your internet is playing up) and a wireless WPS button (to quickly connect compatible gadgets).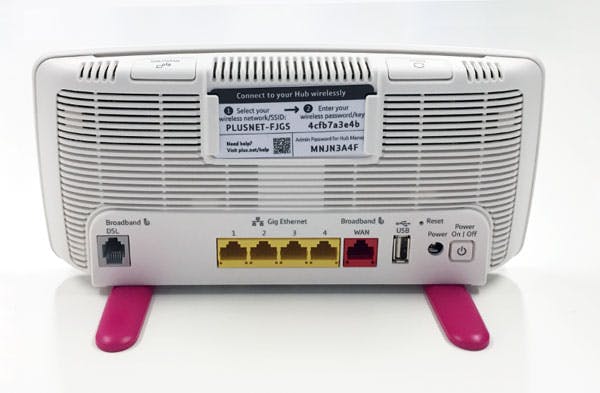 On the Hub's back case, there's a whole lot more going on. First you'll see a removable card at the top telling you your network's name, Wi-Fi password, and admin password for the Hub Manager - which you'll need if you want to change the router's settings. We'd say it's best to keep the card slotted in here, then take it out to refer to when you want to connect a gadget.
Below that, there's a panel with a bunch of stuff, clearly labelled so you know what's what:
ADSL socket - For the internet cable, that all-important link between your home and the web.
4 x ethernet ports - These are where you plug in ethernet cables to connect directly to your computer.
WAN port - The port for connecting multiple routers together. You probably won't need to use this.
USB port - Connect a device like a memory stick, printer, webcam, or speaker, and you can access it from any computer connected to your network.
Reset button - If the Hub is misbehaving and refuses to restart, poke a paperclip in here to reset it.
Power socket - Where you plug your Hub into the mains.
Power button - For switching the router on and off, natch. It's got a very satisfying click to it.
On the Hub's bottom edge, in between its feet, is a sticker with all the same info as the removable card - just in case the card goes astray.
Overall, you'll hopefully find that Plusnet's Hub is true to the provider's ideals: a straightforward router for a straightforward broadband package.