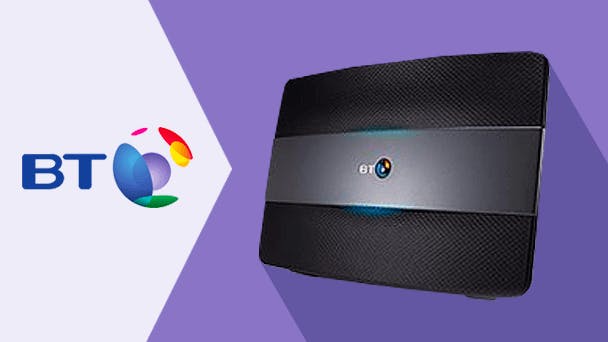 The BT Smart Hub - also perhaps known as the Home Hub 6 - is the latest router from the provider, and stands a good few inches taller than BT's former routers. So does bigger mean better?
In this case, it most certainly does, as the Smart Hub is packing more clever features and advanced tech than BT has offered on its standard routers before. Read on for the lowdown on this crafty bit of hardware.
Smart Hub vs Home Hub: What's the difference?
As routers go, you may be more familiar with the ol' BT Home Hubs - the Home Hub 4 and 5 being the most recent. Here's how the new Smart Hub compares.
| | | | |
| --- | --- | --- | --- |
| | BT Smart Hub | BT Home Hub 5 | BT Home Hub 4 |
| Size | n/a | 236 x 116 x 31mm, 290g | 236 x 116 x 31mm, 290g |
| Dual-band Wi-Fi? | Yes | Yes | Yes |
| Wi-Fi standards | 2.4GHz 802.11b/g/n/ac; 5GHz 802.11a/n/ac 'Wave 2' ac | 2.4GHz 802.11b/g/n; 5GHz 802.11b/g/n/ac | 2.4GHz and 5GHz 802.11a/b/g/n |
| Ethernet ports | 4 x 1Gb | 4 x 1Gb | 1 x 1Gb, 3 x 100Mb |
| USB Ports | 1 | 1 | 1 |
| WPA2 security? | Unknown | Yes | Yes |
| No. antennae | 7 | 6 | 4 |
| Other features | Smart Wireless, BT Smart Scan, Avanced Interference Filters, can switch the LEDs off | Smart power save, Smart Wireless | n/a |
| Attractiveness level | 9/10 - equivalent to George Clooney in his heyday | 7/10 - equivalent to George Clooney today | 6.5/10 - equivalent to George Clooney when he's just woken up |
| How to get it | With BT Superfast Fibre packages | With old fibre optic BT Infinity broadband packages | With standard (ADSL) BT broadband |
What features does the BT Smart Hub have?
For a start, the Wi-Fi is the best a BT-branded router has ever had. It's dual-band, broadcasting on the 2.4GHz and 5GHz bands, and has the latest wireless standard (802.11ac) on both.
Actually, that wireless standard is in fact 'Wave 2' ac - the newest version of 802.11ac, which supports more connected gadgets at once and faster speeds. Only very few devices have Wave 2 ac so far, but it's good that BT is future-proofing.
The Wi-Fi tech is also the smartest BT's routers have ever had, too. It can filter out interference from other sources to get a cleaner signal, and its Smart Scan works to upgrade the Wi-Fi connections with your devices when they're not being used.
As for other features, the Smart Hub has four ethernet ports, all of which can transfer data at up to 1Gb speeds, along with a USB port. And here's the best feature of all: you can switch off the LEDs. That's right, no more getting distracted by persistent flashing blue lights in the corner of the room.
What does the BT Smart Hub look like?
It looks like a big flat slab going for a walk.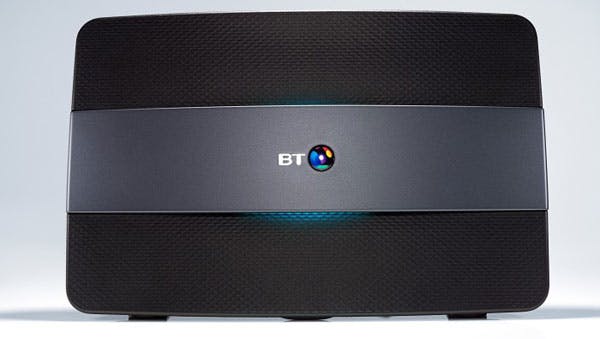 The Smart Hub is quite a bit bigger than the two previous Home Hubs - while it's similar in width and depth, it's a couple of inches taller. That's apparently because the top bit is crammed full of Wi-Fi goodness.
The front panel makes the Hub look kind of like a speaker: it's black and textured, apart from a band of smooth plastic across the middle with the BT logo on it. On the side there's a WPS button - for quickly connecting devices to Wi-Fi - and on the bottom there are two little feet.
The rear panel, however, is where all the magic happens. On the back you'll find:
A removable card with the Wi-Fi password, router login info, and so on
The broadband port, where the router connects to the internet
A USB port, for hooking up things like storage devices and printers to your network
Four ethernet ports, for connecting devices with a cable
The reset button, for restoring the Hub to its factory settings
The power port
The power button
How do I get the BT Smart Hub?
It comes included with any fibre optic BT package and BT Business broadband packages. Those of you who already have it can get a Smart Hub for free if you're willing to re-contract, or for £50 if you'd rather not.