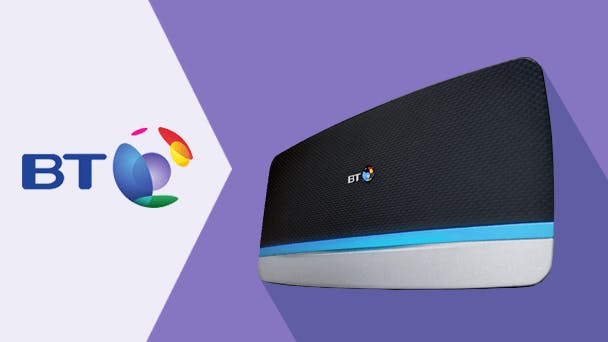 The BT Home Hub, designed especially for use with BT broadband, is one of the most attractive routers you can get - if you're into that sort of thing. But what does it offer beyond good looks? Let's find out...
There are two Home Hubs available these days: the Home Hub 4 and Home Hub 5. The Hub 4 is the router you'll get with standard ADSL broadband from BT, while you can buy the Hub 5 from various retailers.
There's also the much older Home Hub 3 still knocking around in a few homes, though BT hasn't offered it with its packages in a while.
Meanwhile, if you sign up to BT Superfast Fibre (and BT Business broadband), you'll get a superpowered BT Smart Hub - the provider's best tech yet, rocking features like 'next generation' Wi-Fi and extra antennas.
BT Home Hub 4
Let's take a look at our main guy - the ol' Hub 4.
How do I get a BT Home Hub 4?
You'll get a Home Hub 4 with BT's ADSL broadband - advertised as having average download speeds of 10Mb.
It works just fine BT Infinity too - you won't need to buy a new router if you upgrade your speed - but it's not optimised quite as well as the Home Hub 5 or Smart Hub.
What features does the BT Home Hub 4 have?
We'll be honest: the Hub 4 isn't the world's greatest router. But it'll get you online without a hitch.
It's got Wi-Fi, it has a built-in modem, there are ethernet ports on the back, and it has a shiny silver stripe across the front.
That Wi-Fi uses dual-band technology, to help minimise the effects of lots of people using Wi-Fi at once. That means less chance of slow speeds, or losing your Wi-Fi entirely. It's also 'smart', so it can automatically choose the Wi-Fi channel with the clearest signal - though it doesn't use the latest generation AC wireless.
What does the BT Home Hub 4 look like?
Well, it looks a little like this: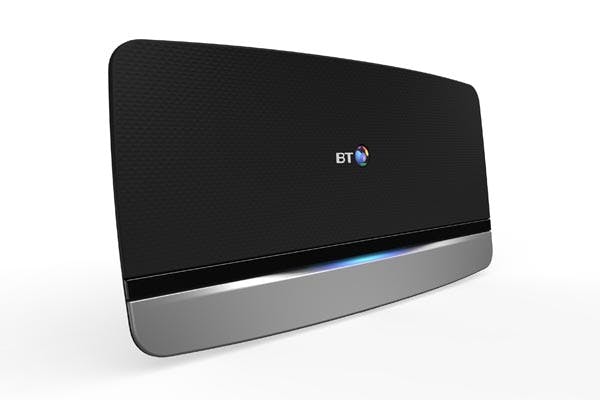 The Hub is rectangular, sort of flat, and stands up on two little legs.
The first thing you'll notice is the snazzy silver strip across the front, with a blue light above it. It's a small thing, but we like it - it's a bit like a go-faster stripe on a car.
On the back, you'll find:
A removable card, with all the login info for the Wi-Fi and router settings
The broadband port, where you connect the hub to your phone socket
Four ethernet ports, to connect your computer directly for the best speeds possible - one of which can transfer at speeds up to 1Gb
A WAN port
A USB port, which you can use to connect things like storage devices for your whole network to access
A reset button
The power socket
And of course the power button, for switching it on and off
BT Home Hub 5
If you took out a BT Infinity deal pre-2017, you probably got a Hub 5 router along with it. It's not available with broadband any more, though you can buy it on its own from shops like Amazon.
Like the Home Hub 4, it uses dual band Wi-Fi - but the Hub 5 is superior in that it includes AC wireless technology. What's that? Well, essentially, it's the fastest wireless signal you'll get with a home broadband wireless router - it's present in the Smart Hub too.
Of course, to benefit from that technological advance, you'll need to have a compatible device, and that's only going to be something fairly recent. It's also best if you have a speedy fibre broadband connection to power it.
*Average speeds are based on the download speeds of at least 50% of customers at peak time(8pm to 10pm). Speed can be affected by a range of technical and environmental factors. The speed you receive where you live may be lower than that listed above. You can check the estimated speed to your property prior to purchasing.