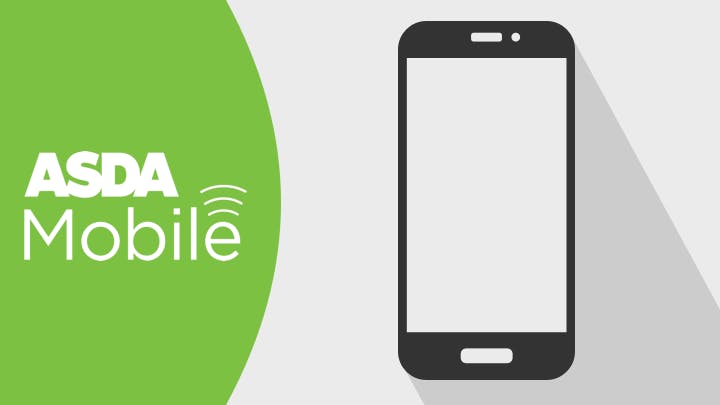 Asda may have begun life in the 1920s as a dairy farm, but times have changed. Since 2007, the supermarket chain has offered phone plans through Asda Mobile.
It's an MVNO (mobile virtual network operator) piggybacking on Vodafone's network - so there's fantastic nationwide coverage, and mobile internet that can even connect to speedy 5G.
Asda Mobile tariffs
All Asda Mobile's plans are pay as you go and SIM-only. You can pick up a SIM card for free, and stick it in whatever handset you want. The tariffs on calls, texts, and data are priced pretty competitively, true to Asda's 'smart price' philosophy.
Once you have your SIM, you can grab a 30-day 'bundle' of data, texts, and minutes – or sign up to a 'recurring bundle' that auto-renews every month. Because you only sign up to 30 days of allowance each time, it's flexible – you're free to change it whenever you like.
Pay-as-you-go is available too.
Heavier mobile users can pick an unlimited data bundle. They're available at three maximum download speeds, at three different respective price points. That means you can download as much as you like with a little more control over your monthly bill. Just be careful with that lower download speed – at 2Mbps, you might be waiting a while for things to load.
At the other end of the scale, Asda Mobile also has a unique Talk and Text bundle. It has unlimited calls and texts, but no data included whatsoever. It's a good plan for anyone who doesn't need mobile internet access, and far better value than pay-as-you-go if you chat a lot.
Phones are available from Asda Mobile too, but only to purchase outright. There aren't any mobile contract plans right now to help spread out the cost.
You can buy a phone from Asda Mobile and sign up to a SIM-only plan there and then, or just take the free SIM card and decide what to do with it later.
Asda Mobile coverage
Since Asda Mobile uses Vodafone's network, coverage is very good, reaching more than 99% of the population.
Not only that, but Asda Mobile users also have access to Vodafone's growing 5G network. That means super speedy mobile internet in 100+ towns and cities around the UK, with more being added as we speak.
Of course, coverage is still patchy in places, so always take a look at a coverage checker to make sure you'll be able to get signal in all the areas you frequent.
Read our guide for more about mobile coverage.
What's good about Asda Mobile?
Focuses on being simple and affordable, with great value tariffs
Good range of handsets available to buy outright
Uses Vodafone, so coverage is brilliant and mobile internet is reliable
5G-ready, if you have a compatible phone in a 5G-connected area
30-day bundles mean flexibility to change your allowance (or switch entirely) whenever you like
Tariffs range from Talk and Text up to unlimited data
A credit check isn't needed - ideal if you have a bad credit history
Roam like home in 36 European countries
What's bad about Asda Mobile?
No contract on phones – you can only buy handsets outright
Pretty much nothing in the way of extras – you won't find any priority tickets or free app subscriptions here
Roaming outside of Europe is expensive