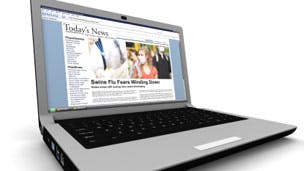 Meet our crack editorial team. These guys write our source interesting news, produce informative guides, answer reader questions, and class up the joint!!
Our technology experts are here to help you get the best broadband, TV and mobile phone deals. Here's who they are:
Daniel Clifford, Content Writer
Before writing about broadband and tech, Daniel wrote about all things finance and managed a financial newsletter. He has been quoted in Ideal Home Online, House Beautiful, The Metro and The Sun.
In his spare time he enjoys reading, writing and going to the gigs of obscure bands he finds on the internet. He is a Welshman living in South East London. Find out more about Daniel here.
Email Daniel at: daniel.clifford@decision.tech
Jonathan Leggett, Content Editor
Jonathan's been toiling in the Tech content mines since Crackberries ruled the earth and novelty ringtones were socially acceptable.
In between pounding the smartphones and telecoms newsbeat, Jonathan's has contributed to the Guardian supplements The Guide and G2, Dazed and Confused, Mixmag and Metro.
Email Jonathan at: jonathan.leggett@decision.tech