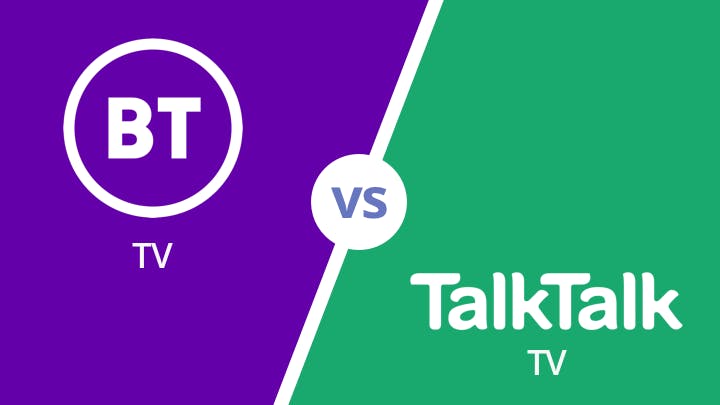 TalkTalk and BT both give you a YouView set top box when you sign up to their TV services, but do the similarities end there? Time for broadbandchoices to investigate.
YouView boxes are great for watching free-to-air channels - but with a TV subscription from TalkTalk (www.talktalk.co.uk) and BT (www.bt.com) bundled in with your broadband and home phone, you can get a whole lot more. BT brings premium channels, BT Sport, and movies to rent; while TalkTalk offers plenty of on demand programmes and more Boosts than you can shake a stick at. So how do the two compare?
See also:
At a glance
| | | |
| --- | --- | --- |
| | BT TV | TalkTalk TV |
| Set top boxes | YouView, 500GB YouView+, 1TB Ultra HD YouView+ | YouView, 500GB YouView+ |
| Packages | Starter, Entertainment, Max | TV, TV Plus |
| Number of channels | ~100-140 | ~80-90 |
| Number of Bolt-ons/Boosts | 6 | 8 |
| Recording | Yes, with Entertainment Plus and Total Entertainment | Yes, with TV Plus |
Channels
A basic TV package with each provider will get you around 80 standard YouView channels with TalkTalk, or 100 with BT. Premium packages get you a few more - up to 140+ with BT, or up to around 90 with TalkTalk. However, you can add even more - between 30 and 60 depending on your package with either one. Some of those are already included in the higher-end packages too.
Take a look at the full list of BT TV channels here.
Verdict

It's round about the same, but you can get more in the raw packages from BT. Plus, getting all the available channels from TalkTalk would work out pretty expensive - though they roll monthly so you can cancel them at any time.
Movies
Don't worry, film fanatics - the full Sky Cinema suite is available on both BT TV and TalkTalk TV, as is the Netflix app straight on your TV. Beyond that, things differ between the two.
BT has apps for BT Box Office, where you can rent some of the latest movies; and Curzon Home Cinema, the home of independent and classic film. TalkTalk, meanwhile, offers the TalkTalk Store, where you can find some of the latest cinematic hits to rent and buy.
Verdict

Though TalkTalk's movie selection is pretty good, BT wins this one, with BT Box Office and the Curzon Home Cinema app, which you won't find anywhere else.
*Average speeds are based on the download speeds of at least 50% of customers at peak time(8pm to 10pm). Speed can be affected by a range of technical and environmental factors. The speed you receive where you live may be lower than that listed above. You can check the estimated speed to your property prior to purchasing.
Sports
BT, of course, offers BT Sport. In fact, you get it with BT TV at no extra cost - though you'll need the top-end Max package. It's £3.50 per month otherwise. You can also get access to BT Sport Ultra HD (Total Entertainment only), and can add Sky Sports Main Event and Extra for a premium rate.
With TalkTalk, on the other hand, you can add every single Sky Sports channel with the Sky Sports Boost, as well as the BoxNation and Premier Sports Boosts. You can also add BT Sport channels by calling BT directly.
Verdict
Of the two, there's only one way to get the full BT Sport and Sky Sports experience - TalkTalk. BT can give you BT Sport at no extra cost, and that's always good... but TalkTalk wins by simply offering more.
Bolt-ons and Boosts
The main way to get the TV you want with both providers is through additional bundles of channels or services. TalkTalk calls them Boosts, and BT calls them Bolt-ons, but they're similar ideas. BT offers six: BT Sport, HD Extra, Kids Extra, Music, Sky Cinema, and Sky Sports. Meanwhile, TalkTalk has eight: TV Starter Boost, Entertainment Boost (included in TV Plus), Kids Boost, Asian Boost, Boxnation Boost, Sky Sports Boost, Sky Cinema Boost, and PictureBox Boost.
Check out our full guide to TalkTalk TV Boosts.
Verdict

TalkTalk has the most to offer here.
On demand and catch-up
As well as live TV, there's plenty to watch on demand from both providers too. BT has seven-day catch-up from BBC iPlayer, ITV Player, All4, Demand 5, UKTV Player, STV, and more - along with a bunch of box sets from those channels as well. You'll also find BT Kids and BT Music on demand.
TalkTalk has a similar seven-day catch-up included as standard, though you can get even more by way of a Boost. A lot of these have on demand shows from the channels they include, for instance.
YouView itself comes with apps for streaming services like Netflix and Now TV as well - so they're available with both TalkTalk and BT.
Verdict

TalkTalk has a little bit more, thanks again to its Boosts.
Conclusion
Both BT and TalkTalk have some good stuff to offer in terms of telly, but both have a few gaps too.
The nature of how TalkTalk TV works means it's the most flexible of the two. You can customise your package as you like it to suit your televisual tastes, and there's a tad more to watch on demand too.
BT, on the other hand, is marginally better for both movies and sports fans. Inclusive BT Sport isn't to be sniffed at, especially as BT Sport Ultra HD is up for grabs. And as the only major UK TV service to offer a Curzon Home Cinema subscription it's got something a little extra to offer the film-loving crowd.