So, you're in the market for a TV package, but don't want to pay top-tier prices or get locked-in to a contract. In that case, the NOW Smart box with 4K and Voice Search might just be for you.
As its name suggests, the NOW Smart box with 4K and Voice Search comes with top-drawer specs and features, including 4K capability and, you guessed it, voice search.
Naturally, when the good people of NOW TV over at NOW headquarters offered to send us its new kit to try out, we jumped at the opportunity.
Here's what we thought…
What is the NOW Smart Box with 4K and Voice Search?
In a nutshell, it's the latest set-top box from Sky subsidiary, NOW.
It lets you watch your favourite Sky shows, all in super clear 4K quality. And, for the first time, it also includes Netflix in 4K too.
Indeed, if you want to watch premium Sky shows without paying premium prices, you should consider checking out this box.
Before you read on, though, if you already have a smart TV, and you're not too bothered about watching Sky channels, double check that you don't already have the apps you want to watch on your TV already.
On to the box itself and, as you can see, it's a dinky bit of kit:
The hardware is once again supplied by Roku so, if you've ever used one of its boxes, you should find navigating your way around this one a doddle.
To watch content on the box you will, unsurprisingly, need access to the internet. And although you can't record on the box, you can pause, rewind and fast-forward shows as well as access programmes on catch-up easily.
Design
To some, the box will look pretty similar to previous NOW boxes. But that doesn't bother us - it still looks slick.
We like the pink logo too. It's a small touch, but it contrasts well against the glossy black finish of the box and, in terms of size, it's small enough to fit snuggly under your TV without taking up too much room.
At the back of the box you'll find a HDMI 2.0 port (meaning the box can support 4K HDR at up to 60 frames-per-second, a micro-SD card reader, and Ethernet port. The remote follows a similar design: minimal, black with a touch of pink on the buttons and the volume buttons are located on the right-hand side of the device - more on that, below.
What does it come with?
Inside the box, you'll find a power adaptor, 2 x AA batteries, a HDMI cable and, of course, this small, voice-control TV remote:
As you can see, you'll find the power button at the top of the remote, and the other key buttons (pause, fast-forward, TV Guide) are easy enough to identify.
It's comfortable to hold, too, but also small enough to slip down the side of the sofa so take care not to leave it lying around – especially if your pet likes to chew things.
How easy is it to set up?
It's pretty simple, actually.
To connect the box to your TV, simply take the HDMI cable provided and plug it from the box into the HDMI port on your TV.
Once you've set up the HDMI, plug the Smart TV box into a plug socket using the power adapter supplied. After that, pop the batteries in the remote, switch your TV to the HDMI port and connect to your wireless network.
Then, go to NOWTV.com/TV from your laptop or mobile to activate your one-month's free entertainment pass. Once you've entered in the code on the screen, you should be able to start watching. As we say, simple.
If you do have any trouble, though, just follow the on-screen instructions. And, if that fails, check out the help section on NOW TV's website.
What's it like to use?
Thankfully, the NOW Smart box is really simple to use - right down to the interface.
Indeed, everything is laid out plainly, with Editors' picks and the Best of Catch Up TV on the left-hand side of the menu bar.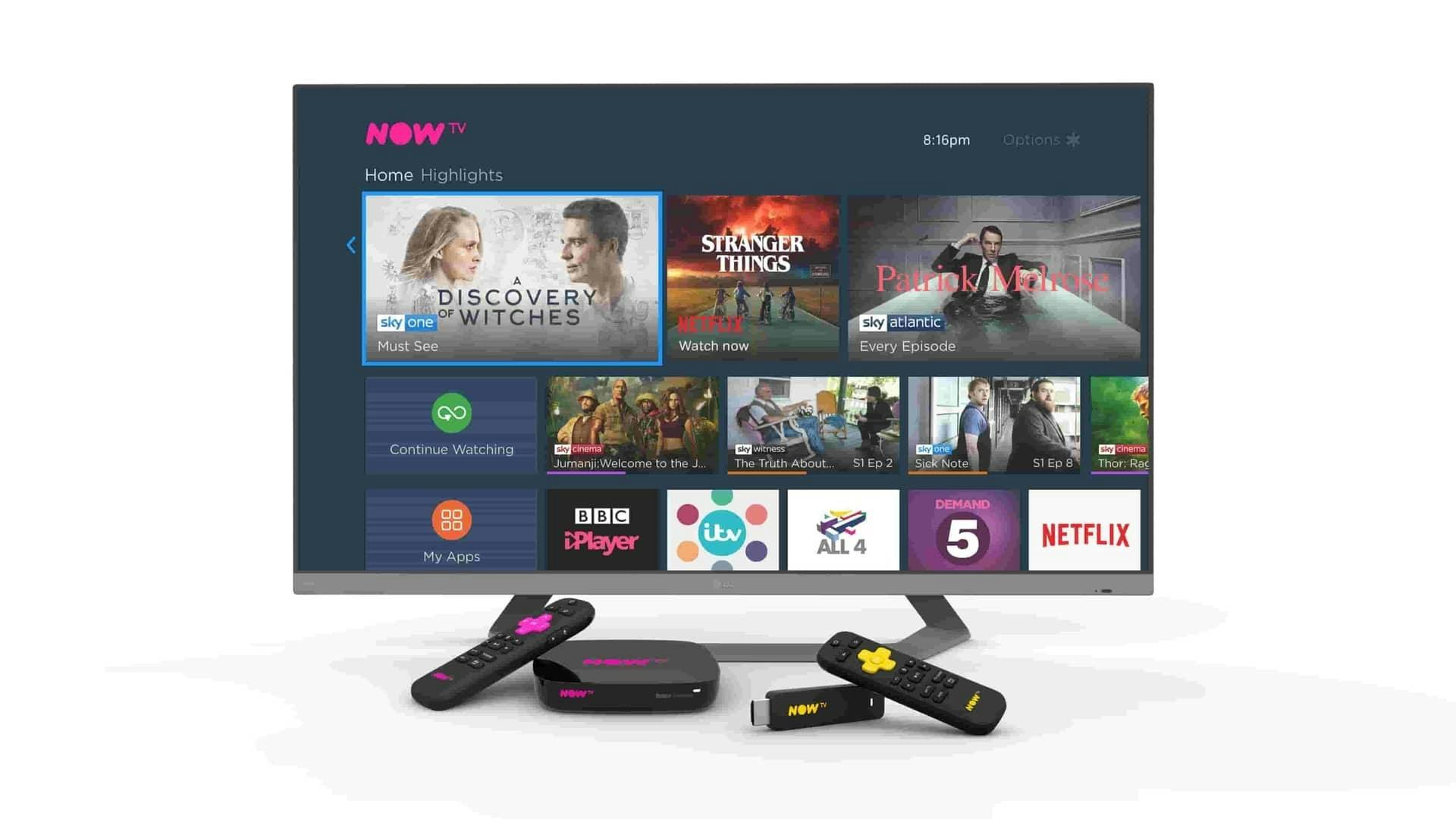 In terms of programming, NOW offers something for everyone, and you can add one-month Sky Cinema, Sky Entertainment and Sky Sports passes as and when you want.
To activate the voice control feature, simply hold down the little microphone button under the play-back options on the remote. It works a little differently to, say, Amazon's Alexa, and is handy if you want to know the name of a particular actor, director, or access content more easily.
What channels can you get on it?
The great thing about NOW is you can choose as many or as little Sky TV shows as you want, without being tied to a contract.
For example, if you want to add on movies for a month, watch a specific sporting event, you can. After you've seen your chosen show, you can cancel without any fuss or bother.
You'll have loads of channels at your fingertips, as well as access to a fair few apps too, including YouTube, BBC iPlayer, BBC Sport, Vevo, ITV Hub and, most impressively, Netflix in 4K.
That said, you won't get Amazon Prime Video. It's a shame but not surprising. After all, Amazon has its own TV set-up, the firestick.
What is the picture quality like?
Depending on the age of your TV, picture quality will vary. Overall, though, we were impressed with the crystal clear HD images on our screen. If you own a 4K TV, shows on Netflix will look stunning.
Still, we were a little disappointed to find the NOW app is actually capped at 720p resolution and stereo-sound but, as we say, we found the picture excellent in HD, nonetheless.
How much is it?
Although you'll probably find cheaper Roku boxes out there, the NOW 4K box offers a heck of lot, and it could work out a lot cheaper than paying a subscription every month.
To that end, we think the box will be worth your money. You can pick one up for around £50.
Overall Verdict
Overall, we're impressed with the NOW Smart box.
For some, the lack of Amazon Prime video and capped 1720p will be a downer. And we get that. But, for the price, we're okay with a little compromise – especially when the rest of the features are excellent.
If you're looking for a superior viewing experience - without blowing your budget - the NOW Smart box with 4K and Voice Search will be for you.