In the market for a home broadband service that you can take with you when you leave the home? Don't fancy paying for a landline that you don't use? Then Three Mobile's HomeFi could be just the ticket.
Available at a pretty keen price and offering unlimited usage, Three's HomeFi product is a 4G router that uses mobile internet as a substitute for a traditional fixed-line connection.
But like fixed line home broadband, it creates a connection that you can share around the home.
Not only that but boasts a ton of excellent features, including voice control, 200 metre Wi-Fi coverage and connection speeds of up to 150Mbps to boot.
Here's five things you need to know about it before you buy:
At a glance:
Download speeds of 150Mbps
200 metre Wi-Fi coverage
Power buttons provide seamless rollback – hold down the WPS and Power button.
European model supports all major frequency bands, including LTE, UMTS and GSM.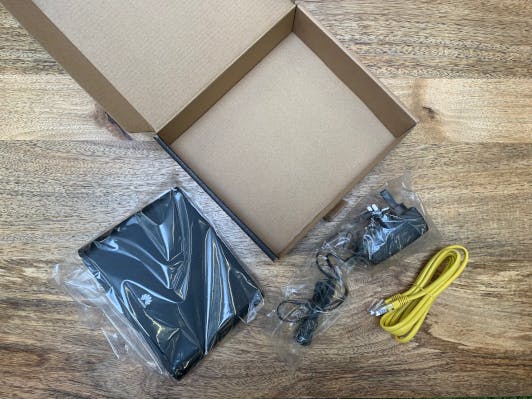 1. It uses 4G broadband
For some, fixed-line broadband just isn't practical.
Students, for example, and those who travel around for work, might find it difficult to commit to a twelve-month - or in some cases, twenty-four month - contract.
That's where 4G home broadband routers like Three's HomeFi comes in handy.
Just like the internet on your mobile phone, mobile broadband is pumped through the airwaves. Which means HomeFi doesn't need copper wiring or cables to work.
Brilliantly, you can also wave goodbye to installation costs, and you won't have to pay for a landline if you don't need it either.
Before you pick a deal, though, check the 4G coverage in your area to make sure the speeds are up to scratch.
2. It's not bad to look at…
Well, as far as routers go, anyway.
Starting from the far left, we have the power icon which lights up when the router is turned on. Then mode, which shows the status of the network. The third symbol indicates Wi-Fi connection. Fourth shows the ethernet signal and, lastly, the three bars at the end display signal strength.
The power button and a WPS button for pairing devices sit at the top of the device. Notably, you can restore the settings, even after a software update, by holding these buttons down.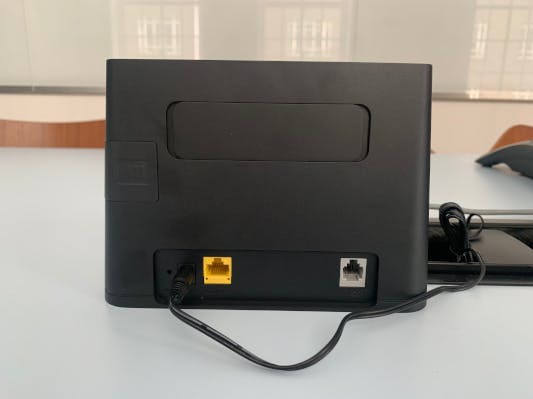 Around the back, the router sports a LAN/ethernet port and a Gigabit ethernet port for the connection of an analogue telephone, should you require one.
On the left-hand, under a panel, sits a SIM card slot that's big enough to hold a standard SIM-card. In terms of colour options, the device is available in Black and White variants.
Set-up is simple. Just pop a SIM-card into the slot under the panel on the side of the device, and you're good to go.
The European model we unboxed supports all major frequency bands, including LTE, UMTS and GSM. And the best of it is, the device comes unlocked, so you can change networks whenever you like, without any hassle.
3. It lets lots of people online at once…
Impressively, Three's Huawei HomeFi can support 32 users or devices simultaneously.
Plus, the signal can travel around two hundred meters, so it's ideal for large households who struggle with their fixed-line broadband signal.
4. It'll give you super-fast speeds
As we say, because the router supports super fast CAT 4 LTE network technology, it's capable of speeds of up to 150Mbps. Plenty for streaming 4K movies and online gaming.
5. It saves you money
At the time of writing you can pick up the HomeFi on a 24-month contract, priced £11.50 per month for the first six months and £23 per month thereafter. That totals £483 over the course of the contract.
By way of comparison, value broadband specialist TalkTalk's cheapest standard broadband deal with unlimited usage is available on an 18-month contract and will set you back £359 (including landline rental) over the course of the contract.
Assuming you manage to renew for £20 per month thereafter, you'd have paid £479 over that period.
So there's not too much in it price-wise when you compare HomeFi with a typical value home broadband package.
However, the key advantage of HomeFi is that you can take your connection with you when you're out and about. The downside is that depending on which contract option, you could be committing for as much as 24 months.
One thing's for sure, the HomeFi is an impressive bit of kit. If you're a student, or someone who lives in a large household where several different devices are being used at once, the Huawei LTE CPE BS10 might just be for you.