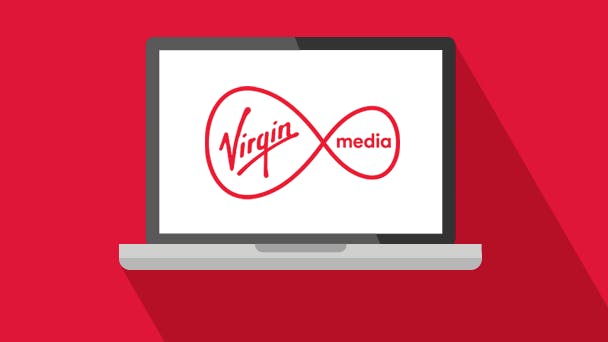 If you've got Virgin Media TV. you can take it with you wherever you go using online television service Virgin TV Go - formerly Virgin TV Anywhere. It lets you watch live TV and catch up on what you've missed on your PC, Mac, iPad, Android, Kindle, or iPhone.
How do I get Virgin TV Go?
Virgin TV Go comes as standard with all Virgin Media TV packages, so if you've got Virgin Media TV you already have Virgin TV Go!
If you don't have Virgin Media TV but want to get it, use our price comparison calculator to find the best deals available in your area.
*Average speeds are based on the download speeds of at least 50% of customers at peak time(8pm to 10pm). Speed can be affected by a range of technical and environmental factors. The speed you receive where you live may be lower than that listed above. You can check the estimated speed to your property prior to purchasing.
What do I need to use Virgin TV Go?
All you need to access Virgin TV Go is a PC, Mac, Android, iPhone, iPad (iOS 8 and above), Amazon Kindle Fire, or another tablet, and a Wi-Fi connection. Unfortunately, most of the service's features aren't supported on 3G or 4G connections, so you're limited to areas where you can connect to home broadband or a public Wi-Fi hotspot.
If you have a Virgin Media TiVo box you can do more than just watch shows on your phone - you can also manage what's saved on the box and set shows to record while you're out. You can even use the app as a TV remote when you're at home.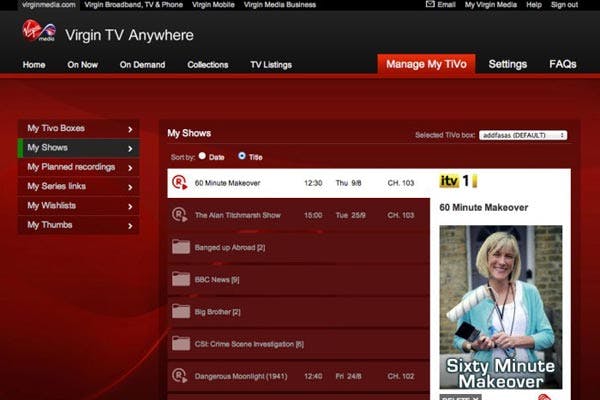 Follow the instructions below if you need help setting up Virgin TV Go on your gadget.
How do I set up Virgin TV Go on my PC or Mac?
You should find that many of the features on Virgin TV Go feel instantly familiar as they're just like the ones on Virgin Media TV.
1. Go to virgintvgo.virginmedia.com on a web browser - preferably Safari, Firefox, or Internet Explorer, since videos won't work on Google Chrome
2. Click 'Sign in' in the top corner, and type in your My Virgin Media username and password
3. Browse through Live TV, On Demand, and TV Listings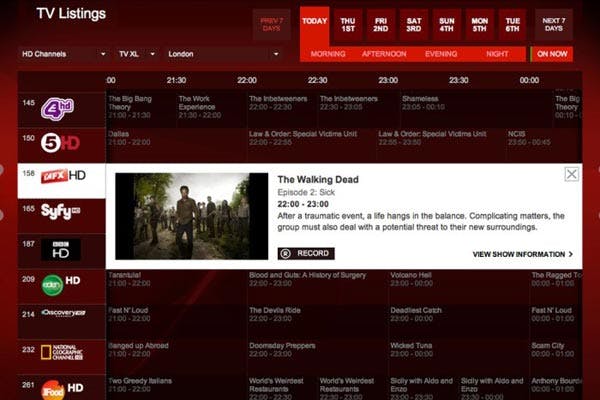 4. When you find something you want to watch, simply click Watch
Note: The first time you watch something you'll need to register your device. You can do this by just clicking 'Register device' in the pop-up that appears, then giving your gadget a name. See below for how to do this.
How do I set up Virgin TV Go on my smartphone or tablet?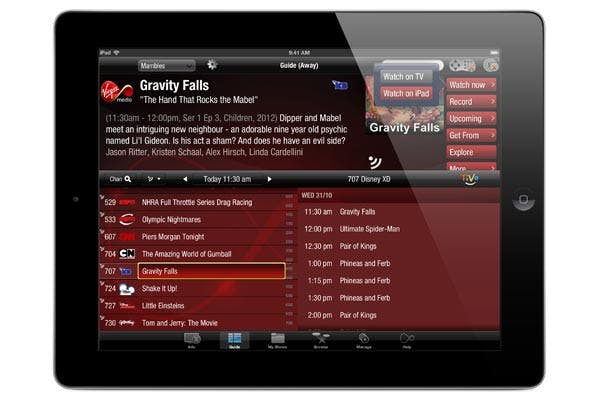 With the Virgin TV Go app you can use your phone or tablet for just about everything you can do with a TiVo remote control - from flicking through channels to recording your favourite shows.
On your phone or tablet, make sure you're connected to Wi-Fi and open the App Store or Google Play Store
Search 'Virgin TV Go' and install the free app
Once the app has installed, tap the icon to launch it
Enter your My Virgin Media username and password
You're ready to use Virgin TV Go - just browse the listings and pick something to watch
Note: Before you can use your phone or tablet with your TiVo box you first need to make sure the latter is connected to your Virgin Media router. To use the app as an easier-to-manage remote control, your TV box and phone/tablet must be connected to the same router. See below for more on this...
How do I find out my Virgin Media username and password?
To access My Virgin Media you need to create a username and password. It only takes a few minutess and once you've done it you'll be able to manage your account online, as well as use Virgin Media Mail and download useful apps. You can register or get help if you've forgotten your login on the Virgin Media website.
How do I register my device with Virgin TV Go?
Before you can watch programmes on Virgin TV Go you need to register the devices you'll be using you can register a maximum of two devices per household.
Go to Virgin TV Go and sign in with your My Virgin Media username and password
The first time you try to watch something, the Virgin TV Go registration page will automatically open
Click Register on one of the available device slots. You can give each device a name - for example, 'Michael's laptop' or 'My iPad'
Click Done and your device should be registered
5. If you've already registered two devices, you'll need to delete one to make a slot available for a device you haven't used with Virgin TV Go before
How do I connect my phone or tablet to my Virgin Media TiVo box?
If you want to use your device as a remote control for your TV box as well as to manage recordings, you'll first need to do is connect it to the box. Start by making sure that your Virgin Media router is working as normal.
Connect your TiVo or V6 box to your router - by using an ethernet cable if the router is close enough, by using Wi-Fi, or by connecting with a powerline
Connect your phone or tablet to the router as well, over Wi-Fi
Open up the Virgin TV Go app, and tap the remote icon at the top right corner of the screen
Select which TV box you want to connect to from the list that comes up - you may need to enter or choose your box's MAK (see below)
When you're done, a virtual remote control will appear on your device's screen - the controls should look a lot like those on your physical remote
Presto - you're now using your device as a remote. Swipe up and down to see more or fewer buttons and controls.
Where can I find my media access key for my Virgin Media TiVo box?
Your media access key (MAK) is a code which identifies your TiVo box. If you have more than one box, each will have a unique MAK to identify it on your Virgin Media broadband network.
To find your MAK:
1. Using TiVo, go to Home > Help & Settings > System Info > Media Access Key
2. Enter your TV PIN when prompted - if you haven't set a TV PIN the default is 1234
3. You should see your 10-digit MAK in the middle of the screen