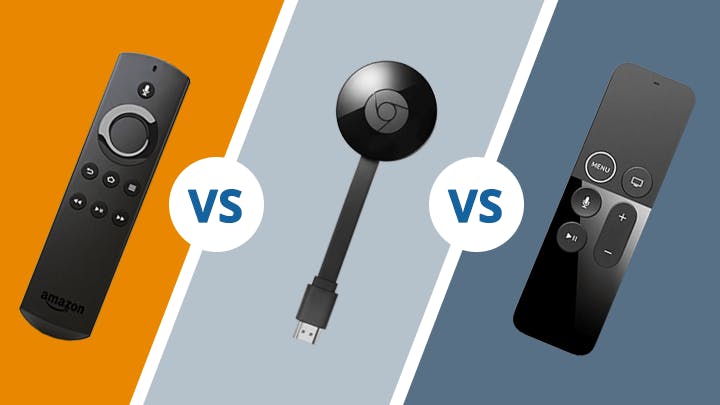 Want to stream TV and video from the net right onto your tellybox? Sounds like you need a streaming stick - a handy little device that plugs into your TV, hooks up to your Wi-Fi, and lets you watch the likes of Netflix and BBC iPlayer. But which one is best: the Amazon Fire Stick, Chromecast, or Apple TV?
The sticks at a glance:
| | | |
| --- | --- | --- |
| Amazon Fire Stick | Chromecast | Apple TV |
| £39.99 | £30-69 | £149-199 |
| Dual core processor | Single core processor | Single core processor |
| Memory: 8GB | Memory: from 256MB | Memory: 32GB |
| Features: Free 30-day Amazon Prime Instant Video trial; Alexa Voice remote | Features: 'Cast' from any device; mirror from Android phones and tablets | Features: Access to iCloud; AirPlay lets you beam from iOS devices; dual-screen games and apps; clever touch remote |
How do they work?
All streaming devices work in basically the same way. The Amazon Fire Stick, Chromecast, and Apple TV plug into the HDMI port on your telly. They're usually powered either by batteries, or an extra cable connecting them to a mains socket or USB port, if your TV has one of those too.
From there, you can connect them to your home broadband via Wi-Fi and start viewing your device's apps right on your TV. That could be videos, movies, or even music, games, and pictures. And if you have a compatible smartphone, tablet, or computer, you may be able to sync it up to beam things straight to your TV too.
Generally, the Chromecast is made for Android: to use it, you'll need an Android smartphone or tablet to 'cast' apps up onto the TV screen and control them. That includes all your favourite video, music, gaming, and cloud storage apps. You can cast from iOS devices too, though it's a bit more fiddly.
Apple TV, on the other hand, works best with fellow Apple devices. It has a remote to use it as a standalone streamer, but there's also the option to use AirPlay from your iPhone, iPad, or Mac - this way you can beam apps, mirror your device's screen, or use it as a controller for games.
And then there's the Amazon Fire Stick, which doesn't need access to any other device in order to work. Apps are stored right there on the stick itself, which is controlled with a remote. Or if that's not enough, you can buy a voice-controlled remote as well.
So, now we know what they all are, let's see how they compare!
Price
If you're buying a streaming device outright, a standard Chromecast is definitely cheapest at £30, and an Apple TV most expensive, starting from £149.
However… an Amazon Fire Stick includes a 30-day trial of Amazon Prime Video - which covers the difference between it and the Chromecast.
Verdict
The Chromecast is the most wallet-friendly, but works out around the same value as the Fire Stick when you factor in the free streaming trial.
TV and movies
Believe it or not, you can watch TV shows and films from apps on all three devices. Hooray!
Of course, exactly which apps you can use varies a bit. Amazon Prime Video is the main attraction of the Amazon TV Stick - you even get a free 30-day trial - and there are apps for most of your favourite streaming services, including Netflix, Curzon Home Cinema, BBC iPlayer, All4, and Virgin TV Anywhere. The introduction of its 'Fling' feature also means there's a good chance you'll soon be able to load up things like 4OD on your phone or tablet and beam them onto the TV. Plus, there's plenty to watch on video apps like YouTube, Vimeo, and Vevo - and you can download the VLC player app to watch any kind of video file you may have.
With a Chromecast, you can 'cast' almost any Android smartphone or tablet app up onto your TV - which includes Netflix, Now TV, and Google Play Movies.
Apple TV's choices are a little more scant. There aren't many catch-up services available, nor are there many ways to watch UK sports. It's perfect if you like buying and renting through iTunes, and good old Netflix, iPlayer, and Now TV are both present, but there are still quite a few gaps. A bit added bonus of the Apple TV, however, is that it has a huge amount of storage space - so you can store and watch all your own TV and movie files.
Verdict
It's pretty close between the Amazon Fire Stick and Chromecast, so we'll put this one down to personal preference. For access to catch-up, like iPlayer and All4, casting from Chrome is certainly your best shout; but for on demand TV series and films, you can't get much better than a free Amazon Prime Video trial.
Music and radio
Chromecast faces a bit of an issue when it comes to streaming audio, especially from online apps like Soundcloud and Deezer. The casting method means that tunes are streaming through your router to your device (that is, your phone, tablet, or computer), back to your router, and back out again to the Chromecast… so, it's not exactly the most efficient or reliable way of listening. Luckily, there are a few apps you can download straight to the Chromecast itself: including Spotify, Google Play Music, Deezer, and tons of radio.
As for the other two streaming sticks, there are definitely more apps on the Fire Stick - including Spotify, Amazon Music, and TuneIn radio.
Apple TV has the benefit of seamless integration with iTunes an Apple Music, but outside of that, it's slim pickings, unfortunately. Sure, you can use AirPlay with a music app on your phone or Mac… but then we're back to the same problem the Chromecast has.
Verdict
Amazon Fire Stick. There's a good range of music apps, and by streaming directly from your router you'll get better playback.
Gaming
At first glance, it looks like there are more games available on the Amazon Fire Stick, with the Chromecast not too far behind. You'll find literally hundreds - on the Fire Stick, that includes special apps for Flappy Birds, Solitaire, Mystery Case Files, classics like Sonic the Hedgehog and Tetris, and all kinds of quizzes.
For the Chromecast and Apple TV, anything you can beam up from your browser or smartphone will work - great for quizzes with all the family. There's also the likes of Angry Birds, board games, and card games.
Apple TV, however, has something interesting up its sleeve: you can use it for fully-fledged gaming. Its AirPlay feature can be used for dual-screen gaming; you can pick up a proper controller; and you can use the Siri Remote in the same way you'd use a Wii remote. And your choice of games is impressive, including the likes of Guitar Hero, Asphalt 4, and Rayman Adventures.
Verdict
Apple TV - you can do so much more.
The winner
When you're choosing a streaming device, it really comes down to what you want to get out of it. For access to iTunes and gaming, the Apple TV wins hands-down - but it's got the disadvantage of only really working with Apple devices, and a smaller selection of streaming services readily available. The Chromecast, on the other hand has a lot of streaming apps to offer - though you need to make sure you have an Android on hand to control it with.
Our favourite is the Amazon Fire Stick. With hundreds of apps to download right to the stick itself - meaning no faffing around with phones and tablets - and all the video, music, and games you could want, it looks like the best choice.