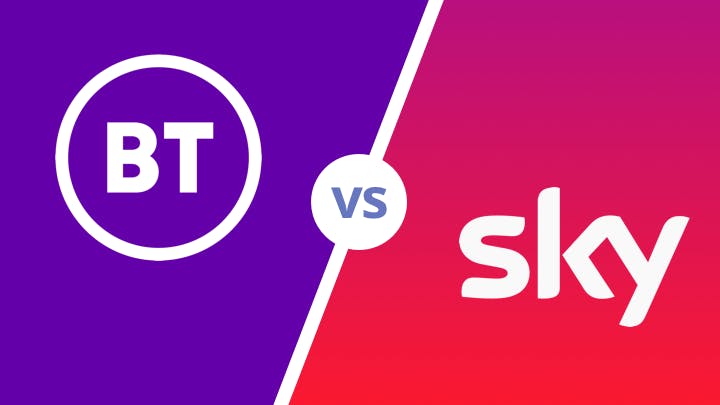 BT and Sky are two of the biggest broadband providers out there - but what are their pay-TV offerings like?
To put it simply: they're quite different. While Sky offers a massive spread of channels and some top-notch tech, BT gives you the right essentials at a nice low price. Here's exactly what you get with each one.
Thinking about getting fibre broadband with your TV? Take a look at our BT fibre vs Sky fibre guide too. And see our complete BT review and Sky review as well.
BT TV vs Sky TV at a glance
| | | |
| --- | --- | --- |
| | BT TV | Sky TV |
| Packages | Starter, Entertainment, Max | Sky Entertainment - plus Sky Kids, Sky HD, Sky BoxSets |
| Number of channels | Up to 140+ | Up to 350+ |
| Sky Sports | Yes, but only Sky Sports Main Event and Extra | Yes, full pack |
| BT Sport | Yes, available with any package | Yes, but |
| Sky Cinema | Yes | Yes |
| HD | Yes, up to 21 channels, plus 4K UHD content with Max | Yes, up to 50+ channels, plus 4K UHD content with Sky Q 2TB |
| Recording | Up to 600 hours (with Max) | Up to 1000 hours (with Sky Q 2TB) |
| Requirements | BT broadband, BT fibre in some cases | Satellite dish |
Cost
BT TV is generally a lot cheaper than Sky TV - although both providers often have special deals and offers on. For an accurate idea of pricing, it's best to compare your options.
Verdict

BT typically wins on price, but special offers can change that, so make sure you compare current deals.
Channels
Sky TV boasts several billion channels. Well, okay, not quite that many - but you can get over 350 if you grab all the add-ons. Even its most basic option, the standard Sky Entertainment package, has about 300, including Sky 1 and Sky Atlantic. In fact, Sky TV is one of the only ways to get Sky Atlantic - the other being NOW TV. (See our Sky vs NOW TV comparison here.)
With BT, you get basic Freeview, though the Entertainment and Max packages add a few extra premium ones too. You can get up to 140-ish altogether - plus you can add more with a bolt-on, such as Kids' TV. These give you a bundle of channels on a rolling 30-day basis, so you can add and remove them whenever you want. There's still not as much to watch as there is on Sky, mind you.
Verdict

This one's obvious. Sky has way more channels, including Sky Atlantic.
Sports TV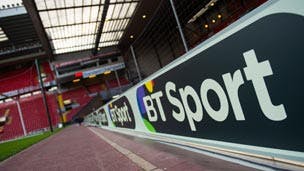 Here's the big question from sports enthusiasts: Can you get BT Sport or Sky Sports?
With BT TV, you can get BT Sport included either for free, or very, very cheaply - and it's the only way to get that coveted BT Sport Ultra HD channel for stunning 4K-resolution footie. You can get Sky Sports Main Event and Extra added on for a monthly fee, too - which is fine if you only want to catch flagship games, but perhaps not good enough if you're after the full breadth of sport or certain niche games.
On Sky, you can of course get the full Sky Sports suite, and adding it onto Sky TV is the cheapest way to get it. BT Sport is available to add on too, though you won't get the Ultra HD channel, even with the UHD Sky Q box. Find out how to get BT Sport on Sky in our guide.
Verdict

Major sports buffs can't get better than Sky. That said, BT is a good option for casual fans who just want to catch the big events - especially as it's quite a bit cheaper.
Equipment and technology
BT's TV getup is based around YouView, a kind of Freeview box that can handle more premium bits and bobs. Depending on which package you choose, you'll either get:
A standard YouView box
A YouView+ box, which you can record TV onto
Or a YouView+ Ultra HD box, which has more recording space and is 4K-ready
Your telly is delivered via your TV aerial and the internet, which means it's nice and easy to set up - but you do need decent enough speeds for most streaming to work. A minimum of 6Mb is required to get BT Sport HD, for instance. Gadget-heavy households that don't have fibre broadband might have problems with buffering.
With Sky TV, you'll get Sky Q - the company's most innovative telly tech yet. It's got features like 'fluid viewing', which lets you pause a programme in one room and pick it up elsewhere; a really user-friendly interface; and a cool touch remote. You can choose either a standard box with 1TB storage (around 500 hours of recordings), or a 2TB, 4K-ready box. Upgrading to the 2TB box is a tad expensive, though.
The downside is that you need a satellite dish to watch Sky TV - which can be a bit of hassle and disruption to install, and isn't always possible for shared or rented homes.
Verdict

Sky's tech is the best - so long as you're cool with the satellite dish.
On-demand and catch-up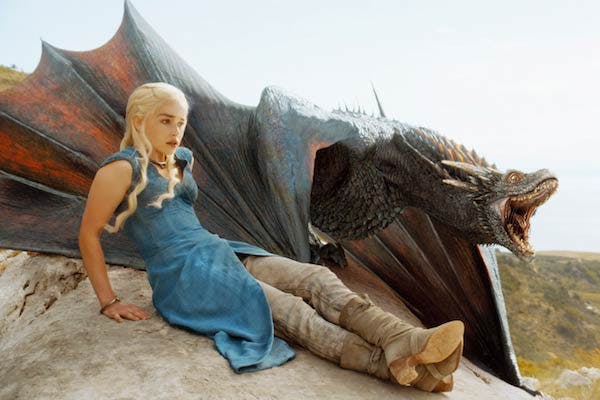 Good news - you can catch up with your favourite shows on demand with both Sky and BT.
BT's got 30-day catch-up services from all the main guys, like BBC iPlayer, ITV Hub, and UKTV Play. However, there isn't a lot outside of that - you won't find extra box sets, for instance.
Box sets are more Sky's domain, actually. With the aptly-named Box Sets add-on, you get around 350 box sets to watch, including Game of Thrones - though sadly you don't get any with the base package, and Sky BoxSets will cost you extra each month.
As for 30-day catch-up, it's got that too, with up to 60 channels covered - and more if you have certain add-ons.
Verdict

Yep, you get more with Sky here.
Our verdict
Sky definitely offers the best pay-TV. It gives you more channels - some really, really good channels for that matter - as well as more impressive tech and a wider spread of on-demand telly.
Here's the thing, though: it's expensive. If your household watches lots of TV, splashing out on the best of the best is worth it… but when you add on box sets, sports, Sky Cinema, and the 2TB set-top box, it does get quite costly.
For just a bit of pay-TV and some premium channels - and BT Sport - BT TV is a lower-priced option, so long as you're happy to sacrifice some features.
See also: