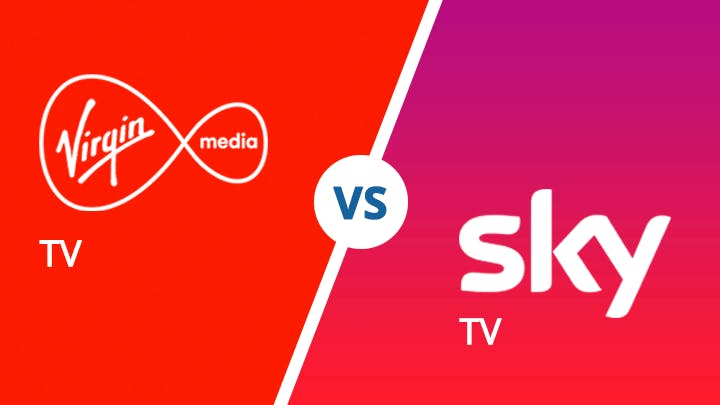 The two biggest pay-TV providers in the UK have a lot in common - high-tech set top boxes, lots of series to watch on-demand, and lots channels to choose from . But which is best - Sky or Virgin Media?
We've compared the two side-by-side on all the things that matter to help you figure out which one would best suit your home. Keep reading to see which one comes out on top.
Check out our full guides to Sky TV and Virgin Media TV, and our complete Sky review and Virgin Media review.
At a glance
| | | |
| --- | --- | --- |
| | Sky TV | Virgin Media TV |
| Packages | Entertainment - plus Sky BoxSets, Sky Sports, Sky Cinema, Sky Kids, Sky HD | Mixit TV, Maxit TV |
| Number of channels | ~300 | ~110-230 |
| Set top boxes | Sky Q 1TB, Sky Q 2TB | TiVo, V6 |
| HD | Yes | Yes |
| Recording | Up to 1000 hours | Up to 500 hours |
| Delivery method | Satellite | Cable |
Channels
One of the best things about Sky or Virgin Media TV is the sheer number of channels you get.
Virgin Media's Mixit bundle has 110+ channels, while Maxit has 230+. But there's plenty of scope to boost that by signing up for Personal Picks, which allow you to subscribe to the likes of Sky Sports, BT Sport and international channels on a 30-day rolling-contract basis.
Sky, on the other hand, has around 300 in the base Entertainment package, which can increase to well over 350 with add-ons. All customers get the Sky entertainment channels too - like Sky 1, Sky Arts, and Sky News, and it's the only place you can find Sky Atlantic.
Take a look at the full list of Sky channels here and Virgin Media channels here.
Verdict

Sky is a clear winner in terms of range and number of channels - though to be fair, you still get a heck of a lot with Virgin Media.
Sports
Virgin Media has an edge when it comes to sport. Sky Sports can be added to packages from either provider, but out of the two, you can only get BT Sport directly with Virgin Media.
You can add BT Sport to Sky as a separate subscription, but you'll have to do so after you're up and running - Sky doesn't include it in any bundles.
There are packages from both that include At the Races, Eurosport, Eurosport 2, and Extreme Sports; and both can have more niche premium channels like BoxNation, Racing UK, and MUTV added on.
It's worth mentioning that you can add Sky Sports to Sky much more flexibly than you can on any other service: you've got the choice of grabbing one channel, two, or the entire suite.
Each option comes with a different price tag, meaning you can watch the Premier League quite cheaply, and you're free to switch it around every single month.
Verdict

Both are excellent for sport, but since Virgin Media gives you easy access to you every sports channel in the UK, it gets the nod from us. If you're more of a casual fan, on the other hand, and just want access to a season or two of your favourite sport... Sky's flexible sports add-on might be for you.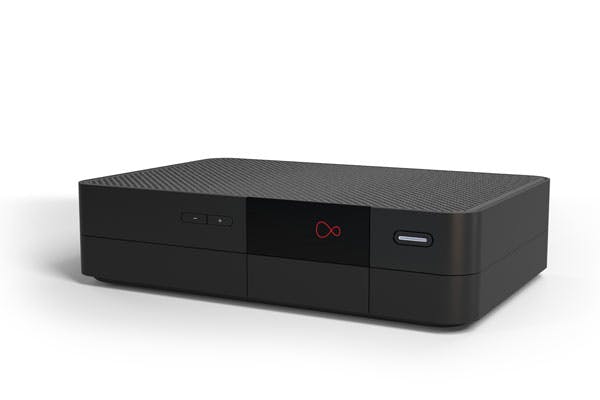 Set top box and recording
Sky TV comes with a choice of two set top boxes. A Sky Q 1TB can record up to about 500 hours of standard definition TV, and a Sky Q 2TB box can store up to 1180 hours - though it carries an extra charge. Both support HD - and the 2TB box is also 4K-ready - and both have built-in Wi-Fi to power the on demand features.
Virgin Media TV has two TiVo boxes to choose from: a 500GB TiVo box (that can record 250 hours of standard definition), or a 1TB V6 box (that can record 500 hours). Both have some fantastic features. There's a comprehensive search function, a Wishlist, and a bunch of apps like Netflix, YouTube, and Spotify.
Verdict

This is a tough one. Sky offers the box with the most storage and a slicker interface, but Virgin Media is the only provider in the UK with TiVo. We'll call it a tie.
On demand and catch up
Lots of channels and a high-tech box are all well and good, but can you watch what you want when you want?
Virgin Media TV comes with seven-day catch-up (from BBC iPlayer, ITV Player, 4OD, Demand 5, and entertainment channels), and loads of on-demand box sets - though the exact ones you get will depend on what channels are included in your package. You can watch online and on the go via smartphones and tablets too, with the Virgin TV Anywhere app.
Sky, on the other hand, claims to have the UK's widest range of on-demand TV. As well as the main catch-up services, there's Sky On Demand for catching up on Sky TV channels, and with the Sky BoxSets add on, you can get lots of box sets too. It gives you more than 350 of them, including some exclusive ones like Game of Thrones. You can even watch on-demand TV online, via phone, PC, Mac, or games console, via the Sky Go service - included free for all subscribers.
Read more about on demand TV here.
Verdict

It's difficult to say - there's a lot of stuff to watch on both. Another tie, we're afraid.
Availability
Thanks to its satellite system, Sky TV is available pretty much anywhere, so long as you can install a satellite dish. Of course, that's not always possible, especially in rented homes and apartment buildings - but geographically speaking Sky's availability is pretty wide.
Virgin Media, however, delivers TV via its cable network, which is limited to certain areas. Most large cities, towns, and areas with a high population are covered, but it still only accounts for around 70% of the UK.
Use our handy postcode checker to find out if either are available where you live.
Verdict

Sky is more widespread.
Conclusion
All in all, you're getting a good selection of TV whether you choose Sky or Virgin Media. Both have a lot to offer and it really depends what you want from your TV as to which is best for you.
Sky has more channels, wider availability, and a box with more storage space - ideal if you record a lot of shows. It's also the only way to get Sky Atlantic, besides NOW Broadband, so if you want to watch shows like Game of Thrones it's your best option.
But Virgin Media offers pretty impressive TiVo boxes, and it's better for sports channels. You're less likely to get interference from bad weather too, because it's delivered by cables rather than satellites. It's also among the fastest fibre optic broadband providers in the UK - if you bundle, you can get blistering speeds of around 516Mbps. And... unlike Sky, it's available on 30-day rolling contracts.
Whichever you think is the one for you, make sure you compare packages so you can find the best possible deal.