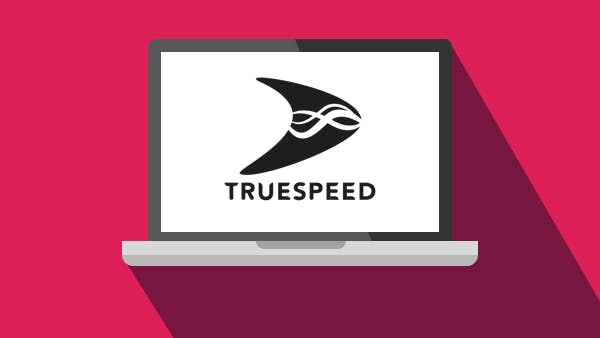 Based in the South West of England, Truespeed offers full fibre broadband packages with guaranteed speeds of at least 150Mbps.
Although you might not realise it, with most providers you don't actually get a full fibre package, only part fibre. Not so with Truespeed. It's one of the few providers to offer genuine, fibre-to-the-premises broadband.
Catch is, it isn't available everywhere. So if you find that you can't get a deal in your area, you can register your interest via Truespeed's website.
Here's everything it has to offer.
Can I get Truespeed in my area?
Truespeed operates in the South West of England. If you live there, you may be lucky enough to be in its network – but elsewhere, you'll need to look to other providers.
Either way, enter your postcode into our checker above, and we'll tell you whether Truespeed is available for you – along with everything else you can get too.
Truespeed fibre broadband
All Truespeed broadband is full fibre, also known as FTTP (fibre-to-the-premises). That means the line is fibre all the way from the exchange to your home – in comparison to most fibre broadband, which uses old copper lines between your home and the local street cabinet.
And because it's full fibre, you get lightning-fast speeds, excellent reliability, and very little lag.
The packages available are:
Truespeed 150 – average download and upload speeds of 150Mbps
Truespeed 300 – 300Mbps
Truespeed 600 – 600Mbps
Truespeed 900 – 900Mbps
You'll notice that the upload and download speeds are symmetrical, i.e. identical for downloads and uploads, on all of Truespeed's packages. That's a rarity for home broadband, but it's hugely beneficial. It means you can upload or send large files (such as videos) in seconds, make Zoom calls smoothly, and even host streams.
Truespeed broadband review
Like other smaller UK providers, Truespeed offers its own range of ultrafast, fibre-to-the premises internet packages, and promises buffer-free broadband, direct to your home. Moreover, you can also get phone packages, too, plus bolt-ons such as inclusive calls to mobiles.
Nearly all of Truespeed's fibre broadband networks were built totally from scratch, and are only made possible by local people signing up, and showing interest in the service.
Customer support
Overall, Truespeed's customer support is rated favourably on review site TrustPilot, with an average rating of 4.5 stars at the time of writing.
To that end, if good customer service and fast broadband speeds are particularly important to you, Truespeed is well worth a look.
How to get in touch with Truespeed
Phone: 01225 300 370
Email: ultrafast@truespeed.com
Advisors are available Mon-Thu 8am-7pm; Friday 8am-6pm; and Sat-Sun (answer service only) 8am-8pm.
You can also access help on the support section of Truespeed's website.
Truespeed home phone
If you need a landline, Truespeed offers two telephone packages, plus the option to add on mobile plans too.
While all of Truespeed's fibre broadband packages include phone lines, calls are not included in the monthly cost.Phone packages include:
UK evening and weekends unlimited – offers unlimited calls to UK landlines after 7pm and all weekend
Anytime UK unlimited – offers unlimited calls to UK landlines and 0845/0870 numbers anytime
Extras and perks
If you're already subscribed to one of Truespeed's phone packages, you can add a bolt-on package, too.
Mobile 250 includes 250 minutes of calls to UK mobile numbers each month
Mobile 750 750 minutes of calls to UK mobile numbers each month
International 750 750 minutes of calls to 40 destinations worldwide. These are: Australia, Austria, Azores, Belgium, Bulgaria, Canada, Canary Islands, Cyprus, Czech Republic, Denmark, France, Finland, Germany, Greece, India, Hong Kong, Hungary, Iceland, Ireland, Israel, Italy, Luxembourg, Malaysia, Malta, Mexico, Netherlands, New Zealand, Norway, Poland, Portugal, Romania, Russia (Moscow and St Petersburg only), Singapore, Slovakia, Slovenia, South Africa, South Korea, Spain, Sweden, Switzerland, USA.
Truespeed setup process
The Truespeed broadband setup process starts by choosing your package, signing up, and selecting your installation day. Someone over the age of 18 will need to be at home to let the engineer in.
Installation takes around 90 minutes. It's slightly more complex than most broadband setups, because Truespeed has a unique network that most likely hasn't been hooked up to your home before. But don't worry – the engineer will take care of the lot.
They'll need to either do an overhead installation, using the line from your nearby telegraph pole, or go via the ground, digging a tiny trench for the cable up to your house. They may need to do a bit of drilling, depending on the best method of connecting your home.
Once the line is installed, it's just a matter of plugging in your router and setting it up.
What if I can't get Truespeed?
Rest assured Truespeed won't be the only broadband provider in your area. Enter your postcode into our checker, and we'll show you all the options available through broadbandchoices.
If you need fast speeds, adjust the filters at the side to show only the fastest packages – or sort the results by speed.
Even if Truespeed isn't available, you may be lucky enough to have access to ultrafast broadband from another provider. Speeds of up to 1Gbps (1,000Mbps) are available from a range of providers right now, including BT, Virgin Media, Sky, and Vodafone.
No ultrafast in your postcode? Your next best bet is a standard fibre optic connection. They may not be the speediest around, but they're certainly fast enough, and can easily handle internet for the vast majority of households.
Other fibre-to-the-premises broadband providers