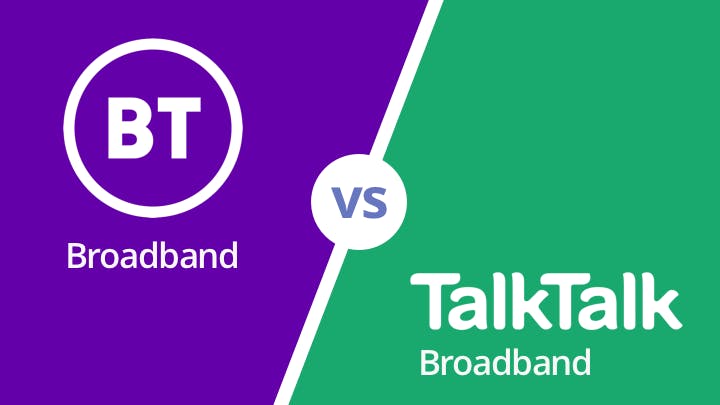 BT and TalkTalk: they're two of the UK's biggest broadband providers, with packages that - on the surface at least - are quite similar. But are they really, and which is best?
BT (www.BT.com) and TalkTalk (www.TalkTalk.co.uk) broadband both offer fibre optic packages, unlimited downloads and great value deals. But which is the best? As the great Harry Hill would say, there's only one way to find out: FIIIIIGHT!
Oh wait, no. We mean COMPAAARE THEM!
Cost
Let's start with a big one: how much does each provider cost?
At full price, BT technically offers the cheapest package, with a low-end option that has a 12GB monthly download limit. It's decent if you're a very light user who only uses the web for light browsing and email, but for most people that extremely low download limit isn't going to go a long way.
Fortunately, both offer unlimited packages - that's all TalkTalk does, in fact - and for most people, these are the ones to get. Generally, TalkTalk works out cheaper for broadband, particularly superfast fibre, while BT offers more in the way of features and extras. That said, special offers can change that, so make sure you compare broadband to see which deals are available.
Here are some current deals from BT:
*Average speeds are based on the download speeds of at least 50% of customers at peak time(8pm to 10pm). Speed can be affected by a range of technical and environmental factors. The speed you receive where you live may be lower than that listed above. You can check the estimated speed to your property prior to purchasing.
Verdict

TalkTalk is normally cheaper than BT, so if you have a tight budget, we'd give it a nod. Be careful not to focus too much on price though - look what you get for that money and make sure it's enough for you, before making a decision.
Speed
Both BT and TalkTalk share the same basic infrastructure, and their cheapest packages advertise average speeds of around 10 or 11Mb. Bear in mind that those figures reperesent what at least 50% of customers can get at peak time - naturally, that means that there's a 50% chance you won;t get those speeds.
The truth is that so many things can affect your connection - distance from the exchange, the number of people sharing the network, the quality of the wiring in your house - that it's difficult to call one out as better than the other without a line test on your specific property.
Both BT and TalkTalk also do fibre. BT packages have average speeds of 50Mb and 67Mb and, in some areas, ultrafast packages with average speeds of 300Mb. Meanwhile, TalkTalk has average 38Mb and 67Mb packages available. Because fibre optic cables are more reliable than copper wire, you're likely to get speeds that much closer to those advertised - though there will still be some fluctuation.
Verdict

BT's entry-level packages offer faster speeds than TalkTalk's. When you sign up to a package, a provider will give you an indication of the speeds you can realistically expect to get.
Download limits
Some BT packages do have download limits. For example, the BT broadband and weekend calls package, which is aimed at very light users, gives you just 12GB a month. Exceed it, and you'll need to pay for more.
However, it also does , which let you use the web as much as you like, without fear of being cut off. There's no traffic management either, meaning BT won't slow your connection at peak times or for certain activities.
As for TalkTalk… well, just read the previous paragraph and replace the word BT with TalkTalk. All TalkTalk packages are unlimited, and like BT there's no traffic management.
That means TalkTalk and BT are both safe choices here. An unlimited package lets you watch as much iPlayer or Netflix as you want, download all the music you like, play games into the wee hours of the morning - it'll never be a problem for your broadband. It's also near-essential if you have a large family, or live in a shared house (fibre also helps here).
Verdict

Another draw. Choose an unlimited package and you'll be able to download as much as you like, regardless of whether you choose TalkTalk or BT.
Call plans
As standard, BT broadband packages give you inclusive weekend calls to UK landlines. If your chattiness simply can't be constrained to Saturday and Sunday, you can also upgrade to Evening and Weekend Calls (inclusive calls all weekend and between 7pm and 7am on weekdays) or Anytime Calls (inclusive calls 24/7).
TalkTalk gives you pay as you go calls as standard. If you want a that has inclusive calls, you'll have to add it on. A number of 'boosts' are available, including ones that give you anytime UK calls or minutes for international calls, but you'll have to pay an extra charge to get them.
Verdict

BT has more bundled call options, and takes the win.
Extras
Joining BT gives you loads of perks, but it has one heck of an extra in BT Sport. Every broadband package gets BT Sport Lite as standard to watch online and via the BT Sport smartphone app. That gives you BT Sport 1 - enough to watch BT's Premier League football coverage and Aviva Premiership rugby. If you want more sports channels, to get BT's exclusive Champions League coverage, you'll need to upgrade to the full BT Sport package or get a broadband and TV bundle.
Other useful extras include free access to BT's massive network of Wi-Fi hotspots, free BT Cloud online storage, and network-level security, which blocks off sites that are considered harmful - think viruses, phishing attacks and other such scams. Parental controls are also available, to block sites containing pornography or other potentially harmful content.
If you want a full internet security package, you can also add BT NetProtect Plus, which helps protect computers from viruses and spyware. It's included in the unlimited BT Infinity and Unlimited Broadband extra packages. Otherwise, you need to add it on for an additional charge each month.
While BT is full of flash and sizzle when it comes to extras, TalkTalk is more about simplicity and affordability - there's not much in the way of bells and whistles. Everyone gets an email account and HomeSafe network level protection - when activated, it automatically blocks sites known to contain viruses, as well as material that might be inappropriate for the kids.
You can also choose add-ons, or 'Boosts' in TalkTalk-speak. For example, the SuperSafe Boost (included as standard for just one device) adds internet security for up to eight devices.
Verdict

BT has many more features, including cloud storage, access to public hotspots and free BT Sport Lite for all customers.
TV
Both BT and TalkTalk offer TV packages based around YouView. That means they share a lot of the same attributes, including Freeview channels, smartly integrated catch-up TV, and on demand apps like Netflix.
A basic BT TV Starter or TalkTalk TV package gets you more than 70 channels. If you want more you can get premium bundles, like BT TV Max or TalkTalk TV Plus.
BT gives you up to 120+ channels. You can add even more with bolt-ons, which include Netflix, Music, Kids, and Sky Movies.
TalkTalk is just as flexible. It offers 'Boosts' - extra bundles of channels - which you can add on to your package at any time. TalkTalk has more of these boosts than BT, covering entertainment, Sky Cinema, kids TV, Asian channels and more. To see what you can get, check out our full guide to TalkTalk boosts.
Sports is one of the biggest differences between the two. BT TV gives you the full BT Sport pack quite cheaply - including Champions League coverage - or free with BT TV Max, and you can add on Sky Sports Main Event and Extra for a premium rate.
TalkTalk lets you add all Sky Sports channels as a boost, but BT Sport works a little differently in that you have to buy it direct from BT once your TalkTalk TV service is active - here's how you do that.
Verdict

It's close, but for flexibility and the superior Sky Sports, TalkTalk just edges it. Read our guide BT TV vs TalkTalk TV for loads of information about the channels, movies and on-demand shows you can get from each.
Final verdict
We'd love to be able to say that TalkTalk is better than BT, or vice-versa, but the (admittedly irritatingly inconclusive) truth is that there's no right or wrong choice here. The provider that you should go with depends almost entirely on what you want and need. For example, if price is the most important thing, TalkTalk is generally the cheaper option. On the other hand, if you're an armchair sportsperson, that BT Sport's mighty appealing.
But with luck, you now have a better idea of what you get from each provider. The next step is to use our postcode checker to see great BT and TalkTalk deals in your area, and compare deals side by side so you can decide for yourself what's best for you.
See also: