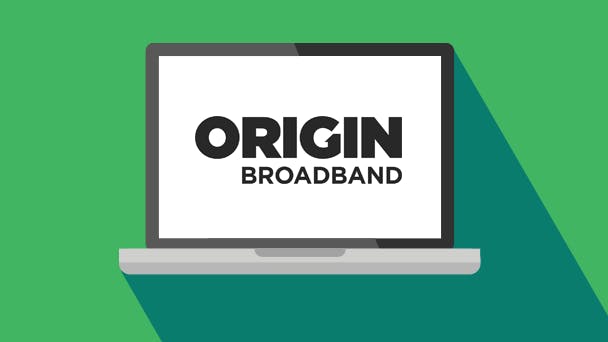 Origin may not be the biggest name in the broadband world, but its packages are among the simplest and cheapest on the market. So the question is: Is it worth getting?
Here's everything you need to know about Origin Broadband, complete with our impartial view on its services and our final verdict.
Cost
The best thing about Origin by far is its price tag. Costs are very low indeed, making it one of the cheapest broadband providers around. Price-wise it's on par with other budget providers like Vodafone, TalkTalk, and Plusnet, and cheaper than almost every other supplier. On the whole, we're impressed here.
There aren't any setup costs, which is perfect if you're on a budget - and sometimes makes Origin the overall lowest priced package on the market.
Do remember, however, that broadband prices can change and switch a lot, especially if there are special offers going on. Always compare broadband for your postcode to find the best deal right now.
Origin broadband review
Speed
Origin keeps it simple with three different average download speeds to choose from: standard ADSL broadband - 11Mb, fibre optic broadband - 35Mb, or fibre - 67Mb.
Those speeds are the same as what's available from most Openreach-based providers, such as Sky, TalkTalk, and EE. The basic service you get - and the actual speeds your line receives - will be pretty much the same with any of them. That's good news for Origin customers - it means lower bills without having to make any sacrifices on your service.
Then again, if speed's the name of the game, you can do far better than Origin by looking elsewhere. Virgin Media's broadband is available in speeds beyond 300Mb, for instance.
Downloads and traffic management
All Origin Broadband packages have unlimited downloads, which we like - and they really are unlimited, with no restrictions or fair usage caps.
The provider doesn't practise web traffic management or traffic shaping on its network either, so your speeds are never artificially slowed down.
In other words, you get truly unlimited usage with Origin. We're fans of that.
Router
You get a free router included with Origin: the Asus N16.
Sadly, this is an area where corners have been cut. The N16 is a perfectly good router - it works well, it's easy to set up and use, and you can get all your gadgets online - but it's far from the best you can get. For slower ADSL broadband it's fine, but if you go for fibre, the choice of router means you might miss out on getting the very top download speeds on your devices.
Luckily you have the option to upgrade it to the Asus DSL-AC56 or the DSL-AC68, both of which are way better… but doing so means a rather chunky one-off fee. It's a bit sneaky.
In contrast, the routers you get already included with fibre broadband from BT, Sky, TalkTalk, Plusnet, EE, and Vodafone are far superior. They come rocking features like the latest Wi-Fi standards, smart scanning, apps to control your hardware remotely, and faster transfer speeds.
Customer support
If you need to speak to Origin broadband's customer service team, you can call on: 0330 024 17 77.
Its opening hours are:
8:30am - 8:30pm Monday - Friday
9:00am - 6:00pm Saturdays
10:00am - 4:00pm Sunday
9:00am - 6:00pm Bank Holidays
Indeed, this number covers everything from billing queries to technical support.
Origin home phone review
All Origin Broadband comes with line rental too, and you aren't short on choice for call plans. You can get:
Pay as you go calls - the standard line rental that comes with all packages
Evening and weekend calls
Anytime calls
Anytime calls plus 500 minutes to 36 international destinations
That's a decent number of options, similar to what you can get with BT, and the cost to add one of the more premium call plans is comparable with the rest of the market.
Calling features are available to add on too, such as anonymous call reject and call diversion. Again, there's a good amount of choice here - but they're quite expensive to add on.
It's also a little annoying that your options for cheaper international calls are so limited - and there's no way at all to make calls to mobile numbers any lower.
Our verdict
If cost is your main concern when it comes to broadband, Origin is a great choice. You get really low prices with no compromise on speed or usage. For just straightforward broadband at a budget price, this is the straightforwardest and budgetest.
However, it's worth bearing in mind that you do just get broadband and a landline with a basic router, and nothing more. For a pound or two more per month you can get an almost identical service teamed with better hardware - along with a few extras, like free public Wi-Fi, cheap mobile deals, and the chance to add a TV package too. Plusnet and TalkTalk, for instance, are just enough of a step up.
If you can spare the marginally higher bills and setup costs, it's worth upgrading to one of them - but if not, you'll still get fast, totally unlimited broadband if you pick Origin.
Unfortunately, we don't have any Origin broadband deals available right now. To browse internet deals from other major providers, as well as find out if they are likely to be right for you, hit the button below.