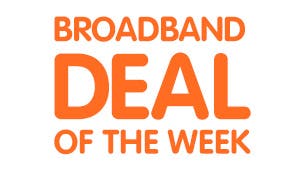 Our experts have picked out a broadband deal that they think offers fantastic value at the moment. Read on to see what they've selected, and find out how to get it.
What is Deal of the Week?
Here at broadbandchoices, we see dozens of offers come and go every month, many offering incredible value. We thought it'd be useful to highlight some of the best on a regular basis.
Each week (well, if we're honest, each two weeks), we trawl through the multitude of available deals and pick one that stands out to us as being particularly noteworthy.
How do we judge Deal of the Week?
We pick the Deal of the Week based on five distinct criteria, as well as personal judgement based on our experience within the industry.
Monthly cost: how much you'll pay each month.
Yearly total: the overall first year cost, including any extra charges like installation activation and equipment.
Value: What do you get for your money? Here, we'll factor in any extras that come with the package, available add-ons as well as rewards like vouchers and cashback.
Topicality: how relevant is this package to what's happening right now? For example, is it a holiday? Is it student broadband season? Is a new hit series starting on TV? Is it a sales season?
Demographic: who is this package for, and how well does it cater to their needs?
Who picks Deal of the Week?
Our Editorial team are wholly responsible for choosing deal of the week. Take it from us - they know their onions. And by 'onions', we mean 'in-depth details about the world of broadband and mobile' - everything from how to find the best package, to consumer advice, to how to have more fun with your connection.
They're separate from any commercial interests and fully impartial. The only thing they care about is that they pick out a great deal. Also cake.
Why not check out some of their guides?