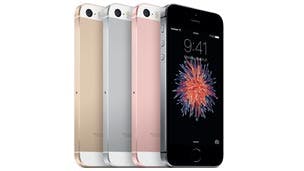 It's been two years since Apple's (budget) iPhone SE hit the streets in early 2016, and now rumours abound that its successor (we'll cunningly call it the SE2) will make its debut in the autumn of this year.
So which buttons did the SE press and what does this mean for the SE2? In terms of screen and size, the SE was essentially a stripped-down iPhone where Apple focused its energies on creating a smaller four-inch phone. It still had plenty under the hood, but ultimately was an old iPhone squashed into a smaller handset in order to hit that lower price.
So, what can we expect from the iPhone SE2? Read on…
Design
Some rumours suggest that Apple has been too busy developing the new releases to the iPhones 8 and X to significantly redesign the iPhone SE, so it might be that you see new colour options for the SE2 - and possibly a new glass back, which enables wireless charging. However, the current trend of more screen and less bezel could also mean the SE2 takes its design cues from the iPhone X rather than its predecessor, with a larger screen minus its Home button. It could go either way!
Specs and features
In terms of technical specs, reports suggest the new iPhone SE2 will incorporate an A10 processor - an improvement on the SE's A9 - but will retain much of the SE's spec, such as the rear camera, RAM and storage. There's also a good chance the SE2 battery size will increase slightly, though a larger 4.2in screen could offset this power saving.
A welcome development would be the return of the headphone jack - though this could be wishful thinking as Apple seem to be moving away from this feature at speed. It's a hot topic with lots of Apple customers resenting having to buy expensive Apple wireless headphones and would make sense on an entry-level smartphone.
There's also evidence to suggest the SE2 will come with wireless charging, which tallies with the rumour of a glass back. Whether the boat is pushed out to include Face ID remains to be seen. If the SE2 does mimic the iPhone X with a larger screen, it will probably mean the loss of the Home button and replacing Touch ID with Face ID. However, the new iPhone SE will not be a flagship handset, so don't expect the earth.
Release date
It's looking likely that we'll see an autumn release - probably October or November - for the SE2, with slightly earlier release dates for the XI and XI Plus.
Price
The expectation is the iPhone SE2 will be priced at roughly the same level as the SE. Substantial design and spec improvements are not expected, which means Apple would be hard-pushed to raise the price significantly.
Verdict
There are still plenty of Apple customers happy to settle for a less-than-flagship handset - particularly if it means a smaller and more manageable phone. Even better if it comes with wireless charging and a larger screen. If you're sitting in this camp, keep your eyes peeled for further updates on this page.