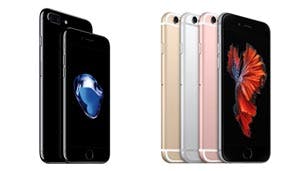 Wondering whether to get the latest iPhone, or whether the previous model will suffice? We hear you. The two phones look almost exactly the same, without massive changes between their specs… so what's different?
Actually, quite a lot is new. Here's everything you need to know to help you decide which iPhone to get.
See also:
How much do they cost?
iPhone 7 - £599-£819, depending on colour and storage size. Compare contract deals here, or see our pick of the best iPhone deals today. Some are available with no upfront costs, and unlimited mobile data is an option too.
iPhone 6s - £499-£599, depending on storage size. Compare contract deals here.
At a glance
| | | |
| --- | --- | --- |
| | iPhone 7 | iPhone 6 |
| Size | 138 x 67 x 7mm, 138g | 138 x 67 x 7mm, 143g |
| Display | LCD, 4.7 inches, 750 x 1334 pixels | LCD, 4.7 inches, 750 x 1334 pixels |
| Processors | A10 Fusion chip | A9 chip |
| RAM | 2GB | 2GB |
| Storage | 32GB / 128GB / 256GB | 32GB / 128GB |
| Camera | 12MP, f/1.8 aperture, phase detection autofocus, OIS, quad-LED flash | 12MP, f/2.2 aperture, phase detection autofocus, dual-LED flash |
| Front camera | 7MP, f/2.2 aperture | 5MP, f/2.2 aperture |
| Battery | 1960mAh | 1715mAh |
| Connections | Lightning port | Lightning port, 3.5mm headphone jack |
| Waterproof? | Yes - IP67 certified | No |
| Colours | Black, jet black, gold, rose gold, silver, red | Gold, rose gold, silver, space grey |
So what's the difference?
Processors
Here's the first big change. As always, the latest iPhone came with an update to its platform: while 6s had a dual-core A9 chip, the iPhone 7 upped it to a quad-core A10 Fusion chip.
It's not a massive upgrade - the 6s isn't exactly obsolete here - but you can see the difference in speed between the two if you pay attention. Supposedly the A10 is around 40% faster than the A9. Whether it's a sticking point, however, depends on how much you use high-intensity apps like games and video editors.
Memory
If a huge, stonking, mind-numbingly large amount of internal memory is something you want in a phone, go for the iPhone 7 - its storage options go up to a huge, stonking, mind-numbingly large 256GB.
The 6s' memory options go up to 128GB, which, to be fair, is still pretty stonking.
Cameras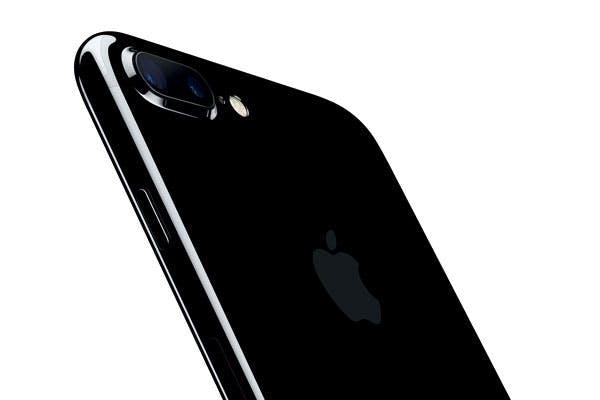 The iPhone 7's cameras are a lot better than those on the 6s. Again, that's not to say that the 6s' cameras are bad - they're actually pretty incredible - but the 7's are just better.
The rear cam is a 12MP offering, with a f/1.8 aperture, six-element lens; quad-LED flash; and new optical image stabilisation for steadier snaps. The 7 Plus model has an even better one: it's dual-lens, one of which is wide-angle, and cool features like optical zoom.
In comparison, the iPhone 6s has a camera with a f/2.2 aperture lens, phase detection autofocus, and dual-LED flash, but it otherwise matches the 7's specs.
On both the 7 and 7 Plus, the front snapper has been bumped up to 7MP as well - perfect for high-res selfies and FaceTime.
Display
It's a subtle improvement, but the iPhone 7 has a screen that's just a bit nicer than the one on the 6s. It has a wider colour gamut that makes tones more vibrant, and it's brighter - by about 25%, apparently - so it's easier to see when you're outdoors.
In terms of size and resolution, however, it's exactly the same as its predecessor.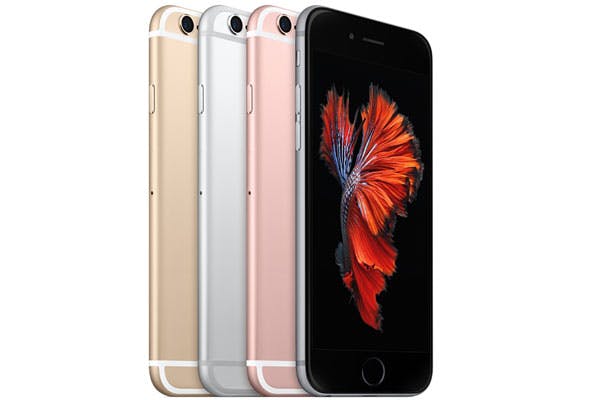 Waterproofing
Accident-prone? Want to take photos underwater? Need to text in the shower? Go for the iPhone 7. For the first time in Apple history, the company has made a water-resistant phone that can stand being wet for up to 30 minutes.
It's also dust-resistant as a fun added bonus, so you can use it in your local sawmill too.
Headphone jack
Right, here we go. The iPhone 6s has a standard 3.5mm headphone jack. The iPhone 7 does not.
If you want to be able to plug your 3.5mm-connected headphones directly into your iPhone, you should get an iPhone 6s or older.
That said, all isn't lost if you prefer the 7. It ships with Lightning-compatible EarPods as well as a Lightning-to-3.5mm adaptor, and it's got Bluetooth. So, it's easy enough to use your usual headphones, but it's still a bit of faff - you always need to make sure you have the adaptor cable with you, and you can't listen to music while your phone is charging.
Colours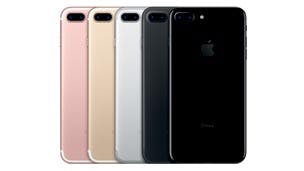 You can get both phones in silver, gold, and rose gold, though the 6s is the only one of the two available in classic space grey.
The iPhone 7 is also available in black, a new glossy fingerprint-lovin' jet black, and PRODUCT(RED), which includes a donation to support HIV/AIDS programmes. That's more choice if you're aesthetically inclined, and you can give to a good cause.
Home button
Oh yes, that's right. There's a new home button in town, and this time it's not even a button. Make way for the pressure-sensitive haptic feedback pad.
While the iPhone 6s has, you know, a normal smartphone button below the screen, the 7 has a pretend "button", with Apple's Taptic tech to make it feel like you're pushing a button. It's technically brand spanking new updated technology, and it is indeed pretty swanky, but honestly, we wouldn't let it sway your decision.
Verdict
There isn't a particularly dramatic difference between the iPhone 7 and 6s - so you're safe to choose between them based on whatever features are most important to you.
If you want the best specs and latest tech, plus waterproofing, go for the iPhone 7. It's got subtle upgrades in spades, including better processors and stunning cameras.
If you want a headphone jack - and it's okay to base a phone-buying decision entirely around a headphone jack, it honestly is - go for the iPhone 6s. It's still a wonderful gadget with everything you could need from a smartphone, and it's cheaper.