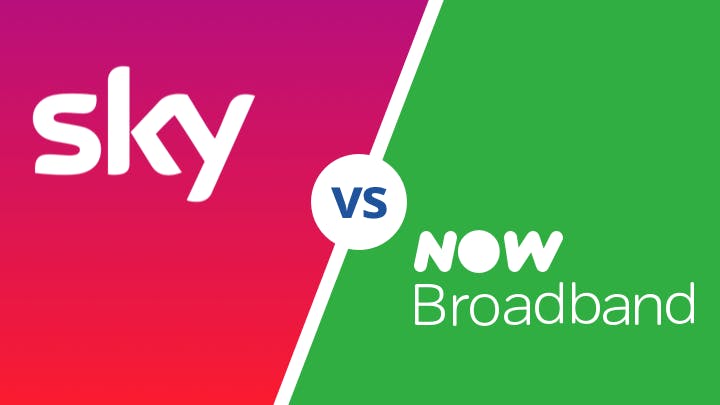 Both are run by the same company, both offer broadband and TV bundles, and they're the only two ways you can get Sky Atlantic live on your telly - but which provider is best?
Sky and NOW are closely intertwined. They share the same broadband infrastructure, and offer many of the same TV channels, including Sky Atlantic.
Plus, Sky owns NOW, so there's that...
Appropriately, for a long time NOW operated as a sort of… baby Sky. It offered basic broadband and TV products at a lower price than its parent company. But now little Junior is all grown up and striking out on its own, has it escaped from daddy's shadow? Let's find out.
At a glance
| | | |
| --- | --- | --- |
| | Sky | NOW Broadband |
| Broadband packages | Essential (average 11Mbps), Superfast (59mbps), Ultrafast (145Mbps), Ultrafast Plus (500Mbps) | Brilliant Broadband (average 11Mbps), Fab Fibre (36Mbps), Super Fibre (63Mbps) |
| Ultrafast broadband | Yes - up to 500Mbps | No |
| TV packages | Sky TV (up to 350+ channels); can add Sky Sports, Sky Cinema, BT Sport, HD, Ultra HD, and Kids | Entertainment Membership (14 channels), Cinema Membership, Sports Membership, hayu Membership |
| Recording | Yes, up to 1000 hours (Sky Q 2TB box) | No |
| HD | Yes, up to 4K on compatible devices | Yes, up to 720p on most devices; up to 1080p on some; only with Boost add-on |
| Set top box | Sky Q 1TB or 2TB | No |
| Contract lengths | 18 months | 1 month, 12 months |
| Key features | Top quality TV, HD and surround sound, latest tech | Short term contracts, value for money, flexibility |
Sky vs NOW: Price
For pure broadband, NOW is generally cheaper than Sky. It's one of the cheapest providers in the UK, at a similar cost to TalkTalk or Plusnet.
For TV too, NOW is quite significantly cheaper. It's an easy, low-cost, low-commitment way to get some of Sky's best telly, via its 'Memberships'.
In the case of both broadband and TV, however, there's a good reason why Sky is so notably more expensive: you get a lot, lot more.
Bear in mind too that broadband and TV providers regularly bring in special offers to entice new customers. That can mean that on some occasions Sky can sink below NOW for price.
The best advice we can give is to compare current deals to gauge which currently works out cheapest.
*Average speeds are based on the download speeds of at least 50% of customers at peak time(8pm to 10pm). Speed can be affected by a range of technical and environmental factors. The speed you receive where you live may be lower than that listed above. You can check the estimated speed to your property prior to purchasing.
*Average speeds are based on the download speeds of at least 50% of customers at peak time(8pm to 10pm). Speed can be affected by a range of technical and environmental factors. The speed you receive where you live may be lower than that listed above. You can check the estimated speed to your property prior to purchasing.
Verdict

NOW Broadband generally works out cheaper, though it's important to note that, particularly with TV, you also get less. Still, if we're purely looking at price, the little guy grabs it.
Sky vs NOW: Packages and options
With Sky, you can take out broadband, home phone, or its TV service as standalone products - or you can bundle them together into a single convenient (and cheaper) package.
Most TV customers get a Sky Q box to receive satellite telly. Onto that, you can add the full Sky TV package of 300+ channels, and whatever extras you'd like – such as sports, Ultra HD TV, or kids' channels. Or, you can take out one of its ready-made bundles.
If installing a satellite dish isn't an option, you can also sign up to Sky Glass. This gives you an innovative TV set (up to 65") with a built-in Sky box, which delivers you Sky TV through your internet connection rather than a satellite.
With NOW, you can also take out broadband, home phone, or TV, or bundle them together. But its TV works a little differently.
Rather than a set-top box, you instead subscribe to Memberships. You can sign up for a whole year, or on a rolling monthly basis. Or, in the case of the Sports Membership, on a weekly or daily basis.
What you get with a Membership is, essentially, a subscription to NOW's streaming service. It gives you live channels, and tons of on-demand content, all of which can be accessed through the app.
Verdict

Sky wins out here in terms of the breadth of its packages and available options for your home entertainment. However, NOW is much more flexible, and a great choice for those who prefer streaming over live channels. Though Sky takes the crown here, you may find NOW has options that suit you better.
Sky vs NOW: Broadband
For standard fibre optic and basic ADSL broadband, Sky and NOW both offer roughly the same speeds.
Sky, however, also offers ultrafast full fibre broadband in certain areas. That means average download speeds up to 500Mbps – significantly faster than the top package from NOW, which gives you 63Mbps.
Even if ultrafast isn't available where you are, Sky still has a fair bit extra for its broadband customers. For one, the router is a clear generation more advanced than the one you get with NOW. You'll also get a speed guarantee, and daily line checks to make sure all is in order.
Verdict

Sky broadband simply gives you more. And it even offers mega-speedy ultrafast broadband where it's available.
Sky vs NOW: TV channels
First off, NOW TV doesn't give you a TV set top box or access to Freeview. (Though you're free to source that yourself, or even grab it from a different TV provider.)
Instead, NOW's TV service is all about the Memberships. Entertainment Membership only gives you 14 channels, but they're good ones: Comedy Central, Gold, MTV, National Geographic, Sky Arts, Sky Atlantic, Sky Comedy, Sky Crime, Sky Documentaries, Sky Max, Sky Nature, Sky Showcase, Sky Witness, and Syfy.
You'll also get six kids' channels: Boomerang, Cartoonito, Cartoon Network, Nickelodeon, Nick Jr, and Nicktoons.
Or you can plump for a Cinema Membership, which comprises the full range of Sky Movies channels, or Sports Membership, which is a very flexible and affordable way to watch Sky Sports channels.
Sky TV, meanwhile… well. Depending which extras you go for, you can get over 350 channels.
It includes everything you'd get with NOW Entertainment, and then some. You can add sports, HD and Ultra HD, kids TV – you name it.
Verdict

Sky's the winner, with more TV channels than you'll know what to do with.
Sky vs NOW: Sports and movies
You can get Sky Sports and Sky Cinema with either provider, so that's good.
NOW TV has a couple of advantages here. For a start, taking out a Sky Cinema Pass is a shade cheaper than it is on Sky, and you can get Sky Sports Passes that last just a day, or a week - perfect if there's a specific event you want to catch.
It's incredibly flexible, in fact. You can subscribe to Sports and/or Cinema Memberships independently on their own – regardless of what other NOW services you do or don't have. With Sky, on the other hand, you must add them to a full TV package.
However, Sky has a little something up its sleeve too: BT Sport. Once you're set up with Sky TV, you can call up BT and add it on. You can't get it on NOW – you'd need to subscribe to and install the app separately.
Sky also lets you watch both sports and films in HD as standard, which you can only do on NOW with an added Boost.
Verdict

NOW Broadband wins for convenience, value, and casual fans, but major sporting types and movie buffs are better off with Sky.
Sky vs NOW: On demand and catch-up TV
With NOW, you'll get a good range of on-demand telly with each TV membership. There's box sets, catch-up, and series galore with Entertainment Membership, but it's limited to those channels.
It also lets you log in and watch your shows on a massive range of devices: smartphones, tablets, computers, streaming sticks, games consoles, you name it.
Sky, on the other hand, has a frankly eye-watering amount of on-demand content. Tons of channels have programmes to catch up on, and the setup gives you easy, intuitive access to services like BBC iPlayer and All4.
That's alongside the 500+ on-demand box sets you get included as standard with Sky TV.
And you can watch it all from anywhere thanks to Sky Go – though you can only register six devices, and the app isn't available on quite as many platforms.
Verdict

Sky has more to watch on-demand by a long shot, although where you can watch it all is more limited.
Final verdict
Let's not beat about the bush: Sky is better. It's got the best equipment, the most comprehensive TV service you can get in the UK by a country mile, and amazing top-of-the-line home entertainment tech in the form of Sky Q. If you're into your TV, you really can't get better.
However, that doesn't necessarily make it the best choice. NOW has a couple of things that Sky doesn't: flexible 30-day contracts on everything, and a more affordable price tag.
If you want the best TV service money can buy, with excellent broadband to boot, go Sky.
If you just want simple broadband, or to watch Game of Thrones and a few movies - or if you're on a budget, or need something temporarily - you won't regret choosing NOW Broadband.