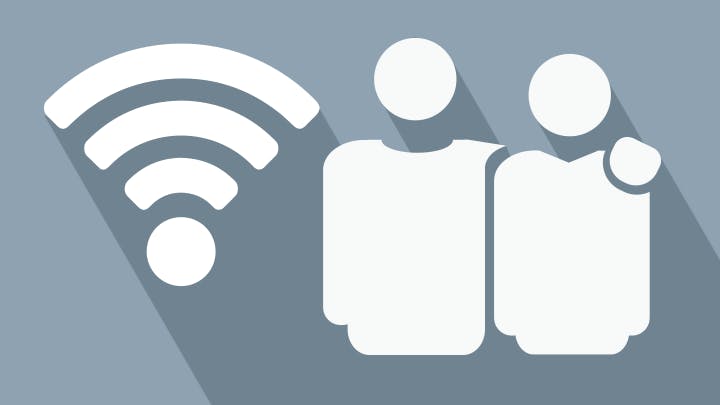 Broadband can be expensive, so it's important to carefully weigh up your options before selecting a package - particularly when you have a family and are on a budget.
Families demand a lot from their internet connection. Think of all the different ways the members of your household use the internet: streaming HD movies, online TV and music, playing games and using social media to name but a few. These activities can slow your connection and use a lot of data, so you need to make sure your broadband package can support them.
That's why for families, going automatically for the cheapest broadband isn't the best policy. It's important to strike a balance between all the features you need and how much it costs.
How do I choose affordable broadband for my family?
Let's take a look at the things you should consider when deciding on the right family broadband package when you're on a budget:
Fixed usage or unlimited data?
Let's face it, a lot of what kids do in their spare time revolves around internet use - and this means your average family household consumes a lot of data. Watching movies, streaming music and playing games will eat up your data, so it's a good idea to opt for an 'Unlimited' data allowance. If your broadband has a download cap, you'll easily reach it.
What about broadband speed?
A household packed with consoles and devices means you'll need broadband fast enough to manage these demands. However, it is a balancing act as faster broadband is more expensive.
For most family households, 'superfast' broadband (defined as a connection with a download speed of 24Mb or over) will be fast enough - while the faster fibre optic packages offers average download speeds of around 35Mb, if you need a bit more oomph.
A house of three to four people: should consider broadband with an advertised average speed of 35Mb and above.
A house of five or more people: look at packages with an average speed of 67Mb and above.
Do I need free phone calls with broadband?
Broadband packages with call allowances are more expensive than those without. If you're looking to keep costs down, this is a good place to start, as including calls with your broadband could stick around an extra 30% on to your bill.
Do I need digital TV with my broadband?
As with call allowances, including digital TV in your broadband package will ramp up your monthly costs. If your priority is budget over entertainment, choosing broadband without TV channels is a good idea.
What contract length should I go for?
While there are exceptions, you'll generally save money by taking out a longer broadband contract - for, say, 12 or 18 months. It's certainly worth doing a comparison between broadband providers and the length of contract they offer on their packages.
Does every broadband provider charge a setup cost?
Some providers will charge a setup cost while others do not - so it's worth considering packages that include free setup.
Will I pay more for a broadband package with parental controls?
You won't necessarily pay more for broadband with parental controls but not every broadband provider includes this facility. It may still be an important factor in which package you go for.
Can I get any extras and offers on broadband packages?
It's always worth keeping an eye out for extras on broadband packages - such as Amazon gift cards and other reward cards, as well as broadband special offers running for limited periods.
What are my options for affordable broadband packages?
ADSL - This is the absolute cheapest broadband available, but… and it's a big but, it's probably not the best option for a family with heavy internet use. While you can get standard broadband packages with unlimited data, these tend to be a lot slower than fibre packages, with average download speeds around 10-11Mb.
Fibre -When you're comparing costs on broadband packages, it's a real no-brainer on whether to go for fibre broadband or not. Fibre packages are much better suited to serving a busy family's broadband needs and the extra cost isn't huge, so we say fibre all the way!
Let's recap on how to get cheap family broadband
In terms of speed, a fibre broadband package easily meets the demands of a busy family and all its associated TV, console, and device use. It's a little more expensive than standard ADSL broadband, but the trade-off is well worth it.
Unlimited data is a must when deciding on a family broadband package. You'll quickly reach any data cap.
Choosing a broadband package without telephone calls and digital TV will significantly reduce your costs.
Consider the length of contract for keeping your monthly costs down - a longer contract will generally work out a little cheaper.
Not every broadband provider charges a setup cost, so check out broadband packages with free installation
Keep an eye out for limited-time special offers on broadband and reward cards.