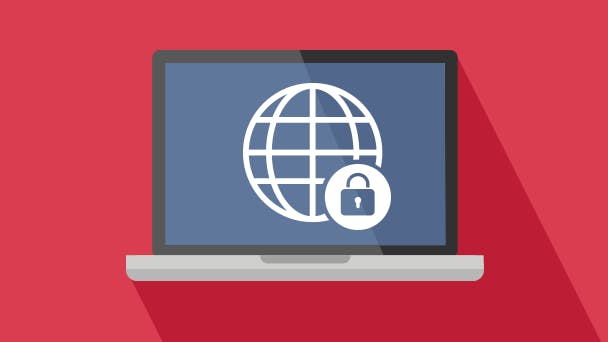 It's a sad fact that crime and other nasty things exist on the web as they do in the 'real world'. Read the following guide to always ensure your connection is safe and secure...
Internet security packages
With broadband security software you can protect your computer when browsing the web or downloading.
To avoid viruses, as well as online threats - including hackers, spyware, spam and identity theft - it's essential that you have a security package installed. Most broadband providers offer free security as part of their packages, but you may sometimes have to pay extra - so check before signing up.
Alternatively, you can purchase software from specialist developers such as McAfee, Norton and AVG. Some anti-virus and spyware protection is available to download free of charge. Always make sure you're fully covered and ensure your package is always kept up to date.
Spam protection
Spam is a generic term for anything that appears on your computer screen without your permission. It usually arrives in the form of pop-up adverts or unsolicited emails.
If you use email, you're probably familiar with spam messages. They come in two distinct varieties - harmless but annoying "junk", and viruses which can be extremely harmful to your computer.
Here are some basic tips to help you avoid getting too much annoying or harmful spam:
Try to avoid giving out your email address. When making online purchases or signing-up to websites make sure you opt-out of receiving promotional emails by ticking the appropriate box on-screen (check you are opting-out, not opting-in).
Never reply to a spam email, or click on any links within it. This will let the sender know your email account is active - then you'll get even more junk.
Activate anti-spam settings on your email account. These days, most providers - including Hotmail and Gmail - will filter out junk automatically.
Stay safe from viruses by never opening emails or attachments from email addresses you don't know or trust. Emails from your banks will be sent to you by name (not email address) and will not ask you to reveal your security information by reply.
Don't put your email address on a page that just anyone can access, like your Twitter or Facebook profile.
Firewalls
A firewall is a computer program that blocks the gateway between two networks - usually your private computer network at home and the public network of the internet.
It blocks the channel to ensure that unwanted visitors from the web can't get into your private network. Your broadband connection is effectively open 24 hours a day, so there's plenty of opportunity for someone to hack inside and access your personal data if they want to.
Installing a firewall makes this virtually impossible, so it's a very important part of securing your internet connection.
Most computer operating systems, including Windows and macOS, have a firewall included - so all you need to do is make sure that it's never switched off. You should also make sure your router security is active.
Spyware
In simple terms, Spyware is a form of software that hides on your computer and keeps track of whatever you do. Spyware can range from completely harmless "cookies" - present on most connected PCs and laptops - to malicious software designed by criminals to steal your personal information or bank account details.
What's a cookie?
A cookie is a very small file that websites automatically place on your computer, so that information such as your log-in details are "remembered" the next time you visit.
There is now legislation in place to protect you from cookies if you don't want them on your computer. Responsible websites will allow you to opt-out with a single click.
Most of the time, cookies are completely harmless. Using cookies means you can browse the internet without always having to remember your usernames and passwords.
However, you should never save passwords on a public computer, such as those in a library, an internet cafe or even at work.
How does harmful spyware work?
Malicious spyware works in essentially the same way as a cookie, but without telling you what it's doing.
The software is secretly downloaded and records your passwords, codes and website visits. It normally does this by recording keystrokes as you type.
If you notice any of the following symptoms, you should run a scan immediately.
Your computer might suddenly slow down or start crashing
You might start seeing more pop-up adverts
Your browser's homepage might change of its own accord
Your connection might suddenly encounter problems
How can I protect my computer against spyware?
Most UK broadband providers offer a complete security package with all of their broadband services. Always check before signing up to make sure you're getting the protection you need.
Which provider has the best security?
*Average speeds are based on the download speeds of at least 50% of customers at peak time(8pm to 10pm). Speed can be affected by a range of technical and environmental factors. The speed you receive where you live may be lower than that listed above. You can check the estimated speed to your property prior to purchasing.
The same goes for business broadband providers, which can offer some more business-focused cybersecurity.
Alternatively, you can buy extra anti-spyware software from reputable providers such as McAfee, Norton or AVG, however the software must be kept up to date in order to stay ahead of the spyware - new versions of which are appearing all the time.
Keeping kids safe online
The internet is a fantastic resource for children's learning and entertainment. Unfortunately, it is also home to lots of things inappropriate for kids.
And it's not just porn we're talking about. There are websites dedicated to all manner of unhealthy, violent and sometimes illegal practices you wouldn't want your little ones exposed to.
The UK's biggest broadband providers - including BT, TalkTalk, Virgin Media, EE and Sky - each offers a content filter, which restricts access to sites containing potentially harmful material like pornography, violent images, or self-harm advocacy. They're easy to set up - you have to choose whether you want them or not when you first sign up for a new package, and they can be turned on or off at any time.
They're not a perfect system, of course. Smart kids may work out how to bypass some of the blocks, and ultimately there's no replacement for parental oversight. But they can help, all the same.
Content filters also block sites known to contain malware, but they're not the same thing as antivirus software - they won't help you if a virus slips through.
Read our expert guide for more information on keeping children safe online.
Mobile broadband security
Mobile broadband is typically a little more secure than Wi-Fi - encryption is often built in, for example, and there's no chance of hackers 'hijacking' your connection as they can with wireless.
However, you should make sure you follow the tips above - including setting firewalls, and antivirus software - when browsing the web on computer via any connection, including mobile broadband.