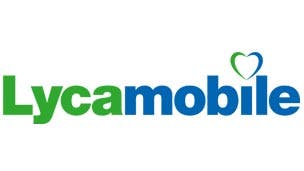 Lycamobile calls itself "the world's biggest international mobile virtual network operator" - and, to be fair, it does operate in 20 countries, including the UK. So what does this huge mobile network have to offer?
What can I get from Lycamobile?
Lycamobile plans are all SIM-only, and work on a pay-as-you-go basis. They do, however, have a huge range of 'Bundles' that you can purchase. These will give you a load of calling minutes, texts, and data to use in a certain time period - usually either a month or a week. That means you'll get the good value of a contract plan with the flexibility of pay-as-you-go.
Bundles you can get include:
UK-only minutes, texts, and data
Data-only Bundles, ideal for your tablet
International Bundles - see below for more on these.
Sadly there aren't any contract plans on handsets available, but Lycamobile has a few that you can buy outright. It's only a small range, but it covers the basics, including iPhones, Samsung Galaxies, BlackBerries, Nokia feature phones, and more.
International calls and texts
The best thing about Lycamobile is without a doubt its easy and cheap international calling options.
Pay-as-you-go international rates are reasonably priced - and a lot cheaper for calling and texting certain countries than a lot of other mobile networks. Plus, you can save even more on international calls by opting into Saver Rates to get cheaper tariffs, or by buying a Bundle of calls and texts.
Bundles you can buy include Global (for inclusive calls and texts to 39 countries worldwide), Lycaworld (for the 16 countries where Lycamobile operates), Eastern (for a handful of Eastern European countries), Far East (for selected countries in East Asia), and Your Country bundles, which offer calls and texts to a single country. Those include the Pakistan Plan, Kocham Polske (Poland), My Romania, the Nigeria Plan, and more.
Bear in mind that some Bundles include minutes, texts, and data that can be used in the UK, but others don't.
Once you've got an active Lycamobile SIM, you can activate a Bundle at any time. It's perfect if you've got friends or family abroad, if you're just visiting the UK, or if a loved one is travelling and you want to keep in contact.
Lycamobile coverage
Lycamobile uses O2's network, which covers around 99% of the population. 4G coverage is fairly high as well - around 78% of the population can connect. That's still not as high as some networks - EE 4G, for instance, covers more than 90% - but if you live in a large town or city, there's a very good chance you'll be covered.
Read our guide to mobile coverage for more.
What's good about Lycamobile?
Great for calling and texting abroad
Pay-as-you-go, so you don't need to commit to anything long-term
Free calls and texts to other Lycamobile phones
Opportunities to get free credit - such as when you transfer your old phone number across
Special offers for
Can transfer credit from one Lycamobile account to another, even internationally
Subscribe to fun stuff like news, jokes, fashion tips, and daily horoscopes
What's bad about Lycamobile?
Basic pay-as-you-go rates are more expensive than a lot of networks
No contract plans available
Only a small range of phones available to buy outright
Calling customer service isn't free
Credit expires 90 days after you top up - make sure you use your SIM regularly
Tethering to a computer isn't allowed