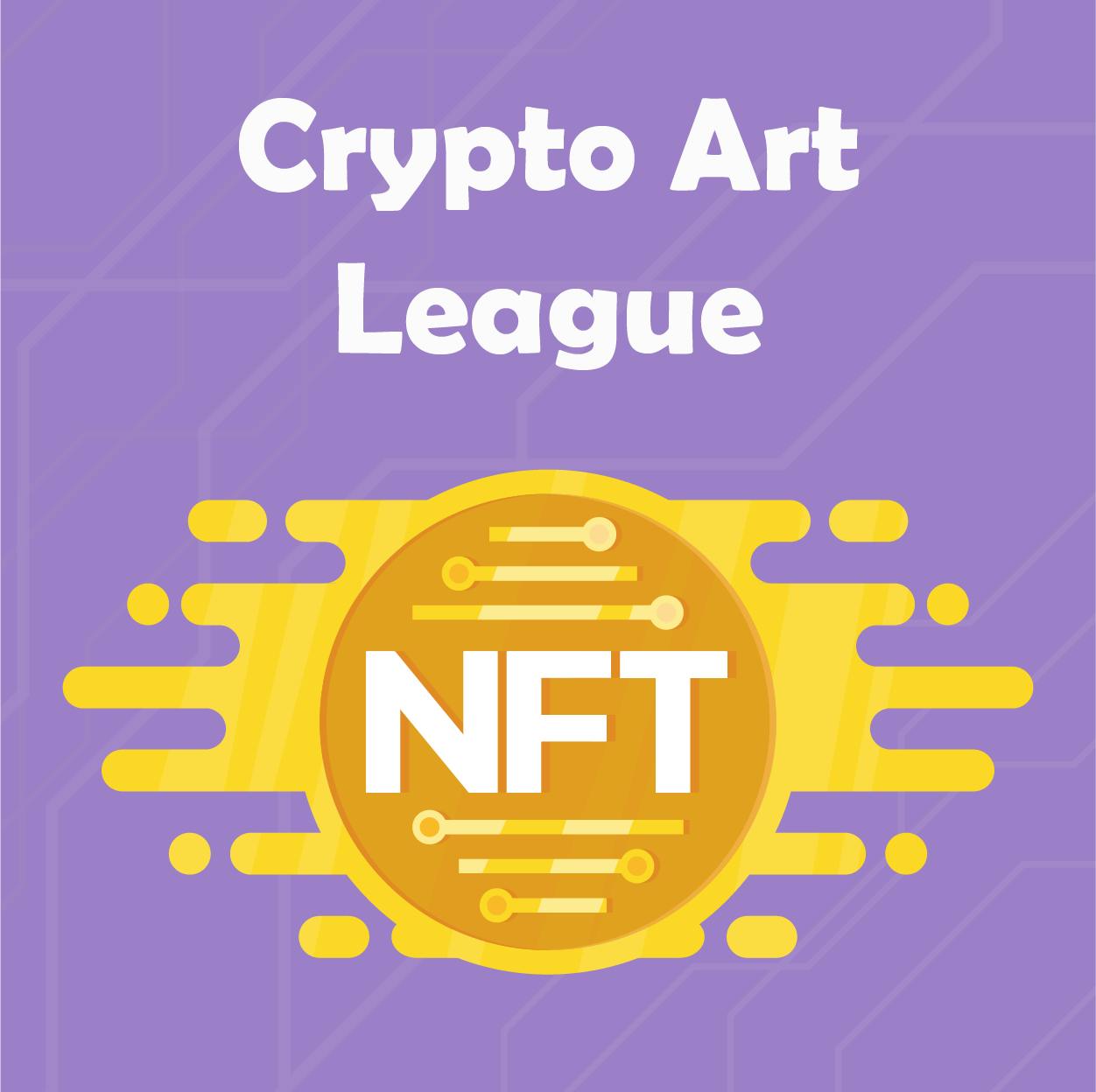 NFTs took the art world by storm in 2021, with both seasoned investors and amateur enthusiasts alike competing to get their hands on the latest works from popular creators. But which crypto artists give collectors the best return on investment and which artworks have seen their value increase the most over time?
Just like Picasso or Rembrandt before them, the rich and famous are lining up to pay eye-watering prices for the latest works from digital artists.
In fact, when Beeple took crypto art to Christie's, his NFT collage "Everydays – The First 5000 Days' sold for an incredible $69 million!
But new works being minted and sold every day, which artists and artworks are collectors paying up for, and which ones are increasing in value on the resale market?
Broadbandchoices.co.uk analysed transaction data for some of the best-known crypto artists to find the creator's giving investors the best return on their investment.
Top 10 crypto artists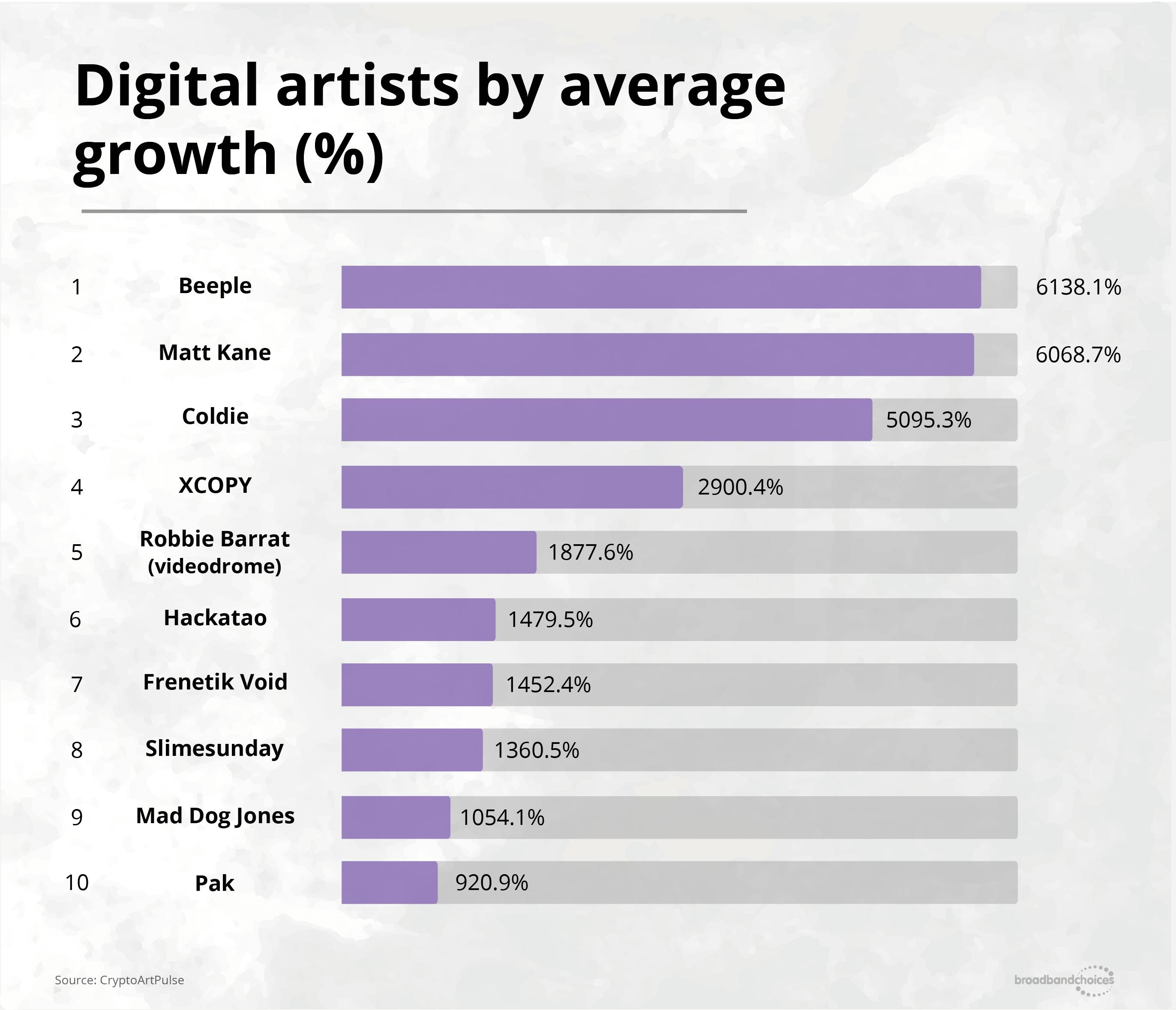 +Beeple - 6,138%
Having sold "Everydays – The First 5000 Days' for just over $69 million at auction, saying that Beeple's work is some of the most sought after among collectors is a bit of an understatement.
However, collectors who are fortunate enough to get their hands on his work could see a nice return.
According to our research, the value of Beeple's work has increased by an average of 6,138%.
Matt Kane - 6068%
A web developer who has previously dabbled with oil paintings, Matt Kane's combination of artistic talent and technical skills is tailor-made for creating digital art.
In 2020, Kane sold "Right Place & Right Time" for a then record-setting $100,000, bringing with it mainstream attention and making him somewhat of a trailblazer in the crypto art scene.
Matt Kane's work has increased by an average of 6068.7% on the secondary market.
Coldie - 5095%
An award-winning mixed media artist, Coldie's 3D blockchain-themed artwork has made him among the most in-demand crypto artists.
His popularity has resulted in collaborations with the likes of Snoop Dogg, Bauhaus, and legendary Beatles album designer, John Van Hamersveld.
Coldie's work has appreciated by an average of 5095.3%.
Top 25 crypto artworks by price increase (%)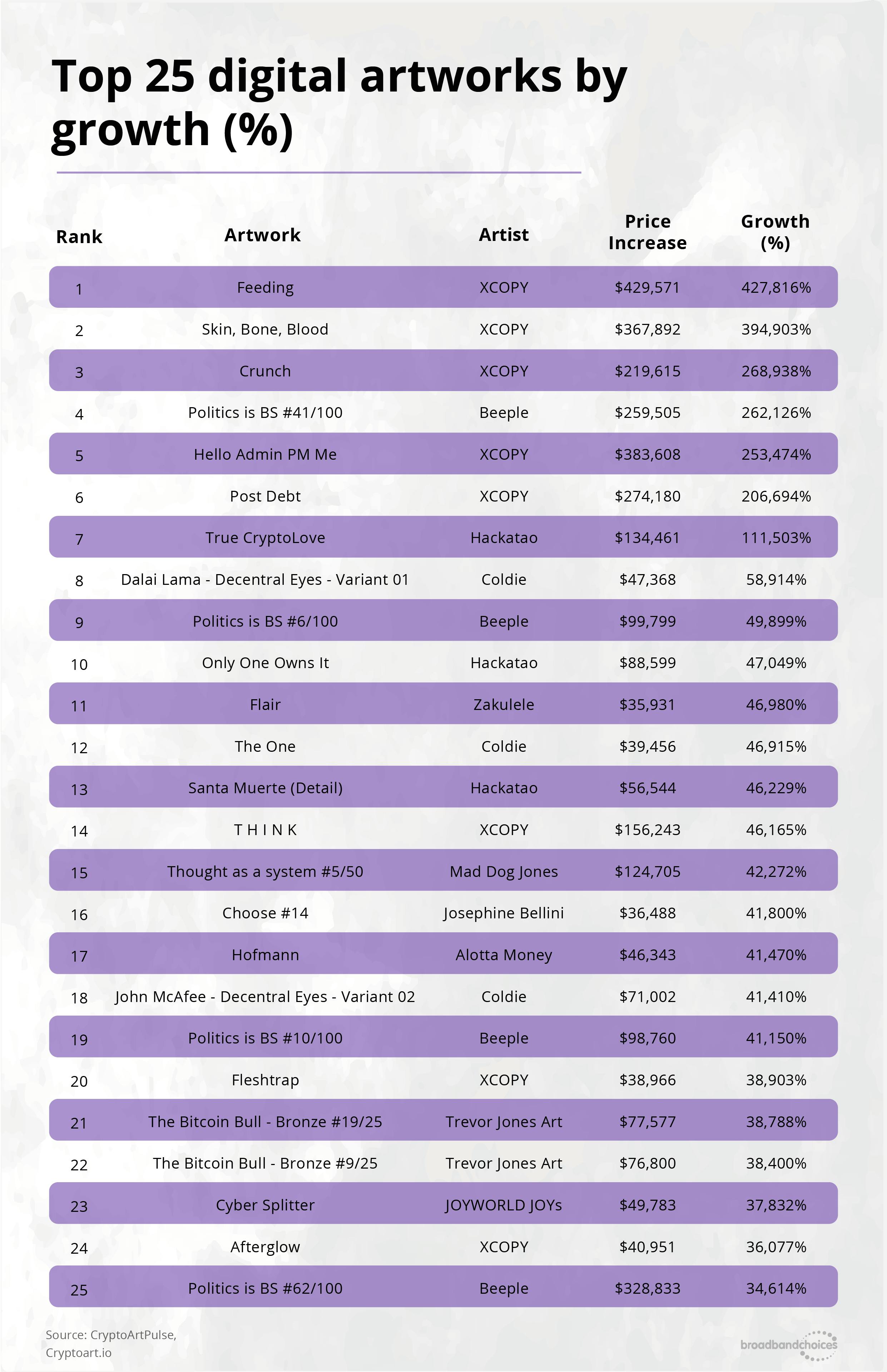 XCOPY
Despite ranking 4th in our list of Top 10 artists, XCOPY's work accounts for almost a third (32%) of our top 25 artworks by appreciation - including 1st, 2nd, and 3rd place.
While Feeding (427,816%), Skin, Bone, Blood (394,903%), and Crunch (268,938%) have all seen astronomical levels of growth, XCOPY's average price increase across their 1,916 is still a very impressive 2,900%.
Beeple
With four artworks on our list, Beeple accounts for 16% of the Top 25 crypto artworks.
With Investors paying top dollar for his work, it's likely that investors aren't quite ready to part with their collection just yet. But with the demand for an original Beeple at a high, it will be interesting to see how high the ceiling can go.
Hackatao
A creative duo from Milan, Hackatao make up 12% of our Top 25 works by appreciation.
With sales totalling over $32million, Hackatao have collaborated with world-renowned auction houses Christie's and Sotheby's, with their work seeing an average sale price of $14,398 and 1,479% growth.
Top 25 NFT artists by average price increase (%)
While you might not be able to make money flipping NFTs, you could save money on your broadband package by comparing broadband deals with broadbandchoices.co.uk.
Methodology & Sources
Data for artists total sales, highest value sale, and average sale sourced from cryptoart.io.
Artwork sale/transaction data collected from cryptopulse. Sales less than $70 were excluded (average minting fee - theartnewspaper) when calculating growth.
Prices based on current ETH price.
Data correct Dec 2021.
Disclaimer:
The information provided in this article does not constitute investment or financial advice.
Broadbandchocies.co.uk and other Decision Tech brands do not recommend the buying and trading of NFTs or Digital Artworks.
Always consult your financial advisor before making any investment decisions