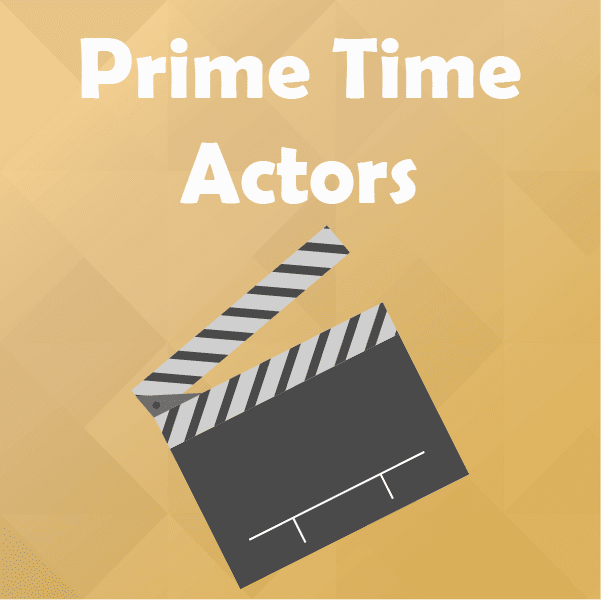 Whether you're an athlete, musician, or even an influencer, popularity and performance can be fleeting - but when were some of Hollywood's most recognisable actors at the top of their game?
While some actors burst onto the scene overnight, others spend years honing their craft before stepping into the limelight. On the other hand, actors like Robert De Niro, Adam Sandler, and Nicolas Cage are often used as examples of good actors who've gone on to make mostly bad movies.
But when were some of cinemas best-known faces at their best?
We analysed IMDb data for thousands of movies from over 100 actors and visualised their career trajectories in an attempt to pinpoint when some of Hollywood's most well-known actors were in their prime.
Check out some of our favourites below.
Note: IMDb ratings are not a review of an actor's performance, but are indicative of the films in which they're cast and the roles they decide to take. As such, a downward trend in IMDb scores over time could indicate that actors are no longer being considered for the best movies, or are accepting more roles in lower-quality films.
Living Legends

Robert De Niro
A go-to actor for the legendary Martin Scorsese, as well as playing the young Vito Corleone in Francis Ford Coppola's crime epic The Godfather Part II (1974), De Niro has had a hand in some of modern cinemas greatest movies and is one of the most talented actors of his generation.
However, a quick look at his filmography reveals that he's also been a part of his fair share of not so great movies.
Appearing in films like The Godfather: Part II, Taxi Driver, The Deer Hunter, and Raging Bull, De Niro maintained a high rolling average throughout the majority of the 70s and 80s. However, appearances in the likes of Rocky & Bullwinkle and Little Fockers mean that he's only managed to hit an average of 7/10 or higher three times since 1990.
After several years of trending downwards, De Niro hit an average rating of 5.73/10 in 2014 - his lowest since 1971 - before a career resurgence that saw his rolling average increase year-on-year up until 2019 where The Irishman (7.8) and Joker (8.4) helped him break the 7/10 barrier for the first time in more than 20 years.
Best Film: The Godfather: Part IIWorst Film: Sam's Song
Al Pacino
With eight Oscar nominations, there's no denying that Pacino is a truly great actor - but the roller coaster that has been his career is made all too clear in our chart.
Coming straight out of the gate with appearances in The Godfather franchise, Serpico, and Dog Day Afternoon, it's fair to say that Al Pacino had one of the hottest starts in cinema history.
But like all good things, it had to come to an end eventually.
Pacino worked sporadically throughout the 80s, and outside of Scarface (1983) his movies often underwhelmed, having a significant impact on his average rating.
The 90s saw Pacino return to form, starring in a number of critically acclaimed movies. But, while his work rate continued into the new millennium, less than a quarter (24%) of the films he's made in the last 20 years achieved an IMDb rating of 7/10 or more.
However, much like Robert De Niro, Pacino saw a resurgence in his average rating following appearances in Tarantino's Once Upon a Time... In Hollywood (2019), and the oscar-nominated, The Irishman (2019).
Best Film: The GodfatherWorst Film: Gigli
Morgan Freeman
Owner of the most iconic voice in Hollywood, Morgan Freeman has starred in dozens of critically acclaimed films over a career that spans more than 50 years - but having had such a prolific career, it's not surprising that there's been a few duds along the way.
Despite his first uncredited movie role coming in 1964, Freeman's film career didn't really take off until the late 80s - with the majority of his previous work coming in the way of minor film roles and television.
His breakthrough role came in Street Smart, for which he received an Oscar nomination for Best Supporting Actor, which led to another academy award nomination just two years later for his work on Driving Miss Daisy (1989).
His success continued into the early 90s - hitting an all-time high following his performance in The Shawshank Redemption (1994) - but despite his work on Se7en (1995), Million Dollar Baby (2004), Lucky Number Slevin (2006), and Christopher Nolan's Dark Knight Trilogy, Morgan Freeman has struggled to crack the ever-elusive 7/10 rolling average,
In Fact, The Lego Movie (2014) is tied for his best-rated movie since 2004.
Best Film: The Shawshank Redemption Worst Film: Vanquish
Leonardo DiCaprio
While a little younger than the other actors on this list, a quick look at his acting credits more than justifies his inclusion - and our chart helps to visualise just how prolific, and remarkably consistent the 46-year-olds career has been.
After making his feature film debut in Critters 3 (1991) at just 16 years old, Leo saw a steep rise in his career trajectory and by his early 20's he'd already appeared in the likes of What's Eating Gilbert Grape (1993), earning him his first Oscar nod, and Titanic (1997).
The massive success of Titanic launched DiCaprio into superstardom, and after slightly underwhelming follow-up's with Celebrity, and The Man in the Iron Mask, DiCaprio took a brief break from Hollywood between 1998 - 2000.
After returning to the silver screen with a solid performance in Danny Boyle's, The Beach (2002), he quickly refound his form. Since his return, more than half (53%) of his movies have achieved an IMDB rating of at least 8/10, with his only dud in almost 20 years coming in the way of Clint Eastwood's biopic J.Edgar.
Best Film: InceptionWorst Film: Critters 3
Frances McDormand
A two-time Academy Award winner and seven-time nominee, Frances McDormand's career has been as varied as it is impressive.
Despite her movie debut coming in the way of a low budget independent film, Blood Simple (1984) was a huge critical success. However, being the first film to be made by the Coen brothers, Blood Simple was not your typical Indy movie and McDormand's performance has earned her numerous roles in some of their biggest films - she would later marry Joel Coen.
Between the likes of, Raising Arizona, Mississippi Burning, Primal Fear, and Fargo, Frances McDormand appeared in some of the best movies of the late 80s and 90s, however, a handful of misses here and there makes for a rather erratic trendline, and in 1995 she hit an all-time low of 5.93/10.
Although bookended by performance in Wonder Boys (2000), The Man Who Wasn't There (2001), Burn After Reading (2008), Miss Pettigrew Lives for a Day (2008), McDormand's movies averaged just 6.3/10 throughout the early 2000s. Between 2008 - 2011, she took a brief hiatus from cinema, but on her return, her IMDb scores began to consistently trend upwards before surging to 8/10 off the back of her performance in Three Billboards Outside Ebbing, Missouri (2017).
Her follow-up appearances in Isle of Dogs (2018) and Nomadland (2020) continue to score well above her career average of 6.82/10.
Best Film: FargoWorst Film: Bleeding Hearts
Household names

Matthew McConaughey
With early roles in films like A Time to Kill, Contact, Dazed & Confused, and Lone Star, McConaughey was considered to be one of Hollywoods brightest young talents. But after starring in several slightly underwhelming movies, McConaughey appeared in his first romantic comedy in 2001, starring alongside Jennifer Lopez in The Wedding Planner.
Despite being commercially successful, The Wedding Planner has a rating of just 5.3/10 on IMDb.
For much of the noughties, he became the go-to guy for romantic comedies such as How To Lose a Guy in Ten Days (2003) and Failure to Launch (2006), and his non-romcom roles in Reign of Fire, Fool's Gold, Sahara, and Two for the Money were also far from what we had come to expect from the Matthew McConaughey of the 90s.
And then, sometime around 2011, something changed.
With performances in the likes of Killer Joe, Bernie, and The Lincoln Lawyer, McConaughey's average rating slowly began to increase before appearances in Mud, Dallas Buyers Club, The Wolf of Wall Street, and Interstellar saw his average IMDb score reach a career-high.
McConaughey himself has acknowledged that his choice of films during the naughties may have had an impact on the roles he was being offered and made a conscious decision to distance himself from those roles in hope that he'd be considered for more serious - which we think worked out pretty well for him.
Best Film: Interstellar Worst Film: Texas Chainsaw Massacre: The Next Generation
Nic Cage
One of Hollywood's greatest mysteries: Is Nicolas Cage a good actor?
Well, it depends.
Capable of great performances like those in Raising Arizona, Leaving Las Vegas, and The Rock, Nic Cage has also appeared in his fair share of questionable movies over the years - and with 99 feature-length credits to his name at just 57 years old, it probably has more to do with not being very picky with his roles rather than his ability.
The nephew of the Hollywood titan Francis Ford Coppola, he changed his name to 'Cage' in the early 80s, perhaps to avoid any accusations of nepotism, but also any pressure or expectations that came with the family name.
Although he worked with his uncle on Rumble Fish (1983) and Peggy Sue Got Married (1986), he quickly forged his own identity with early roles in Birdy, Raising Arizona, and Moonstruck.
It's at the end of the 80s is where the rollercoaster that is Nic Cage's career really starts to get going. Punctuated by Never on Tuesday (4.6), Fire Birds (4.8), Zandalee (4.4), and Deadfall (4), it's safe to say that both audiences and critics weren't a fan of early 90s Cage.
But just as quickly as his ratings dropped between 1988 and 1994, he hit a hot streak that saw him appear in Leaving Las Vegas, The Rock, Con Air, and Face/Off back to back - resulting in his highest career rolling average of 7.23/10 in 1997.
And this decline and sudden recovery proved to be the blueprint for the next 20 years or so of his career, although each peak proved to be slightly lower than the last.
The next hot streak came between 2002 and 2005 with Adaptation (7.7), Matchstick (7.3) Men, National Treasure (6.9), and Lord of War (7.6), followed by a predictable downturn in The Wicker Man (3.7), Ghost Rider (5.3), and Bangkok Dangerous (5.4).
And just to stay true to form, Cage has been in both his best and worst rated film in the last few years - Jiu Jitsu (2020) has a score of just 2.9/10, and Spider-Man: Into the Spider-Verse (2018) that has an IMDb rating of a whopping 8.4/10.
Best Film: Spider-Man: Into the Spider-Verse Worst Film: Jiu Jitsu
Scarlett Johansson
From child actor to indie star to action hero, Scarlett Johansson has worn many hats over the course of her career. And while there's been a few bumps along the way, her average rating has generally trended upwards, helping to make her one of the highest-paid actresses in the world.
As a child actor, Johansson would have had little choice over her roles so we won't hold that against her here, but it was her scene-stealing performance alongside Robert Redford in The Horse Whisperer (1998) that earned her early praise as a young actress.
Fast forward a few years and her appearance in the Oscar-winning Lost in Translation (2003) announced her presence as one of Hollywood's most promising young actors and just 17 years old. The next few years were just as successful and films like A Love Song for Bobby Long (7.1), Match Point (7.6), and The Prestige (8.5) helped to maintain her momentum.
While her acting credits between 2006 - 2009 were far from terrible (The Spirit 4.8/10 being the only exception) they weren't quite what we'd come to expect from the young actress, but all that would change with her role as Natasha Romanoff in Iron Man (2010).
Starring in one of the most successful franchises of all time has helped Scarlett Johansson to maintain an impressively high average rating. Since 2013 60% of films that feature Scarlett Johansson have received an IMDb rating of 7/10 or more.
However, saying that her success is solely down to the Marvel Cinematic Universe would be unfair. Aside from having a bit off an off-year in 2017 (Rough Night, Ghost in the Shell), Johansson's recent work away from The Avengers has also been consistently good, with films like Her (8.0), Chef (7.3), Isle of Dogs (7.9), Jojo Rabbit (7.9), and Marriage Story (7.9) all receiving praise from audiences and critics.
Best Film: The PrestigeWorst Film: My Brother the Pig
Whether you're an Adam Sandler fan or more of a DiCaprio person, make sure you're getting the best connection at a fair price by comparing our best broadband deals.
Methodology:
Using data from IMDb, we looked at the ratings for feature-length productions of more than 100 well-known actors.
Actors were sourced from lists such as award-winning, highest grossing, and most popular actors.
Uncredited and unnamed performances early in their careers were excluded.
Using a two-year rolling average, we plotted each actor's career trajectory to find when they were making consistently good movies.
Ratings for TV shows and made for TV movies were excluded.