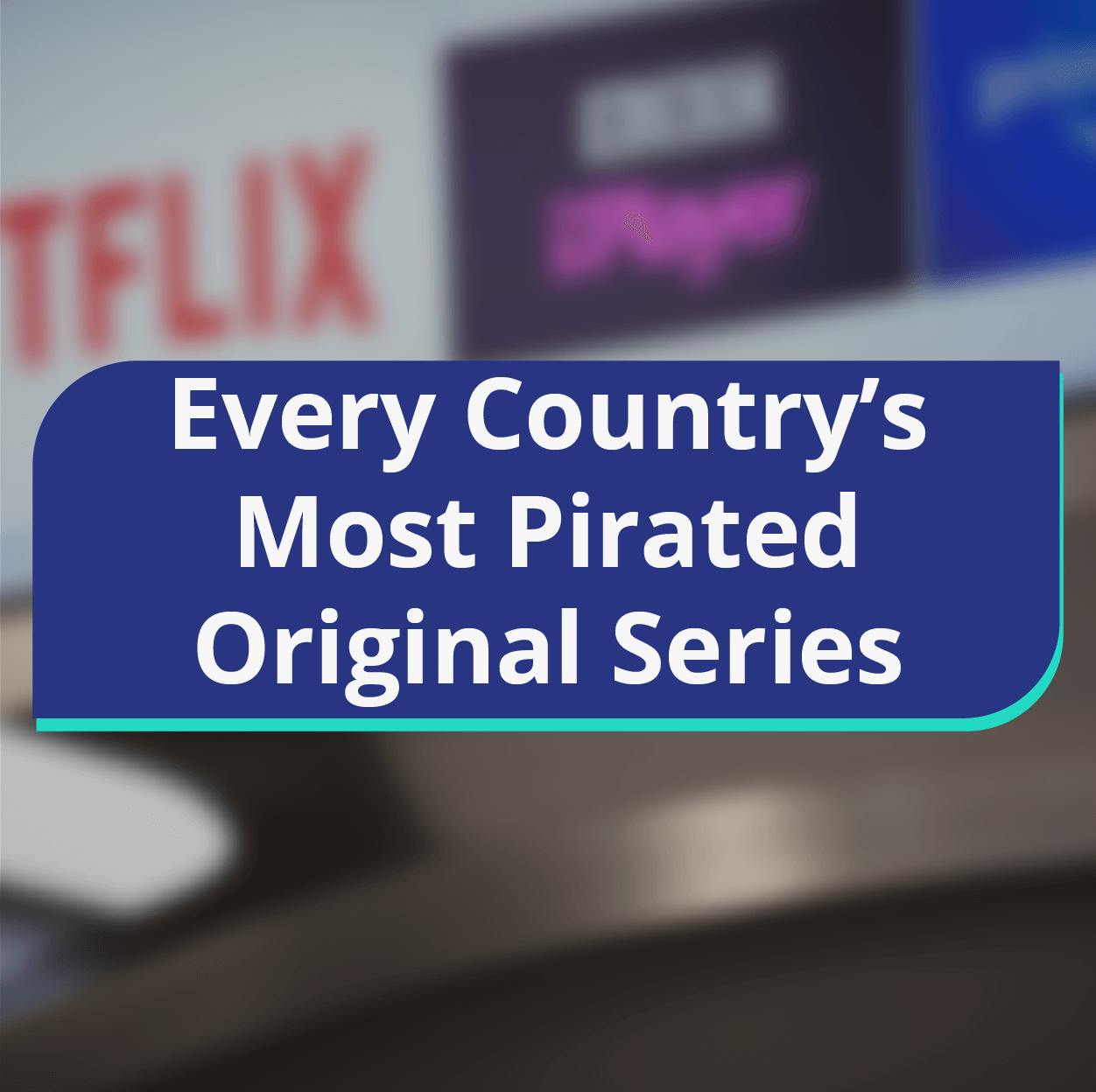 As the number of streaming services and the cost of subscribing to them continues to grow, what are the most popular original programs that people just can't miss, despite not having an account?
As the streaming wars continue to heat up, original programming has become the best weapon that video-on-demand services have at their disposal for attracting and retaining subscribers.
Shows like Stranger Things, The Mandalorian, The Boys, and Squid Game have all been hugely successful, both critically and commercially.
But with an ever-growing list of options to choose from and existing providers increasing subscription fees to cope with spiralling production costs, viewers are forced to choose between which services they can afford to subscribe to and missing out on some of television's biggest must-watch moments.
While most people are happy to pay for one or two services, the prospect of potentially paying hundreds of pounds a year on streaming services has resulted in an increase in piracy - Muso, an online piracy monitoring company estimated that there were over 33.6 billion visits to piracy websites for TV content in the first four months of 2022 alone.
So what are the most pirated original programmes?
WARNING! Potential spoilers ahead
The Most Pirated Streaming Original Around The World
Using Google search data, we looked at the number of searches for online streams and torrents for original programmes from the likes of Netflix, Amazon Prime Video, Disney+, and Apple TV in 138 countries around the world.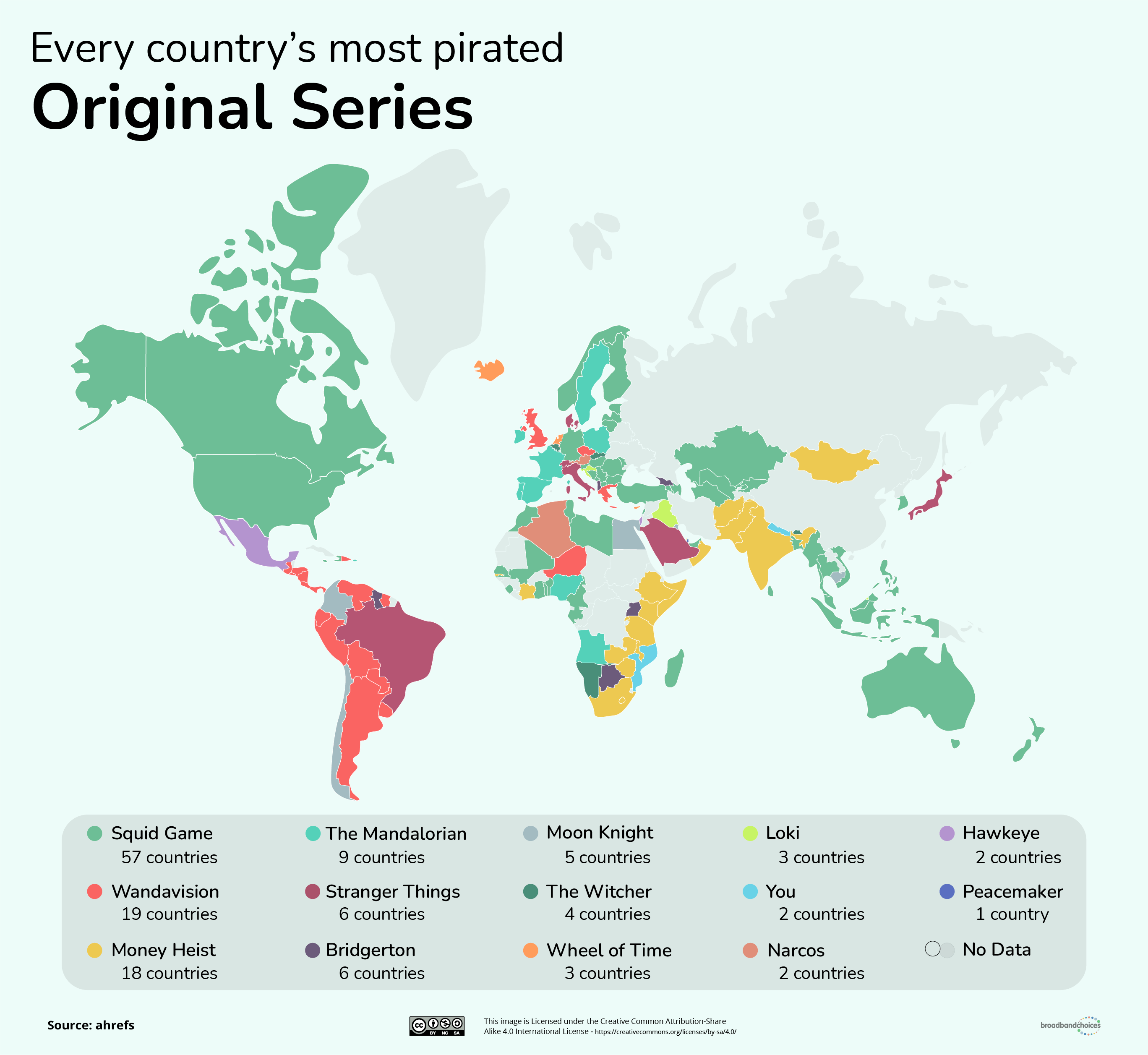 Squid Game is the world's most pirated original programme, topping the list for streaming and torrent-related searches in 57 different countries.
The South Korean drama went viral when it first aired in September 2021, amassing 1.65 billion viewing hours in its first 28 days, making it one of Netflix's biggest hits.
Thanks to its popularity, Squid Game dominated social media with countless memes and challenges, but with a Rotten Tomatoes score of 95%, it was also a huge hit with critics.
In second place, Wandavision from Disney+ had the most piracy-related searches in 19 countries.
While the Marvel Cinematic Universe is best known for its big action sequences, Wandavision received praise for its exploration of grief and loss, and its use of nostalgia by referencing old sitcoms.
The third most pirated original programme is Money Heist (also known as La Casa de Papel) which had the most searches for online streams and torrents in 18 different countries.
Originally created as a two-part limited series for a Spanish TV network, Netflix acquired the global streaming rights for the show in 2017 before renewing it with a significantly increased budget.
While the original series has now come to an end, Netflix will be hoping that its new adaptation, Money Heist: Korea – Joint Economic Area can repeat the success of its predecessor.
What's The Most Pirated Original Programme in Your Country?
Find the most pirated original in your country in the table below.
The Most Pirated Original Programmes by Streaming Service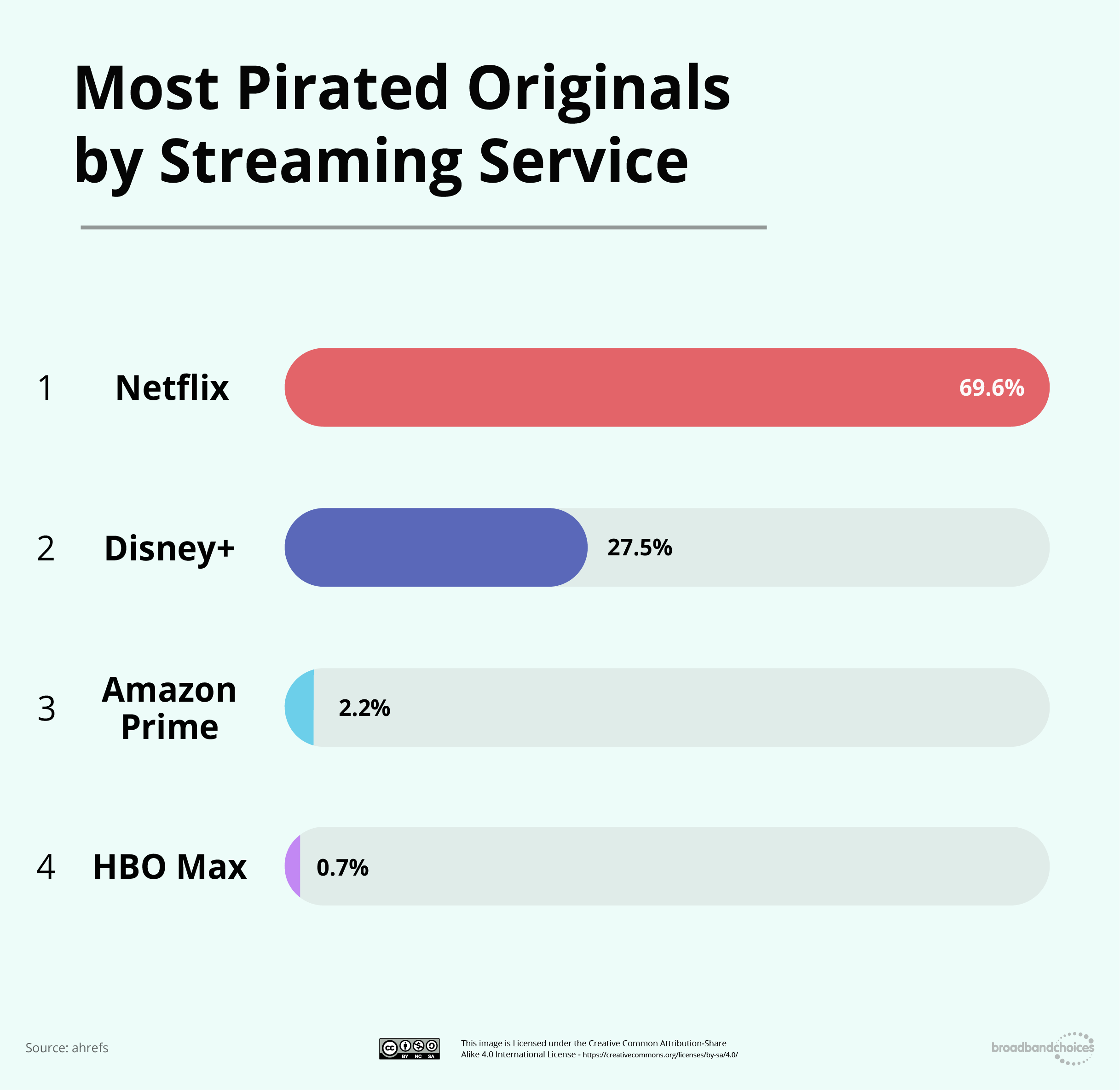 Looking at the distribution of most pirated originals by streaming service it's no surprise to see Netflix, who started creating original content back in 2013, at the top of the list.
A Netflix original was the most pirated show in 69.6% of countries included in our study.
Despite being one of the new generation of streaming services, Disney+ originals were the second most pirated with shows like Wandavision, The Mandalorian, and Moon Knight having the most piracy-related searches in 27.5% of countries.
In third place, Amazon Prime's adaptation of Robert Jordan's Wheel of Time series was most popular in three countries (2.2%), while the other relative newcomer, HBO Max came in fourth thanks to the Suicide Squad spin-off, Peacemaker (0.7%).
The Most Pirated Original Programmes in Europe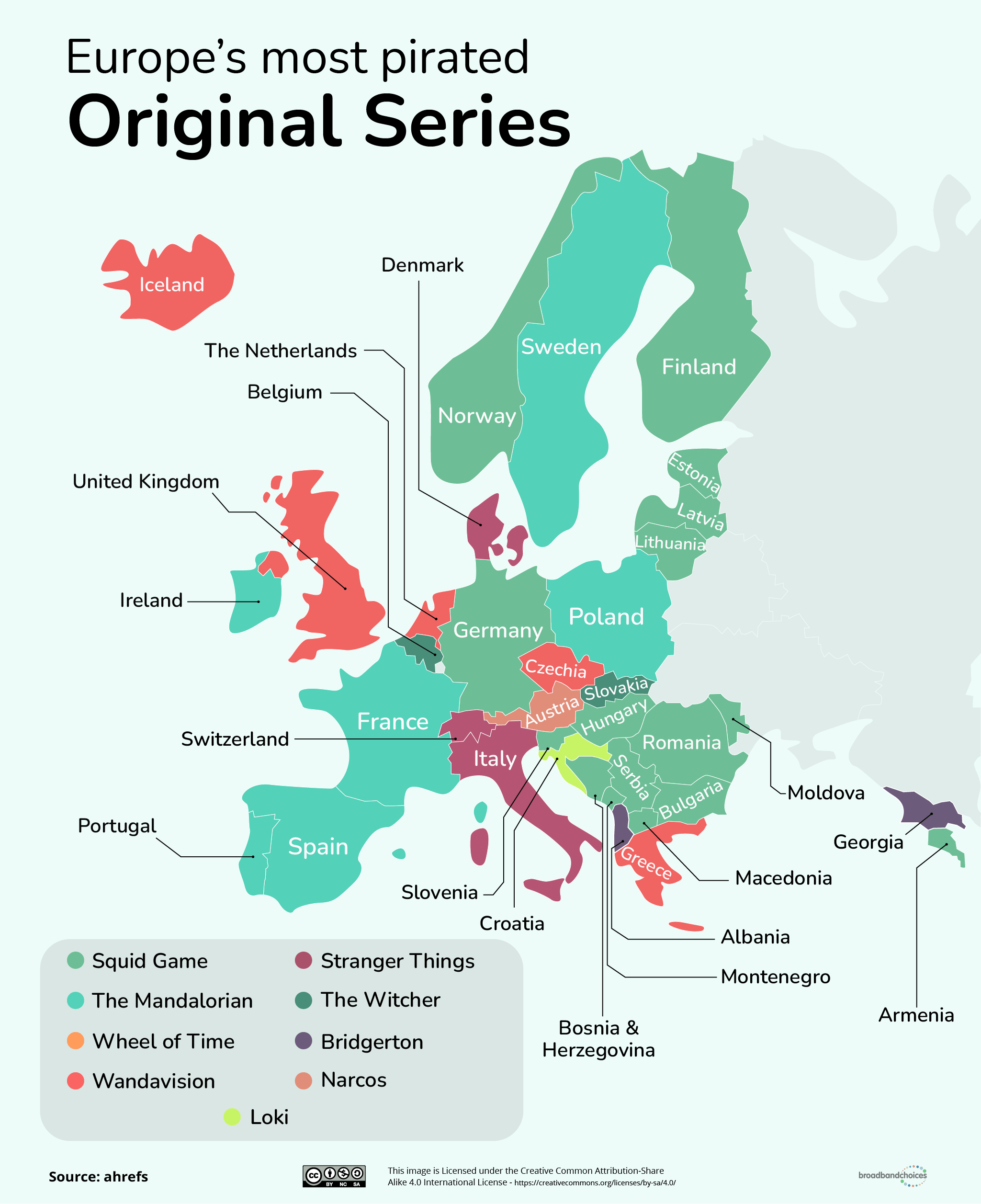 The Most Pirated Original Programmes in North America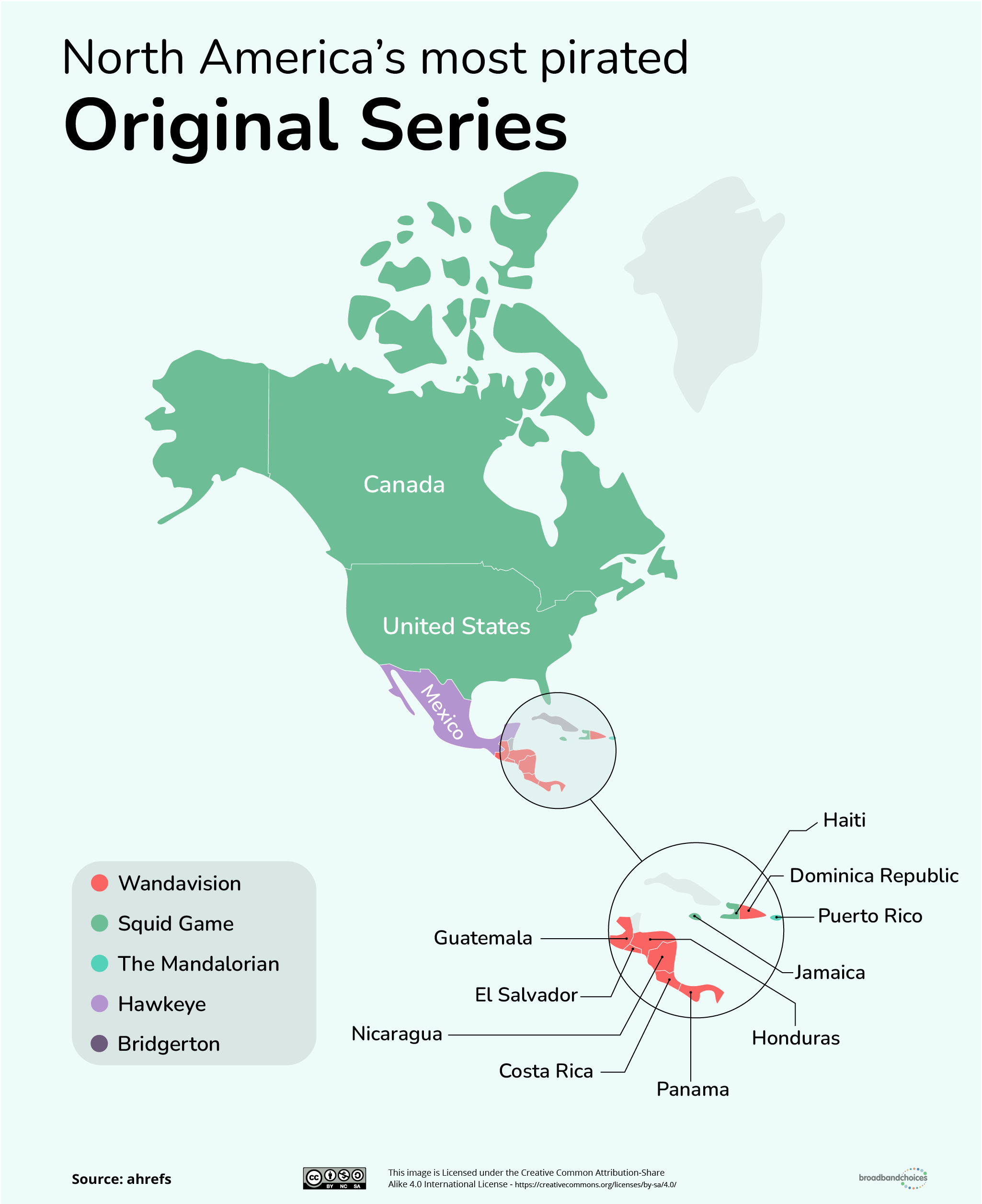 The Most Pirated Original Programmes in South America
The Most Pirated Original Programmes in the Middle East & Central Asia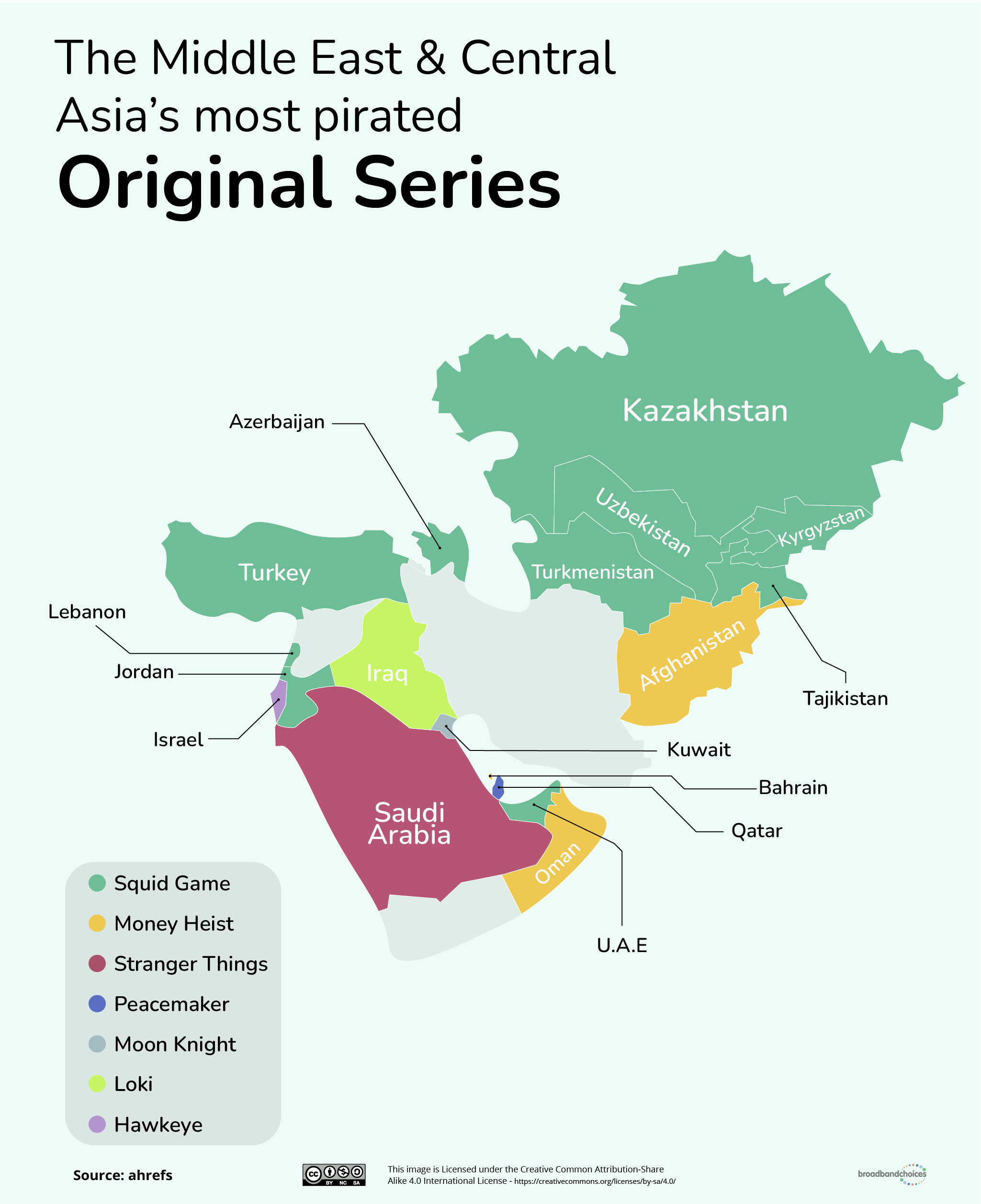 The Most Pirated Original Programmes in the Rest of Asia and Oceania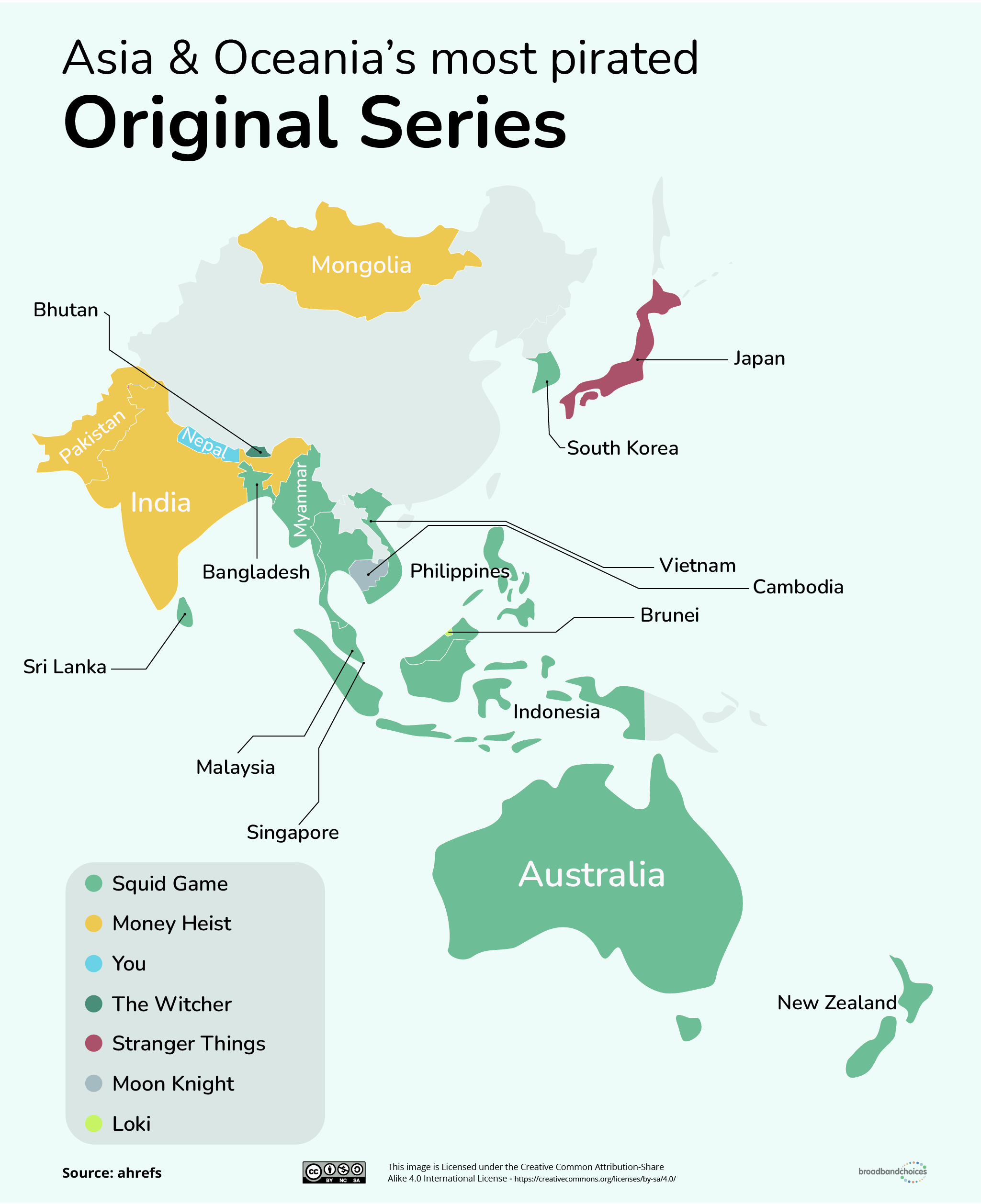 The Most Pirated Original Programmes in Africa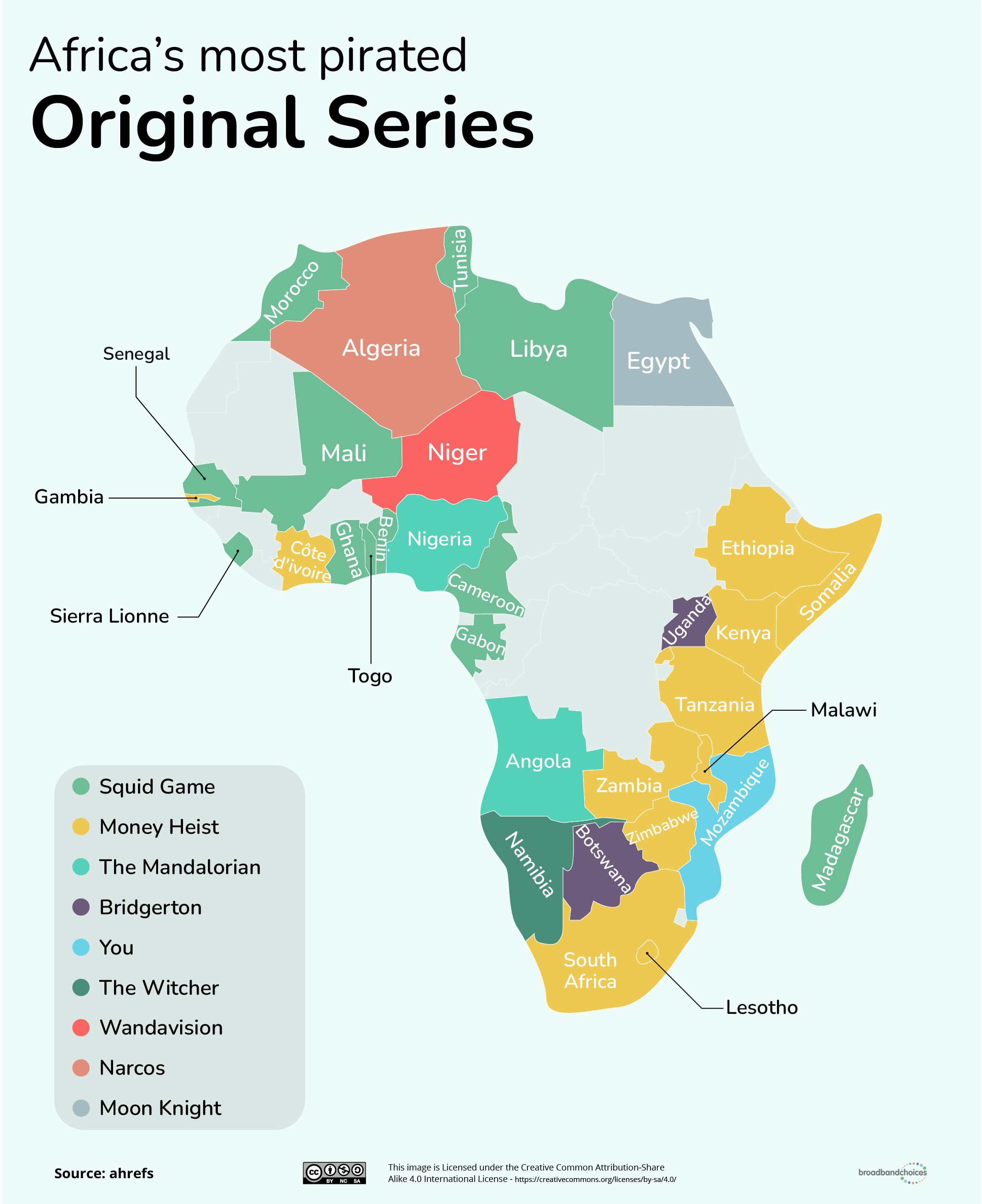 If you're looking to reduce your monthly outgoings but aren't quite ready to say goodbye to Netflix until they've released Squid Game season 2, see if you can offset the cost of your subscriptions instead by comparing cheap broadband deals with broadbandchoices.co.uk today.
Methodology
An analysis of worldwide average monthly search data by country using ahrefs keyword explorer (correct June 2022).
Search terms such as "Torrent", "Watch Free" and "Stream Online" were translated into each country's most spoken language using Google Translate.
We created a seed list of the best original programmes that are featured in articles such as "The 30 Best Netflix Original Series", "The 25 Best Amazon Original Series, Ranked", "The 20 Apple TV Plus shows you should watch first" etc.
For shows with more generic titles e.g "Love", the search volume for the show's title with the name of the relevant streaming service was used i.e "Love Netflix".
Countries with low search volume or where access to search data is restricted were excluded from the study.