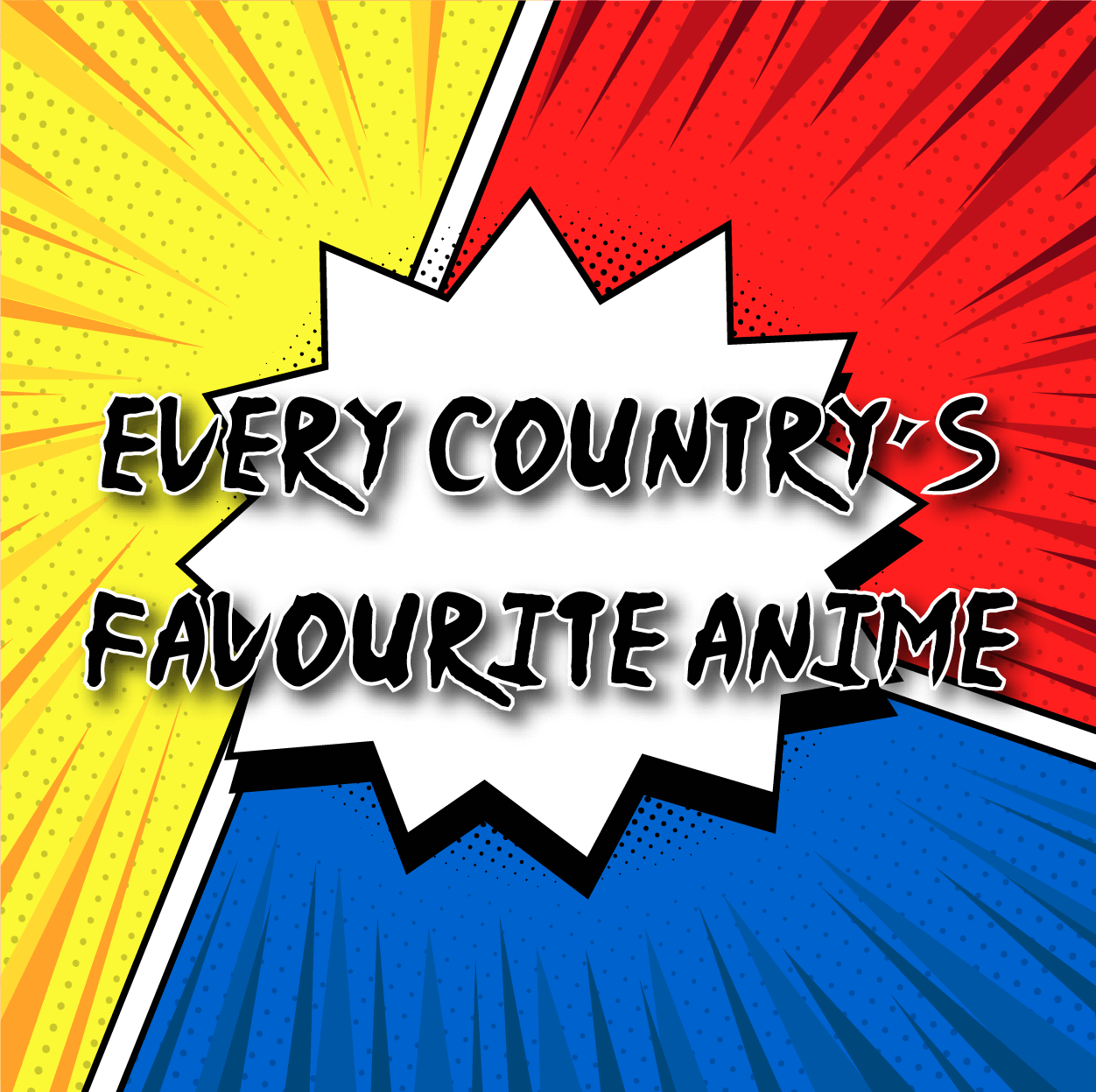 Once a niche fandom, streaming services have made Anime more accessible than ever - helping to push shows like Death Note, Demon Slayer, and One Piece to massive audiences. But what are the most popular anime franchises around the world?
Every Country's Favourite Anime 2022
While shows like Dragon Ball Z and Pokémon have been popular with western audiences for decades, streaming services like Netflix and Anime specific platforms like Crunchyroll are making it easier for both old and new shows to break into the mainstream.
But with hundreds of shows now available at their fingertips, where should budding Anime fans start?
Using Google search data, we looked at the most searched shows in 146 countries and territories to find the world's most popular Anime.
The Most Popular Anime Around The World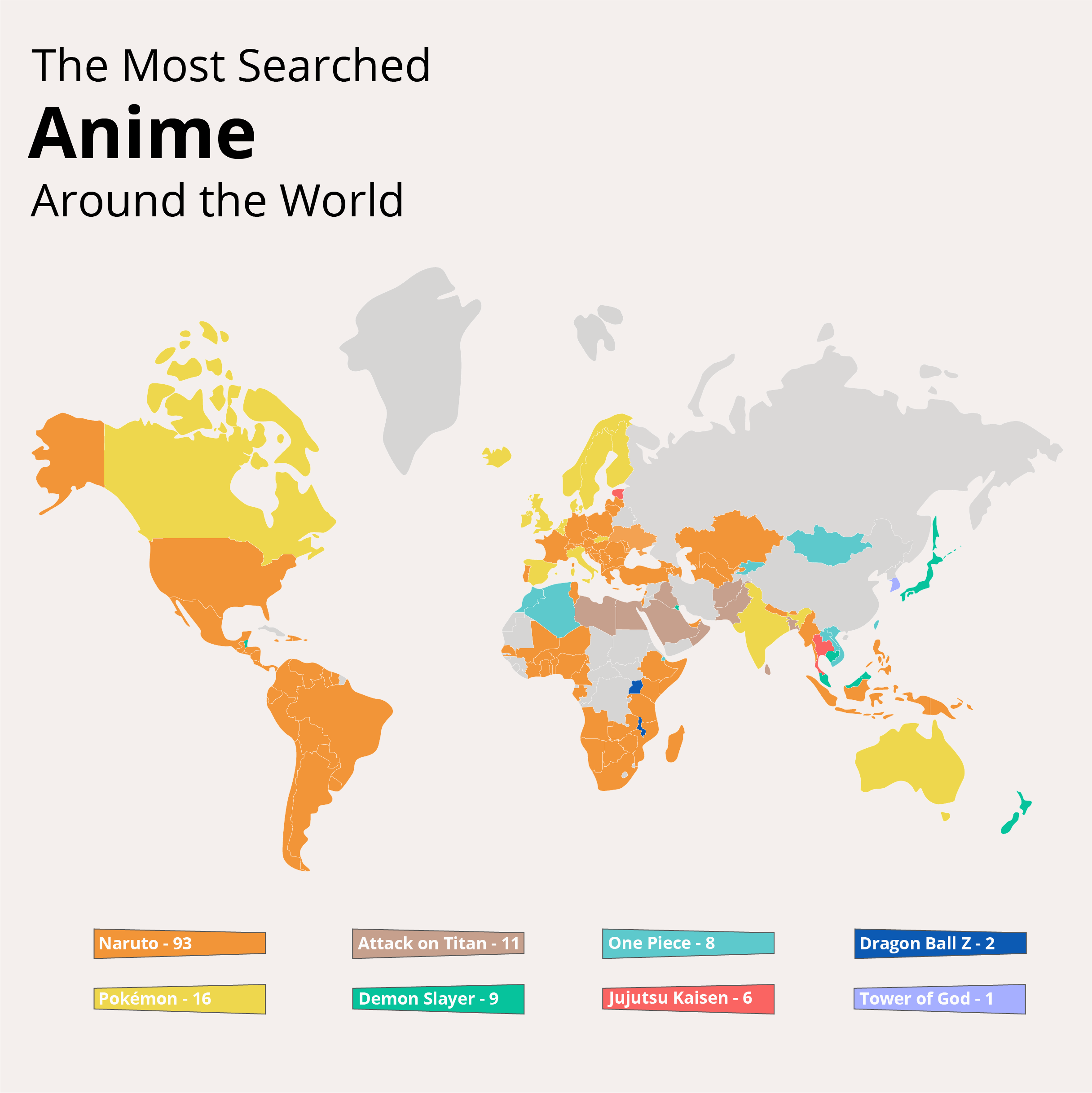 Topping the list in a whopping 93 countries, Naruto is by far the world's most popular Anime - despite the original series ending 15 years ago in 2007.
Naruto is the story of a young boy whose body contains the spirit of a demon fox that once terrorised his village. Desperate to be accepted by his village, Naruto sets his sights on becoming a ninja, and eventually Hokage - the village leader.
While Naruto has the fight scenes and cliffhangers that are typical of the genre, the show's main themes are fitting in, friendship, and community.
Since first airing in 1997, Pokémon has spawned multiple series as well as one of the world's most popular video game franchises.
After earning the top spot in 16 countries and the latest game, Pokémon Legends: Arceus selling more than 6.5 million copies, it looks like you'll have plenty of more time to try and catch em' all.
In third place, Attack on Titan was the most searched Anime in 11 different countries. Originally released as a manga in 2009, the Anime adaption began airing in 2013 to both public and critical acclaim.
Attack on Titan takes place in a post-apocalyptic world where humanity stands on the edge of extinction after being ravaged by man-eating giants called Titans. The story follows the main characters Eren and Mikasa as they join the military to avenge their families and fight back against the Titans.
The Most Searched Anime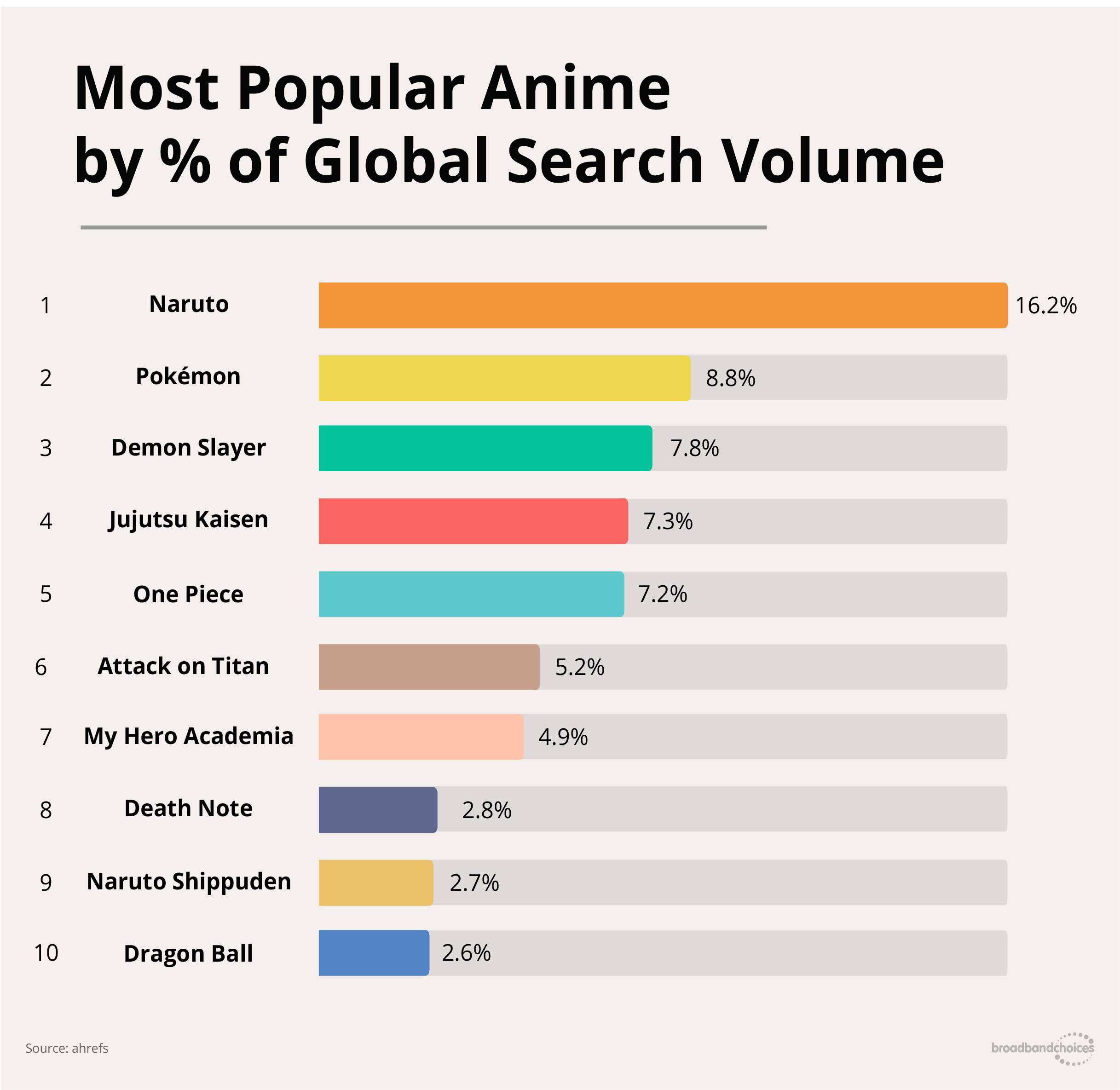 Perhaps a little unsurprisingly considering how much it dominated on a per-country level, the highest percentage of global Anime related searches belongs to Naruto with 16.2%.
While Pokémon held on to second place with 8.8% of global searches, Demon Slayer: Kimetsu no Yaiba (7.8%), Jujutsu Kaisen (7.3%), and One Piece (7.2%) jumped to third, fourth and fifth place respectively, leapfrogging Attack on Titan that slipped to sixth place with 5.2% of searches.
Rounding out the rest of the top 10 were My Hero Academia (4.9%), Death Note (2.8%), Naruto Shippuden (2.7%) - the sequel to first place, Naruto - and the original Dragon Ball series came in tenth place with 2.6% of global search volume.
The Most Popular Anime in (Almost) Every Country
Explore the top 5 most searched Anime series in your country in the table below.
If you're going to catch up on all 1,014 episodes of One Piece, make sure your internet connection is up to the task - and maybe even offset some of the cost of your Netflix or Crunchyroll subscriptions - by comparing broadband deals with broadbandchoices.co.uk today.
Methodology
An analysis of worldwide average monthly search data by country using ahrefs keyword explorer.
A seed list of the most popular Anime shows was created by compiling data from My Anime List and Anime News Network.