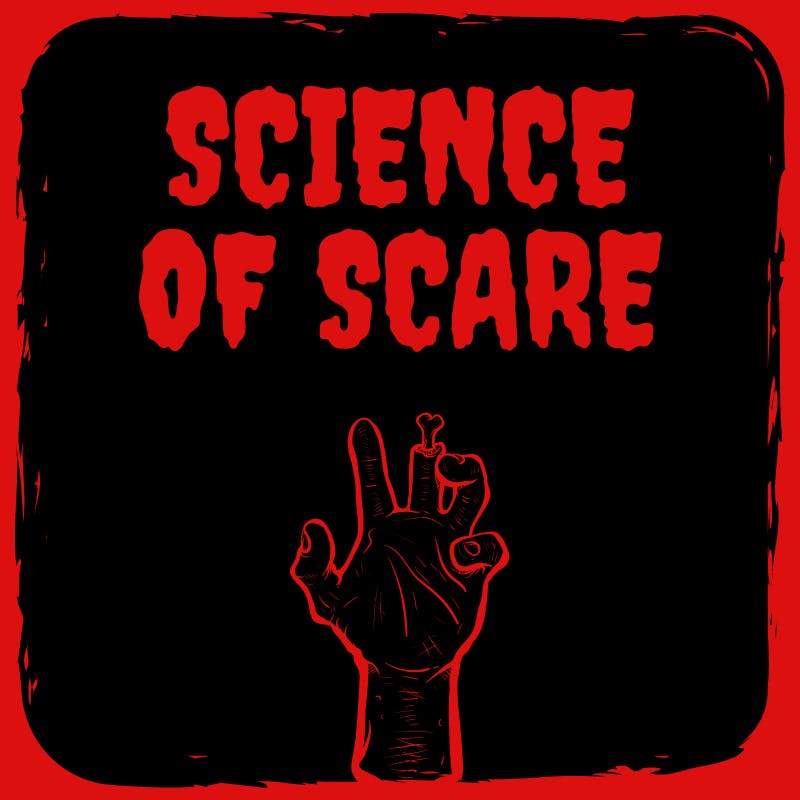 Since 2020, The Science of Scare Project from Broadband Choices has set out to scientifically measure the scariest forms of entertainment available. Originally starting with an annual ranking of the most 'scientifically scary movies' ever made, the Science of Scare Project is now bigger than ever, and new for 2023, we've turned our attention to the deep and terrifying world of horror video games.
Looking for the 2023 edition of Science of Scare? We've moved to MoneySuperMarket
With a plethora of horror games from both giant publishers and small indie studios released every year, Our scientific study tracked heart rates throughout some of the world's most iconic horror films, to study the science of scare, and find the undisputed scariest video game of all time.
The Science of Scare Project
Broadband Choices founded the Science of Scare project back in 2020 to answer a simple question, "What's the scariest movie of all time?".
Following a huge reaction to the initial study, each year we've grown the project inviting more people to take part in the study and expanding our 'scare shortlist' with new entrees from around the world.
In a world where we have more access to entertainment than ever before, from TV packages with movies, to a huge variety of on-demand streaming services available in our home thanks to super-fast broadband, it's never been harder to pick what we want to watch and find the best, or in our case, scariest content.
But what's scarier than watching horror? Being part of it!
New for the Science of Scare 2022, we've expanded our search to find the scariest, more heart racing horror games ever made that you can play on PlayStation, Xbox and PC.
What is the scariest video game ever made?
According to our study, 2022's MADiSON is the scientifically scariest video game ever made, with the new IP beating off established franchises such as Resident Evil and Silent Hill.
First-person physiological horror game from Bloodious Games sees the player take control of Luca, a 16 year-old boy linked to a serial killer via a demonic camera and a sinister ritual. Pretty strong stuff.
With an unrelenting tension and a plethora of scares, MADiSON sent our players' heart rates racing a massive 31 BPM above the average resting heart rate of 65 BPM during their gameplay for an average playtime heart rate of 97 BPM, the equivalent of a moderate jog.
Available on most platforms, including PS5, Xbox One and PC, the game took our inaugural top spot, also beating out every one of the entrants in our movie study, including the scientifically scariest movie of all time, Host.
Science of Scare Project 2022: Scariest Video Games Full Results
While MADiSON took the top prize for scientifically scariest game ever, it faced tough competition, and only narrowly edged the win against a ferociously frightening top five.
In a very close second was the superb Alien Isolation, with its innovative A.I (and unsettling blue lads) just one BPM lower with an average BPM of 95 throughout the playtime, cementing the much-loved terrifyingly tense sci-fi horror based on the movie franchise's 'must play' status.
Rounding out the top five were all first-person horrors, with the spooky paranormal horror Visage (93 BPM), sinister asylum sequel Outlast 2 (90 BPM), and uh… surprisingly, Five Nights at Freddy's 4 (91 BPM) taking top spots (we're as confused as you with that one).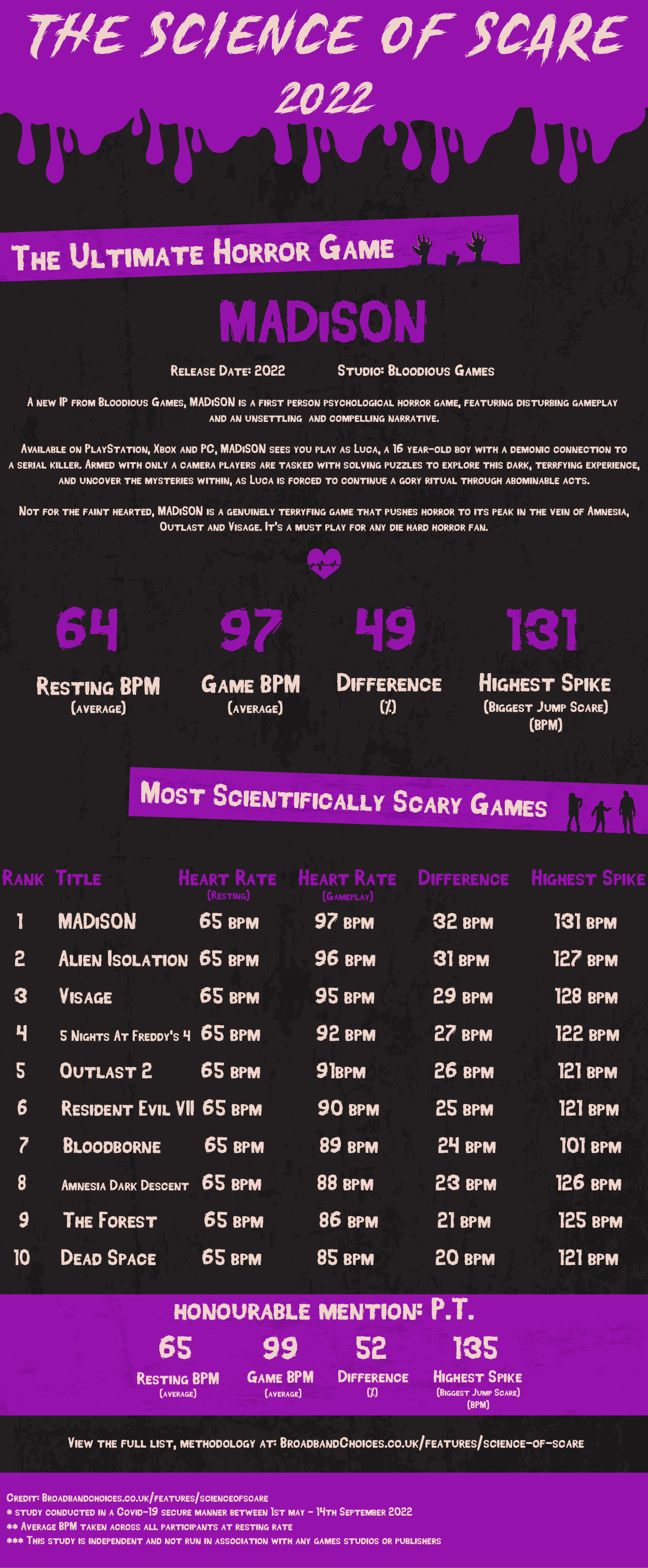 Notably the top 25 was dominated by first-person horror games, with just around a third of the list comparison of 3rd person games.
Both Resident Evil and the currently in limbo Silent Hill franchises scored multiple places on the list with Resident Evil VII: Biohazard and Silent Hill 4: The Room being each franchise's most scary instalment at 6 and ­14 respectively. Silent Hill also held the distinction for oldest game entry on the list with Silent Hill 2 creeping in at number 23, despite being over 20 years old.
What about P.T. ?
Unfortunately, due to P.T. being both a playable trailer (not a full game) and unavailable via legitimate channels, the Hideo Kojima brainchild which spawned a myriad of remakes and homages, was not eligible to form part of the full Science of Scare Study, in part due to its lack of availability amongst our full panel.
That said, our Science of Scare team was able to source the horror gaming grail and play test it, in the interest of uh science…
While P.T. couldn't be entered into the full study, based on our much smaller panel size, if it could have, it probably would have won. Across our mini panel (of just 15 players), the average BPM for the game was 99 BPM, an uplift of 34 BPM ­­against the average resting heart rate.
Of course, there's no telling where the full Hideo Kojima vision would've ranked if it could've been played by more people, but sadly the Science of Scare Project 2022 Honourable Mention is just another 'what if' to add to its legacy.
But 'insert your favourite game / horror classic here' didn't make the cut
How we measure horror
For our new horror video game wing of Science of Scare Project, we invited 200 participants to play a section of our shortlist of more than 45 horror video games released in the past 30 years over the course of summer 2022.
In each case our subjects had their heart rate monitored for the duration of their gameplay. From here we measured the average impact our shortlisted movies had on the heart rate (measured in BPM) of our subjects, compared to the average resting BPM of 65. We also recorded the biggest spikes seen from the games, alongside the average increase in heartrate, to find the games that had the biggest impact on our players.
Unfortunately, we couldn't ask players to play every single horror game ever made due to the sheer number of games, especially from indie developers, released each year in the genre.
So, throughout the past 12 months we scoured critic 'best of' lists along with gathering community favourites and lesser known titles from places like r/HorrorGaming and the excellent Horror Games Community on Twitter, and our own horror buff's picks, to find the most widely regarded, most talked about terrifying games, along with hidden gems from across the world.
After we had compiled a longlist, each game went through an initial 'heat' round with a smaller study size to create our shortlist of scariest games for the full heart rate study panel.
To make the list as accessible as possible, only games that were available to purchase, either new or used, for PC, PlayStation or Xbox consoles were considered eligible for the study (sorry again, Kojima).
While classic horror games, such as Resident Evil, Fatal Frame, System Shock and Silent Hill were on our shortlist, they didn't make the top 25. Much like in our Science of Scare Movie Project, generally speaking, newer titles tended to chart higher.
Agree with our list? Hate it? Have suggestions for games we might have missed? As confused as us and wondering how Five Nights at Freddy's 4 beat Resident Evil? Let us know on social media with the hashtag #ScienceOfScare!